Agustus Gottlieb Weidekind
Columbia Miner
A.G. Weidekind - .


AUGUST G. WEIDEKIND
Agustus Gottlieb Weidekind was born in Braunschweig Lower Saxony (Niedersachsen), Germany in January 1832.

1845 He immigrated to the United States when he was 13 years old.

1850 December - he was a miner living in Placerville.

1865 He and a partner by the last name of Smith ran a butchering business in Jeffersonville, which was a town between Tuttletown and Jamestown.

1870 he was a gold miner living in Columbia.

1877 Sept 3 - Naturalized in Tuolumne County.

1892 Sept 15 - Augustus G Weidekind is listed in the Voter Registers for Tuolumne, California. He is 5'8" tall, fair complected, blue eyes and brown hair. Living at Pine Log.

1901 August married a Native American lady named Johanna (Lajuana) We-nah-yah Reed, who was born 1842 in Springfield (or Murphys?). It was his first marriage and her third marriage. ("Her first husband was David Millard "Joe" Reed who died in the Hiyapooh Mine that he owned in Oct 1872. Her second husband was John Cook..."- Elli Day via Marie Rouse 2011) She had given birth to two children, but neither were living at the time of the 1910 census.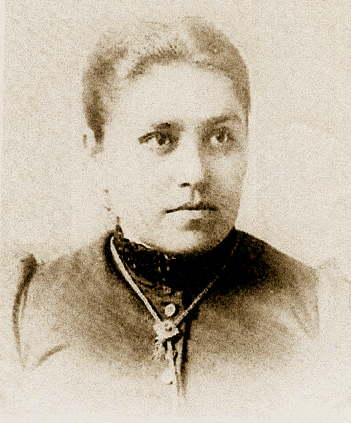 Lucillia Reed Day - 1880s.
1902 One of those children, Lucillia Reed Day, passed away. Sister to Julia Hardy Reed (or Reed Hardy?) Her father was born in Knights Ferry. All three towns were California mining settlements.

1910 August and Johanna owned their home free and clear. They spoke English. He could read and write English, but she could not.

1914 August 26 - Ausgust dies in Sonora.

1914 August 29 - From the Union Democrat (Sonora newspaper) under the heading, Some Newsy Notes from Columbia:
"A. G. Weidekind, one of the few remaining pioneers of this vicinity, died at the county hospital Thursday at an advanced age. He came to this state at a very early date. He was a progressive, enterprising man. He was first engaged in the cattle business on the San Joaquin plains, then went to Pine Log which then had a population of 400 husky miners. He engaged in business there and prospered for some years and later, for many years, was engaged in placer and river mining with varying success. He was a man of strong character, sincere in his convictions, positive in his likes and dislikes and was a very worthy man, liked and respected by all who knew him. He will be buried Friday in Columbia at the City cemetery, it being is oft expressed wish to be buried here." [NOTE: HT12 of the Masonic Cemetery is listed as his. However, that number belongs to PILEY, Martha Caroline Howard]

1926 Johanna We-nah-yah Weidekind dies.

Cemetery marker.

This page is created for the benefit of the public by
Columbia Booksellers & Stationers
22725 Main Street
Columbia California 95310-9401
---

To make corrections, etc., contact:


---
A WORK IN PROGRESS,
created for the visitors to the Columbia State Historic park.
© Columbia State Historic Park & Floyd D. P. Øydegaard.