BLOCK 10.
1851 & 1871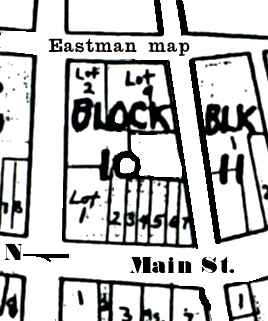 (1851-2)



Missing Buildings


Forgotten Buildings is what Mrs. G.W. Eastman called Block 10 as she described (in 1954) what was here;
On the corner of State & Main Streets stood The Italian Saloon (Lot 1),
Hubbard Stone's Tinshop (Lot 2), being next south and
Pierre Bogneriz' Paint Shop (Lot 3) being between Stone's and
Schartze's (Lot 4)
By 1852 Franklin & Wolfe (Lot 5),
Brainard's (Lot 6).


1852 On State & Main Streets (southeast corner) this lot had a wood structure known as the Italian Saloon. Owner, Luigi Marietti.


"In the Colombo Saloon deeds...the saloon was on the north 35' half as they called it, while Stone's Stove Shop was on the south 19' half. Apparently it had originally been considered a 50' lot and then divided, both keeping the lot number originally given as Lot 50, then later being changed to Lots 1 & 2."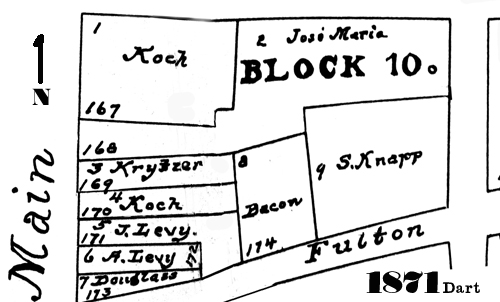 Dart's Map 1871


Special Thanks to Diane Harrington for the research - 2015



This page is created for the benefit of the public by
Columbia Booksellers & Stationers
22725 Main Street
Columbia California 95310-9401
---

Email contact:


---
A WORK IN PROGRESS,
created for the visitors to the Columbia State Historic park.
© Columbia State Historic Park & Floyd D. P. Øydegaard.