MISSING BUILDINGS (By date)
1851-1871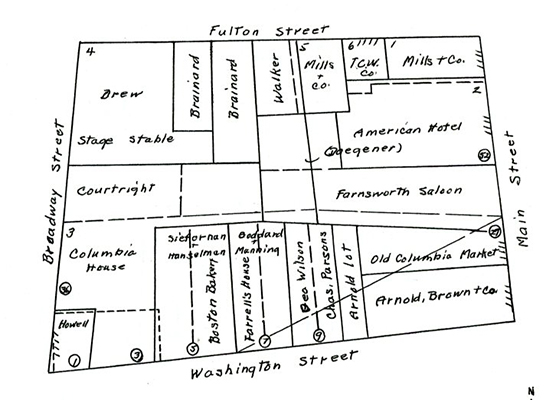 Block 17 (George & Barbara Eastman Map - July 1966)
Missing Buildings

Forgotten Buildings is what Mrs. George W. Eastman called her compilation as she described (in 1966) what was here: Washington street:
1851

Howell (#1) (G & B Eastman 1966) As early as 1850 December - D.E. Alexander files a claim on the lot. 1852 December - Milo Courtright files a claim. He has already built a stable and a house on the property.

Boston Bakery location (#5) Sieformn and Hanselman own lot.(G & B Eastman 1966)

Farrell's House (#7). Bodard and Manning own lot (G & B Eastman 1966)

George Wilson (house?) (#9) and Charles Parsons. (G & B Eastman 1966)

George Wilson's Old Columbia Market (#27) (G & B Eastman 1966) "Dec 1853...decribed in their deeds as log buildings." (Barbara Eastman 1971)

American Hotel (#52) Building. P. B. Anthony owns the lot, it is a wood structure. (G & B Eastman 1966)

Columbia House (#36) Building. (G & B Eastman 1966)



1871

Fulton Street Businesses



Drew Stage & Stable (#4) Corner of Broadway and Fulton. (G & B Eastman 1966)

Brainard Stores (#4)
By 1851 September - Benjamin M. Brainard took up two lots on south side of Fulton (2d and 3d lots from Broadway) west lot used as a warehouse and east lot used as their wood frame wholesale grocery house.
(G & B Eastman 1966)

Walker (G & B Eastman 1966)

Mills & Co. (#5, 6, 1) D. O. Mills is the sole owner of the brick building on the southwest corner of Fulton and Main Streets with a secret passage leading to the assay and smelting office. (G & B Eastman 1966)



Main Street Businesses



Farnsworth's (Bowling) Saloon. Opened between 1857-60. Alva Daniel Farnsworth was born in Vermont c1787. Named Columbia Township 29 Apr 1850 - Credited as one of three men who decided on the name for the town and lay out deign. (Rensch) He left two girls in the care of the Brainards: Mary and Elizabeth "Lizzie" Farnsworth who became part of Columbia's history. Jan 1853 - Columbia - Farnsworth sold an 1/8 interest in the Star Spangled Banner Saloon. After the July 27th 1854 fire he rebuilds his business and renames it the Phoenix Bowling Saloon.



From a copy of the map of Columbia 1860 that was compiled by George W. & Barbara Eastman Map - Dec. 1958




This page is created for the benefit of the public by
Floyd D.P. Oydegaard

Email contact:

fdpoyde3 (at) Yahoo (dot) com
---
A WORK IN PROGRESS,
created for the visitors to the Columbia State Historic park.
© Columbia State Historic Park & Floyd D. P. Øydegaard.