LYMAN CHILDS TIBBITS
Information on a merchant/druggist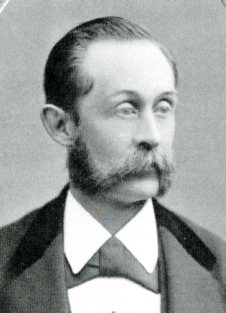 Lyman Childs Tibbits - c1875.


LYMAN CHILDS TIBBITS
The subject was born in Pittsburg, Pensylvania 1 October 1843 and of Welsh and German descent. His great grandfather Allen Tibbits, was born in Wales, and came to New York in it's pioneer days. Oliver Tibbits born in New York (c1808) was Lyman's father. He was also ome of the heros of the Revoluton. His son John Powers Tibbits of Onondaga County, New York married Rachel Johanna Bartlett of Jeferson County, Ohio and a decendant of Josiah Bartlett one of the signers of the Declaration of Indepemdance.

1849 Lyman's father, who was a Medical Doctor, came to California to pan for gold on the American River and went home to Ohio with $3000.

1850 July 5 - He came reached San Francisco with his whole family and soon settled in Sonora to practice his medicine. His two boys were considered the first white boys in town. At 9 and 7 years of age the miners were delifhted with their company in the mines.

1856 Spring - The Tibbits family went to Iowa Hill in Placer County where Tibbits practice until 1866. He was very successful with his practice and mining ventures that when he returned to San Francsico he was worth $17,000. He eventually returned to Columbia to live out his remaining years and died 1885.

Lyman went to many schools and learned his Drug trade while a merchant in San Francisco. Moving to Columbia to care for his ailing parents he rents the D.O. Mills building for a drugstore.

1880 Lyman married Helen Clark of Edinburg, Scotland.Who had lived in San Francisco since she was 10.

1881 Lyman Tibbits becomes the postmaster, so the post office returns to the building until 1895.

1881 Lyman's mother died at the age of 70 years.

1885 Lyman's farher died at the age of 80 years.

1887 spring - Lyman Childs Tibbits moves his family's house on Gold Springs road to the now empty lot.




Carriage and home of Dr. Tibbits - Fulton & Main Streets. - 1888



1889 Vassallo sells his half interest to Wm. Siebert.

1895 Post office leaves the building.

1897 Siebert sells his interest to Mrs. Kate Siebert.

1899 Post office returns until 1911.

1911 Tibbits moves out of "Drug Store" building.

1928 April 20 - Lyman Childs Tibbits died in Columbia, Tuolumne Co., California.

1932 November 5 - Lyman's wife, Ellen Clark Tibbits dies of Colon cancer. She was born to William Clark & Lillian Smith in Edinburgh, Scotland 5 September 1861. She was buried in Park View Cemetery, Stockton.





BIBLIOGRAPHY

Most information on this subjec came from
Representitive Citizens of Northern Califorina - 1901 unless otherwise stated.


Unless noted some information came from A History of Tuolumne Co.1882


This page is created for the benefit of the public by

Floyd D. P. Øydegaard.



Email contact:
fdpoyde3 (at) Yahoo (dot) com
---
A WORK IN PROGRESS,
created for the visitors to the Columbia State Historic park.
© Columbia State Historic Park & Floyd D. P. Øydegaard.