RUDOLPHUS CLAY DAVIS
Information on a merchant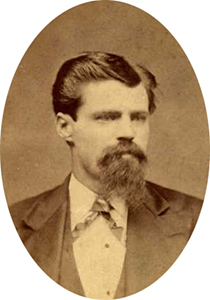 Rudolphus Clay Davis - 1880


RUDOLPHUS CLAY DAVIS
Born 16 DEC 1845 in Dayton, Tippecanoe County, Indiana. His grandfather was John J Davis and a owner of a large plantation in Texas. He became a wealthy man with influence. The father of RC was John J Davis born in Ohio in 1803. Once he was about 21 he studied medicine and devoted fifty years to the profession. He even opened up a practice in Columbia. He was married to Terressa B Kilgore on 15 Dec 1831 in Tippecanoe, Indiana. They had four children and she died in 1847 due to child birth(?) He remarried to Mary Ann Speed in 1850s and they had four more children.

RCs mother was Terressa B Kilgore. and after the father remarried he headed for California, starting from Illinois to cross the plains by the southern route. The stopped in Texas for a year because he was preparing to head for California with a large stock of cattle. Staying with an uncle in Texas they soon were part of his group of sixty families, (including three undred single youn men), with a thousand cattle and many horses. The Uncle was the head master (Captain) of the expoditions. Their adventure included run ins with the Mexican law west of El Paso and loss of lives. Some indians gave them trouble as well. When they arrived in Tuolumne County the uncle had a business at French Camp and they stayed there just before going to Columbia by November 1855. They arrived just after the execution of a mand named Bartlett who had been hung for murder. (truth: 1855 Oct. 10 - Murder of John Huron Smith and mob lynching of the murderer, John S. Barclay, in Columbia.)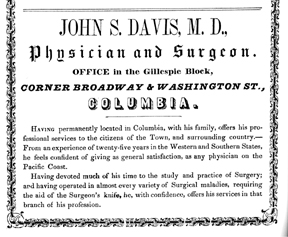 1856 John S. Davis M.D. advertises in the Miners & Business Men's Directory.
Calling himself a Physician and Surgeon in his office in the Gillespie Block, corner of Broadway & Washington St.



1879 December 7 - RC marries Florence Maria Trask (1861-1939) of Columbia.
"I think they were living there shortly after their marriage and stayed in the house until 1917, when the whole family moved to San Franciscco." (jtlavoy Aug 24, 2016)

1880 June 1 - the census shows their Residence was Columbia, Tuolumne, California. Eliza Chalmers age 25 was a visiting servant.

1887 Sewell Knapp moves to Oakland and turns over the business to his son William and R.C. Davis.

1890 RC Davis becomes the sole owner (Knapp Store) Main & State Street, Columbia, Tuolumne County, Ca

1900 June 7 - Census: residence, Township 2, (Columbia) Tuolumne, California.

1910 April 26 - Residence has changed to West Columbia, Tuolumne, California. Living with wife and two children.

1917 They sell their home and the whole family Move from Columbia to San Francisco.

1918 - RC is still the owner of Knapp Block Property Main & State St, Columbia, CA
Davis retires and his brother-in-law Ed Murphy runs the store (Knapp Store).

1920 January 3 - Residence San Francisco Assembly District 30, San Francisco, California, USA

1924 - Residence of San Francisco, California, USA

1930 April 8 - Residence San Francisco, San Francisco, California. "A member of the Independent Order of Odd Fellows" Also a Republican

1933 December 13 - Died in San Francisco, California

1933 Dec - Burial in Columbia, Tuolumne County, California





BIBLIOGRAPHY

Most information on this subjec came from
Representitive Citizens of Northern Califorina - 1901 unless otherwise stated.



This page is created for the benefit of the public by
Columbia Booksellers & Stationers
22725 Main Street
Columbia California 95310-9401
---

To make corrections, etc., contact:


---
A WORK IN PROGRESS,
created for the visitors to the Columbia State Historic park.
© Columbia State Historic Park & Floyd D. P. Øydegaard.