Native Sons of the Golden West
support the Volunteers & Docents of Columbia State Historic Park
with a PARADE!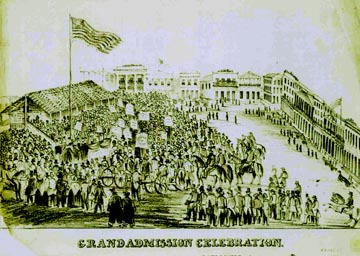 ADMISSION DAY.
is
September 9th, 1850
the actual day that California joined the Union.
It was a few weeks later that the town found this out and celebrated.



THE 31 STAR FLAG.
The people of California were flying the 31 star flag most of the year of 1850.
The flag below is a copy of just one of the more popular designs.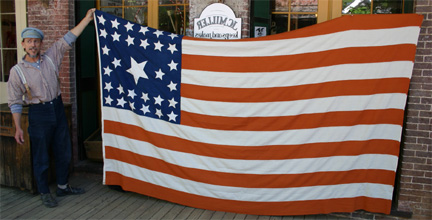 (A hand sewn 31 star flag created by Jim Miller)
Raising of the Colors



Contacts for more information:


Native Sons of the Golden West and the State Park

along with Columbia Foot Dragoons will celebrate the day

the weekend closest to the 9th.


Sign up for the PARADE!

---
All information and schedules posted may be changed at any time!
The current listing may not be absolutely correct.


The 2009 Admission Day Parade!


This page is created for the benefit of the public by
Columbia Booksellers & Stationers
22725 Main Street
Columbia California 95310-9401
---

Return to Chamber Event Page