AS SEEN FROM THE BACK.
For Your Added Amusement.
DO MILLS & WELLS, FARGO & CO.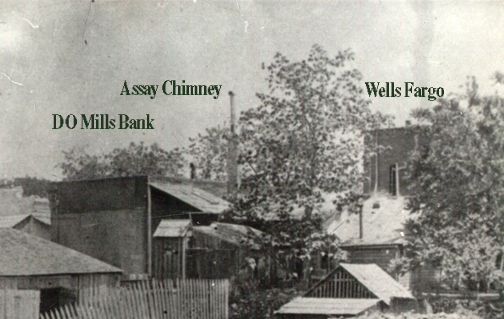 © CSHP
The Backside of DO Mills & Wells, Fargo - c1866



1866 - The above image is a portion of a larger view of miners working in the foreground and by "chance" they photographed the back side of DO Mills Bank building as well as Wells, Fargo & Co. building. Already the back of these buildings show added wood construction. Compare the photos and look for features that have lasted seventy-four years.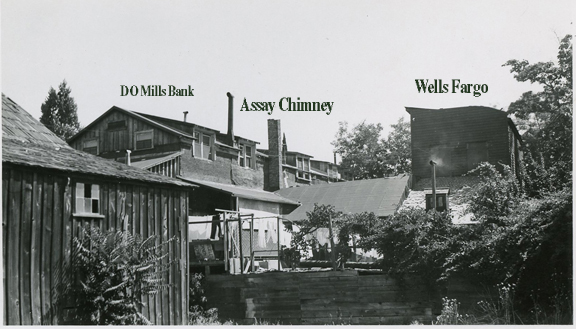 © Brian Wolverton
The Backside of DO Mills & Wells, Fargo - c1940s



1940 - This image is a clear view made in almost the same angle as the image above. Notice the corner roof (on the far left) of the Broadway Stage building in both images. The Assay Brick Chimney has a metal flue added for better draw in the 1866 images. Not to be confused by the metal flue in the 1940s image that is actually part of the Mills roof. Both the Mills and Wells buildings have had roof and upper additions created to make a better drain for wet weather or just for added rooms, as in the Mills building. The added building to the back of the Wells with the metal pipe is seen in both images with the added wood louvered construction next to the flue, which is seen in the scematic below.

There is even a sign laying on the back porch that says Naegele's Candy Store, just left of the line of whites drying on a clothes line.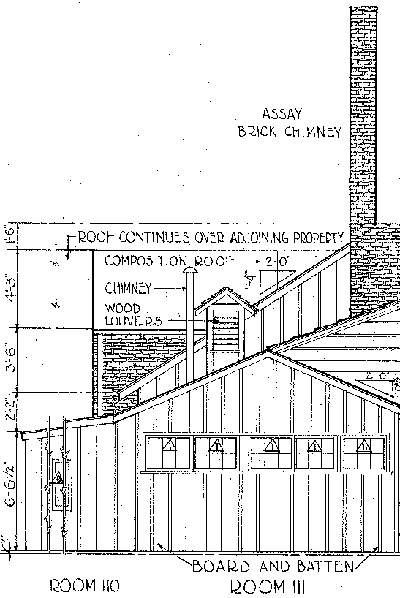 ©CSHP
The Backside (south view) of Wells, Fargo - c1940s



1945 - Note the Assay Office brick chimney is in the scematic as well as in the two images above. The Assay chimney in the back ground and a smaller metal chimney on the foreground roof top that matches both of the photographs listed above. As mentioned above; the small wood louver construction is visible on the 1940s image next to the metal pipe.





NOTE: Just recently (June 2015) I was given the opportunity to scan images made by Brian Wolverton and discovered some interesting bits of mid 20th century history. If you have images that will enhance these pages please send them to my email or drop by and I'll scan them.





This page is created for the benefit of the public by
Floyd D.P. Øydegaard
Columbia California 95310-9401
---
A WORK IN PROGRESS,
created for the visitors to the Columbia State Historic park.
© Columbia State Historic Park and Floyd D. P. Øydegaard.