PYAM BARTLETT BACON
Information on a merchant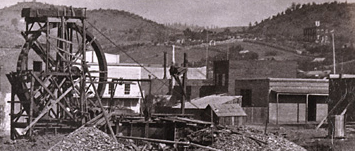 © Columbia State Historic Park.
This image (look far right, south of Wells, Fargo bldg.)
shows the back side and south wall facing Washington Street of Bacon's store.
- 1866


PYAM BARTLETT BACON
Pyam Bartlett Bacon (Also known as "Pike") was born in Warrentown, Ohio 23 April 1834. He came to Columbia with his mother Theressa Bartlett who was married to Captain David Green (second husband), 1853.

Soon Green and his three step sons start minning at Nigger Gulch, near Columbia. This area didn't pay well and they soon found a place that produced $30 per man. However the water was $10 a day.

1856 - The Bacon Brother's and John Stockdale build the first "hydraulic" used in Tuolumne County.

August 25, 1857 fire broke out in a Chinese shanty on the north side of Jackson Street. Most of the wood structures were lost and the brick buildings survived (except for Brown's store, which exploded). After the big fire Capt. Green and two of the Bacon brothers go into the Hotel Business at Sonora's City Hotel. Pike became a store clerk for R. B. Parker and C. E. Gorham's general merchindise store.

1857/58 R. B. Parker in partnership with C. E. Gorham rebuilds on the site. General merchandise store.
(Now in the middle of the intersection of Washington and Main Streets, this 2nd building was located on the northwest corner of Main and Washington streets, before Washington street was moved north - see image above)

1861 July 27 - Although two new cisterns were soon built, the new hose was not at once supplied. As a result, when fire broke out in the rear of the Eagle Cottage on Washington Street, it swept through all of the frame buildings between Main Street, and Broadway, north to State Street, two entire blocks. Some of the property would have been saved if No. 2's hose had not burst. R. B. Parker and C. E. Gorham's general merchindise store building survives the fire.

By 1863 Bowen, Bacon and Co. operate the business at the location of H. N. Brown & Co. Wholesale & Retail Dealers in Groceries, Provisions, & Hardware. (Owner having died in the explosion of his building in 1857)

February 1865 - Pike marries Marion Helen Bowne of NY. (reared in Michigan)

May 1865 - Pike has bought an interest in the business.

1866 Parker and Bacon operate the business.

1867 Bacon buys out Parker. Bacon becomes postmaster, in addition to post office they have groceries, dishes, miners' and farmers' implements and hardware.

1870 By this time the building is destroyed by mining and Washington Street had been realigned.

1871 April 25 - P. B. Bacon insures a frame store with Duchow. As his residence was on Green Street and the 1871 map shows Bacon as the owner of this lot he must have purchased it before this date. He also ran the post office while located in this building.

Moves his business to Heckendorn Lot (Martinez House location).

1873 he moved to San Francisco. Working for the U.S. Mint.

1889 he moved to Sonora.

1896 quits business.

1920s quits life (dies).





BIBLIOGRAPHY

Most information on this subject (Bacon Family, etc.) came from
Representitive Citizens of Northern Califorina - 1901



This page is created for the benefit of the public by
Floyd D. P. Øydegaard
---

To make corrections, etc., contact:

fdpoyde3 (at) Yahoo (dot) com
---
A WORK IN PROGRESS,
created for the visitors to the Columbia State Historic park.
© Columbia State Historic Park & Floyd D. P. Øydegaard.