JOSEPH ANDREA BIXEL
Information on a merchant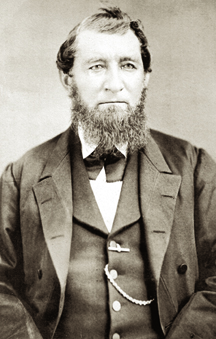 Joseph Bixel - 30 December 1800s




JOSEPH ANDREA BIXEL
The subject of this sketch was born in Wendenreute, Saulgau Oberamt, Donaukreis, Wurttemberg (1860 census) before Germany was a country on 30 November 1818. Here he was raised and educated. He emigrated to the United States in 1849, settling at Cleveland, Ohio. From this place he came to California via the Isthmus of Panama, landing in San Francisco in October, 1851. He came direct to this county, stopping at Jamestown, where he mined for gold during the Winter of '51-2.

The following Spring he went to Fresno, remaining there until the Fall of that year, and then moved to Merced County, where he purchased a farm in 1853.

On February 8, 1856, he came to Columbia and bought an interest in his present brewery, and has been engaged in the manufacture of beer. The brewery above mentioned was built by A.(Anton) Bixel, a brother of the subject of this sketch, in 1854, and was owned by him until 1856, when Joseph Bixel bought an interest, buying the remainder in 1869.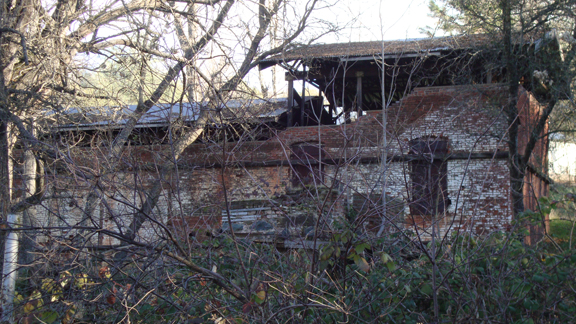 © Floyd D.P. Øydegaard.
Bixel Brewery - 2002



The 9 July 1860 census shows him living in the same dwelling; Anton Bixel age 37, Joseph Bixel age 41, Anna Bixel age 37, Paul Bixel age 14 (all born in Wurttemberg), Emilie age 2 and Louise age 4/12 born in Columbia. The Census further states that he is a brewer and living with his brother Anton and Joseph's wife. There are many workers listed as the building where the census was taken was most likely the Brewery itself.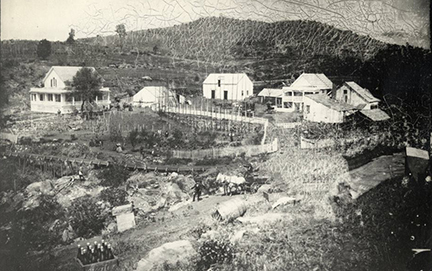 Bixel Home - c1860



This brewery is located at the head of Matelot Gulch near the Pine Log road, and is a wood building 40x60 feet, one story high, the malt-room and kiln of brick, one story and basement, 20x80 feet; the fermentation cellar is 20x60 feet, hewn out of almost solid limestone; the floor faced with marble. One large stable of wood, carriage-house and dwelling-house, also of wood, 30x40 feet, and one and a half stories high.

Mr. Bixel married Anna Maria Dirr. She is a native of Germany (Wurttemberg). Paul, Amelia, Louisa and Arthur are their children. - History of Tuolumne County - 1882

He died 3 August 1887 in Columbia and was buried in the I.O.O.F. cemetery.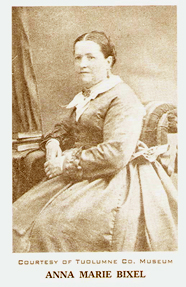 Joseph's wife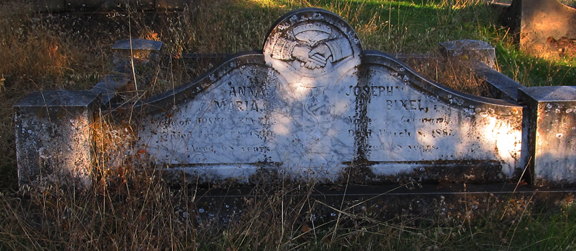 © Floyd D.P. Øydegaard.
Where Joseph and Anna are buried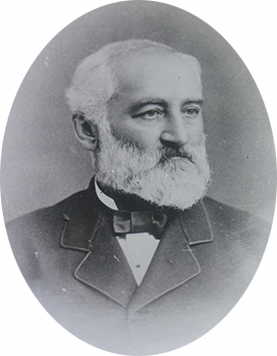 Antoine (Anton) Bixel



May 2018 - from a family member (maternal great grandson), Edwin Poor, comes the following story,


There were four brothers that came together, plus Anna Maria and son Paul.

First they travelled to the port Antwerp, Holland and boarded the ship Glasgow for Port of New York.

The brothers started by opening a cigar shop in Cleveland, Ohio. Brother Anton married and had a son. He then went to Ontario, Canada. Started the first brewery with his brothers Mathias [Mathew] and Leonhardt [Leonard] as partners. From there he and Joseph travelled to Columbia.

Anton [Antoine] did not take his wife Fanny or child. She fabricated the story that he died out of town. She bought a suit and held a funeral. Anton waited till she died before he married again in Nevada after she died. Joseph had purchased the Columbia brewery before this time from him. Anton again sold the Elko, Nevada brewery and moved on to Los Angeles for real estate where he died in 1907. He lived on Bixel Street now an apartment area.

Joseph passed leaving the brewery to be run by Anna Maria. I can't say if she was successfull.. Paul fell from a wagon and died of complications during recovery.

That there were 4 brothers is shown by matching church and passenger records.

Fanny's story comes from Cleveland newspaper storys.

The Canadian Brewerys were quite successful at making German Beers. Enough to being bought out by major brands.

I believe only one descendant of Joseph has male heirs. Oregon or Washington state. The last time I checked. Not sure of the Dambachers either





This page is created for the benefit of the public by
Floyd D. P. Øydegaard.





Email contact:
fdpoyde3 (at) Yahoo (dot) com
---
A WORK IN PROGRESS,
created for the visitors to the Columbia State Historic park.
© Columbia State Historic Park & Floyd D. P. Øydegaard.