THE BLACKSMITH.
(AKA: Jose Mario Lot, Parrott's Blacksmith Shop.)
1852 - Today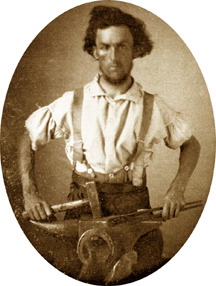 The blacksmith with the tools of his trade - c1850.

Originally 2 lots, the current shop sits on lot 2, so this is the history of Lot 1 & 2.

1852 Italian Saloon owner Luigi Marietti.

1853 The Colombo Saloon, with Wm. Daegener as part owner. By the end of the year, the saloon operators are Joseph and Catherine Wittman.

1854 February - D. S. Jocker & Co. buy the building.

1854 June - Wittman is again running the business.

1854 July - After the fire, the building is rebuilt of wood and is both a saloon and a restaurant.

1857 J. D. Patterson's stage line has an office in the building.

1857 Burns in the August fire, rebuilt of wood.

1861 Franklin and Wolfe own the building, they sell to Wittman and J. Vanderbuilt.

1862 Wittman and Jockers own the building.

1863 O. F. Becker owns the building.

1864 Jockers re-purchases the building.

1866 F. Stoltze buys the building.

1870 C. Koch is the owner, both the saloon and restaurant are run by D. Rolleri.

1871 August - From the corner of Main and State Streets Koch owns Block 10, Lot 167. Jose Maria owns Block 10, Lot 168 which is where the Blacksmith shop sits today and all of the area which includes the "Livery" props on State Street and to the street of Columbia. - Deputy County Surveyor map by John P. Dart

1880 G. Gerber and E. Kress operate the business.

Need history of what happened to the building between 1880 and 1900.
Lot 2

1900 By this time lot 1 & 2 are vacant. At some point after this there may have been a traveling photographer on the site.



1945 The empty lot was the center of activities during ceremonies establishing the town as a state historic park.

1947 State purchased from Frank and Jeanette Dondero.

1950s Blacksmith display was built.

1960 Zane Orr operates the stagecoach concession from this lot. Vern Holzell(?) worked there.

1965 Charles (Charlie) Robinson had blacksmith shop in building.

1974 30 June - Charles Robinson closed blacksmith Shop. (Park & Concessionaire report 1974-75)

1974 1 July - John W. & Kerry Sue Baker are given a contract to operate the concession (until 30 June 1975. (Park & Concessionaire report 1974-75)

1974 John Baker builds a new add on to the shop. Brings garage from Brainard house.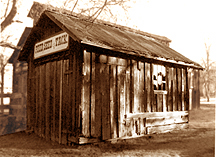 © Floyd D. P. Øydegaard.
Brainard garage - 2007


1980 Paul Osborn becomes the concessionaire.

1988 George Cantrell becomes the concessionaire.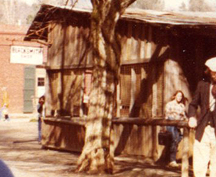 © Collection of web master.
Blacksmith Shop - 1975


1996 Michel and Christy Olsen have concession.

1997 Olsen leaves.

1998 Building rebuilt. Leannha Rodes Parrott becomes blacksmith concessionaire. Calls it "Parrott's Blacksmithing."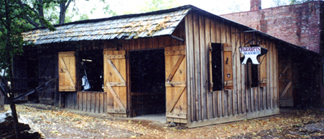 © Floyd D. P. Øydegaard.
Parrott's Blacksmith Shop - 2007

Other Blacksmiths about town.
There were also livery stables and wheelrights who carried on a business that would have hired men that were good at forming hot steel. Another blacksmith started where the City Hotel Lobby is today. Originally the lot is owned by Isaiah F. and Levi E. Colburn.

1852 The lot sells to Mitchell Coleman and John Mooney. It may have been a blacksmith shop.

1852 The Columbia Gazette for November 20, claims 6 blacksmiths in town.

1853 Coleman sells the business to Austin Smith, a master blacksmith from Vermont.

1854 Coleman deeds the property to Gordon and Austin Smith they have a blacksmith shop.

1856 Austin Smith & Co. run an ad in the Businessmen's Directory, located on Main above State Street.

1856 Campbell & Hedden was another blacksmith shop doing work on Broadway opposite the Masonic Hall and they run an ad in the Businessmen's Directory.

1856 John S. Canon was a wheelright and carriage maker on Main Street. His ad in the Businessmen's Directory.

1860 Census reports lists these 15 blacksmiths in Columbia:

J. W. Haskell age 30 from Maine worth $3300.
William Petty age 26 from New Jersey worth $350. (living with Mr. & Mrs. Haskell)
Daniel Kenedy age 29 from Nova Scotia worth $1400.
Daniel Sutherland age 28 from Nova Scotia.
Jacques Eitenne age 57 from France worth $500.
R. W. Ford age 26 from Maine.
George Varney age 54 from Maine.
Henry Harter age 51 from New York worth $600.
Hugh Canavan age 38 from Ireland worth $600.
Isaac Brink age 62 from Virgina worth $800.
Austin Smith age 30 from Vermont worth $1500.
John Ferguson age 45 from Virginia worth $1000.
John Wentz age 35 from France worth $1000.
James Cooper age 25 from New York.
J. S. Sullivan age 35 from Pennsylvania worth $1000.
from research notes of Bill Prindle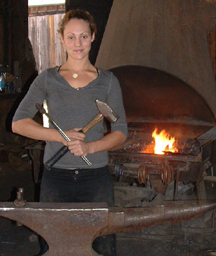 © Floyd D. P. Øydegaard.
Kristi Calbert, blacksmith - 2007
PARROTT'S BLACKSMITH
P.O. Box 1555
Columbia, California 95310
(209) 532-4474


This page is created for the benefit of the public by

Columbia Booksellers & Stationers
22725 Main Street
Columbia California 95310-9401
---

Email contact:


---
A WORK IN PROGRESS,
created for the visitors to the Columbia State Historic park.
© Columbia State Historic Park & Floyd D. P. Øydegaard.