!ŃCANDLE B.-->
STARBUCK (Daguerreotypists) LOT.
(AKA KELLY'S GROCERIES, POP KONRAD'S GARAGE, PLUMBING SHOP, COLUMBIA FEED AND TACK,
COLUMBIA CANDLE AND SOAP WORKS, SEVEN SISTER'S SOAP & CANDLE CO..)
1856-1883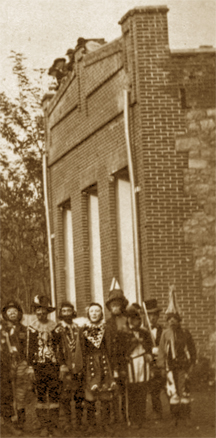 What the building might have looked like in 1856

This was originally 3 lots.
Isaac Shotwell put up several frame structures for rent as businesses and residences.

(Columbia Brewery was to the north, Costello one lot south and C & D Kelly on corner of Fulton and Broadway Streets)

1856 June - Starbuck & Hines, Daguerreotypists rent the corner lot and house, just north. An advertisement.

1856 June - Starbuck sells to Cornelius and Dennis Kelly. They build a one story brick structure for their grocery store.

1868 October - Dennis Kelly sells to his brother, Cornelius Kelly.

1871 August - D. Kelly owns lot 229 - Deputy County Surveyor map by John P. Dart

1888 March - C. Kelly sells to William Seibert.

1888 June - the brick structure is torn down and the bricks are sold to the Golden Gate Mine in Sonora, to be used for a furnace.

1896 July - William Siebert sells the lot to his wife, Kate.

1920 April - Kate Siebert sells to Mrs. Pauline Naegele.

1925 December - Mrs. Naegele sells to Robert O. Greeves.

1936 Pop Konrad's Garage built by Timothy (Pop) Konrad with the help of Vent Fiscus. His son Bob painted it white.

1947 Purchased from Timothy Konrad for $4100, price included all the cabins on the lot, which included the current (2001) building and parking lot.

1960s early - used as plumbing shop by park maintenance crew.

1973 Garage and workshop. (per "Columbia Memories" by Lee Roddy)

1990s early - it becomes Columbia Feed and Tack concession run by Davene Stoller.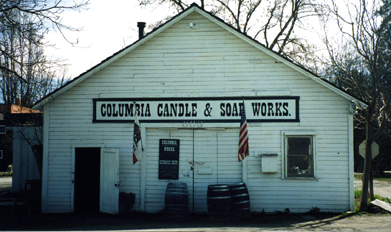 © Floyd D. P. Øydegaard.
Columbia Candle & Soap Works - 2001



1995 April 28 - the building become the Columbia Candle and Soap Works operated by Kim Kyhl.

2008 State moves Columbia Candle and Soap Works to San Francisco Store, to do repairs on the building.

2011 The Konrad building is finished.

2012 August 24 - Seven Sister's Soap & Candle Company opens concession.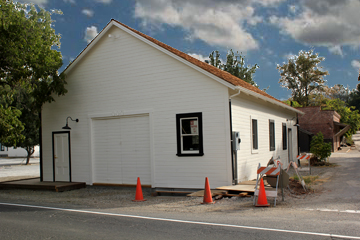 © Floyd D. P. Øydegaard.
Konrad Building after restoration - 2011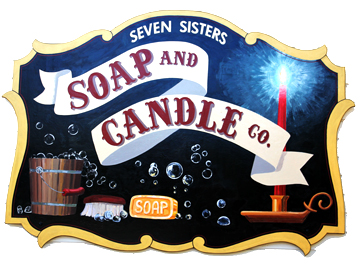 Seven Sister's Soap & Candle Co.
209 536-9047



This page is created for the benefit of the public by

Floyd D. P. Øydegaard.






Email contact:
fdpoyde3 (at) Yahoo (dot) com
---
A WORK IN PROGRESS,
created for the visitors to the Columbia State Historic park.
© Columbia State Historic Park & Floyd D. P. Øydegaard.