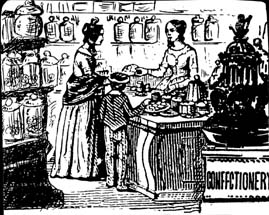 CANDY CANE MAKING.


You may view the process outside,
every Saturday & Sunday from
Thanksgiving weekend through
the weekend before Christmas.


WANT TO MAKE YOUR OWN CANDY CANE?
BY LOTTERY DRAWING ONLY!!
Get your card in now for next year!
Deadline is Labor Day for participating in the candy cane making.
at 12:00 & 1:00
Groups will NOT EXCEED 20 (twenty) people per demonstration!

Send a post card to the address below. With your name, address and telephone number!
Contact for more information:
Nelson's Candy Kitchen.
Postal Box 191
Columbia, CA 95310

Good Luck and Happy Holidays!
Call 209-532-7886



All information and schedules posted may be changed at any time!
The current listing may not be necessarily correct.




This page is created for the benefit of the public by
Columbia Booksellers & Stationers
22725 Main Street
Columbia California 95310-9401
---

Return to Chamber Main Page