!-City Hotel.-->
CITY HOTEL.
(AKA: MORGAN BUILDINGS, ENGLISH ALE & PORTER HOUSE, MORGAN HOUSE, MORGAN HOTEL, MORGAN CITY HOTEL)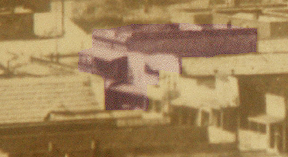 Morgan Hotel - c1866
© Webmaster Collection.



Originally the lot (where the City Hotel Lobby is located) is owned by Isaiah F. and Levi E. Colburn.

1851 George Morgan arrived in Columbia.

1852 The lot sells to Mitchell Coleman and John Mooney. It may have been a blacksmith shop.

1853 Coleman sells the business to Austin Smith.

Note: Prior to 1854 - J. P. and J. Yaney own a frame building on the lot.

1854 July 5 - George Morgan buys the frame building 5 days before the fire, that structure burns and he replaces it with 2 wood frame buildings. "English Ale and Porter House".

1854 Coleman deeds the property to Gordon and Austin Smith they have a blacksmith shop.

1854 July 10 - Major fire destroys most of town.

1856 Smith starts a 1 story brick building and Louis Heynemann reopens the Lager Beer Saloon in this new building. (see San Francisco Lager Beer Saloon)

1856 George Morgan replaces the south building with a 2 story brick structure.

1856 August - the Columbia Gazette and Southern Mines Advertiser is published on the second floor of the building.

1857 August 25 - the brick building is damaged in the fire and the wood building destroyed. It is replaced with a brick building. P.G. Ferguson rents the lower floor of the north building for his retail and wholesale liquor store. The Morgan family is living in part of the building. The hotel is known as the "What Cheer House". It is not known exactly when Morgam first used the hotel as such. Several businesses moved in and out of the building in it's early years, but they probably did not occupy all of it. It is probable that Morgan took in "roomers" at an early date. (from Barbara Eastman via CDPR brochure 1974)

1858 January - Lenz takes over the business.

1858 February - Lenz's barkeeper, Adolph Bennitz, takes over the business. The Smiths sell the building to Antony Miller whose wife then runs the saloon.

1860 January - Ida Watts buys the building, she had been operating the saloon since Miller's death.

1860 Cheap John Louis's Auction Room is in the building. On the upper floor is a 42' by 44' hall used for theatricals and concerts.

1860 November - Watts sells to Seymore Hughes who moves his business: tinware, lamps, stoves and hardware into the building.

1861 Mart Taylor rents the upper floor as the "Columbia Opera House".

1865 February - Hughes sells to Rains Hughes.

1865 April - G. Morgan buys the Smiths 1 story brick building on the south side of hotel.This building, with 18 feet of frontage on Main Street and a depth of 44 feet, was built at the same time as Morgan's original building and the two buildings had a single front with no dividing line. A second story was added to this section later (in the year), thus giving him two stories with identical measurements, 60 feet fronting on Main Street and a depth of 44 feet. (from Barbara Eastman via CDPR brochure 1974)

1865 Kline's What Cheer & Coffee Saloon. (from Barbara Eastman via CDPR brochure 1974)

1866 Buildings continue to be damaged by fire and improved.

1871 Morgan advertised as "Morgan's Hotel." The hall is known as the Columbia Theater and Music Hall. (from Barbara Eastman via CDPR brochure 1974)

1871 August - Morgan. Block 15, Lot 208. This parcel actually has a corridor leading to Broadway Street with a small path called "Morgan's Lane." - Deputy County Surveyor map by John P. Dart

1874 The first time that it is called "Morgan's City Hotel." (from Barbara Eastman via CDPR brochure 1974)

c1887-88 G. Morgan adds a second floor to the south building and enlarges the hall.

1888 G. Morgan opens the "Open Air Pavilion" on the north side of the building.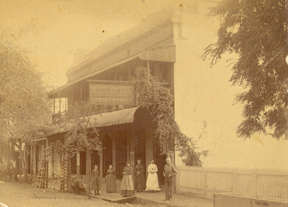 Morgan Hotel - c1890s


1890 By this time, the hotel had 20 sleeping rooms upstairs, a large office, bar, ladies' sitting room and a big dining room downstairs.




© Columbia State Historic Park.
City Hotel Bar Token - c1890s.


1891 July 19 - Hanged Himself - "SONORA, George Morgan, aged 73 years, an old resident of this city and engaged in the hotel business in Columbia, committed suicide this afteroon by hanging." - Sacramento Union 1891.

1892 After George Morgan's death, his widow leases the business to John W. Nash.

1897 By this time, George and Margaret's youngest son and daughter, Ralph and Maggie, own the property. Ralph is operating the hotel.

1902 William Koch builds a wooden addition at the rear, the lower floor was the kitchen, upper floor has toilets and baths.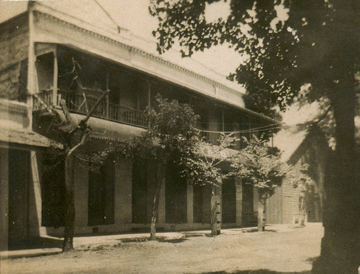 Morgan House - c1910


1911 April - fire destroys the wooden addition and the pavilion as well as the upper floor when the roof fell in. With little insurance, Ralph Morgan sells the property to Dante and Mary Cinelli. The Cinellis repair the brick building and rebuild the kitchen. They have 6 bedrooms on the second floor ready for renting by 1912. The bar is still open.

1911 September 4 - "The old Morgan Hotel at Columbia has been purchased by Frank Cameron, the butcher, for $1500. This historic hotel shall be named the 'City Hotel'." - (from the Sonora Union Democrat)

1912 January - A new "City Hotel" sign had been hung out in front, and the Cinellis were accepting guest. The Cinelli family operated the hotel, the last of Columbia's early hotels, until 1930. (from Barbara Eastman via CDPR brochure 1974)

1927 John Mills leases the building.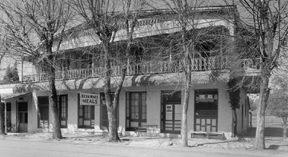 City Hotel - 1934


1930 Mr. and Mrs. Angelo Nadotti run the hotel. Board was $30 per week, 3 meals a day included. There is no heat upstairs.

1931 George S. Gardenhire, proprietor.

1938-39 Mrs. Mary Rolleri Cinelli, owner of City Hotel. Born on Yankee Hill to Jim Rolleri & Olivia Antonini who were married in Sonora 1861.(from G. Ezra Dane)

1940 April 9 - Mrs. Mary Nadotti is listed as the proprietor of City Hotel in the census. She is 53 which makes her born in Italy in 1887. Her husband Angelo is the same age and listed as a peddler of vegitables. He has an eigth grade education and she has two years in grade school. Their daughter Nellie is 19 years old, born in California and a clerk at a State Employment office.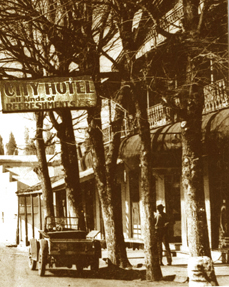 City Hotel - 1940s


1947 State purchases from John Hirt et al. At some point there were 15 bedrooms upstairs.

1973 1 March - Columbia Junior College District at City Hotel. (Park & Concessionaire report April 1975)

1974 April - Building not operated while being restored.

1974 28 February - One year contract is given to the City Hotel Corp. as a use facility for vocational training and resort management. (Park & Concessionaire report 1969-70)

1975 Building operated by the City Hotel Corporation.

2006 Forever Resorts takes over the concession, via a month to month basis awaiting RFP.

2009 June 21 - Forever Resorts contract ends.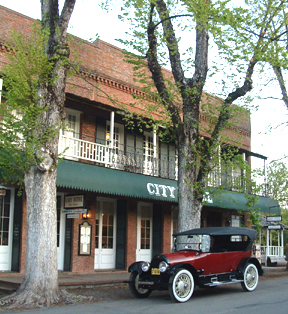 © Floyd D. P. Øydegaard
City Hotel - 2007


2010 May - Briggs Hospitality become the proprietors.

2013 December - Closed for plumbing renovation.

2014 February - Briggs Hospitality LLC who had the contract for this business gave their notice to vacate.

2014 May - State Park takes on the operatation of the City Hotel along with Fallon House.




Sources:
CSHP Archives, Barbara Eastman and where noted.



The CITY HOTEL
22768 Main Street
209-532-1479


This page is created for the benefit of the public by
Floyd D.P. Øydegaard

Email contact:
fdpoyde3 (at) Yahoo (dot) com

---
A WORK IN PROGRESS,
created for the visitors to the Columbia State Historic park.
© Columbia State Historic Park & Floyd D. P. Øydegaard.