CHARLES MEYSAN
Information on a merchant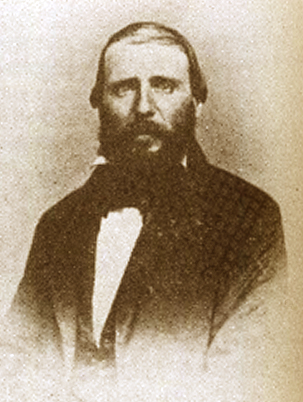 Charles Meysan Born 23 Jan 1826
in Paillet Canlonde Cadillac, Gironde (Bordeaux), France


CHARLES MEYSAN
1849 Charles Meyssan came to San Francisco at the age of 23. According to family tradition in France.

1851 May 16 - Township 1 (Sonora) census shows Charles Mason(sic) Miner age 25 from France boarding with three other Frenchmen, as well as a Mexican, a Swiss., and two Italians.

1852 November 5 - French Camp No. 3 (formerly called Indian Camp) is formed (10 miles north of Sonora) and three Frenchmen, Charles Meyssan, Louis "Lovely" Claverie and Victor Pinchard filed a joint claim to 160 acres each, calling it French Ranch.

1854 The partnership of Louis Claverie (c44 years old), Charles Meysan (c28 years old) and Victor Pinchard (24 years old), all French, operate a grocery, hardware and liquor business in a wood frame building on the lot where present day ruins stand, east side of Main Street (Italian Bar Road) between Jackson and Pacific Streets.

1857 After the fire in August, Claverie builds a brick building which he mortgaged for $2000.

1858 December 1 - Charles Meyssan married Madeleine Gaudin in Columbia. (Madeleine Gaudin was born in 28 Nov 1835 [or December 1836] at Villenave d'Ornon, Pessac, France.) The next day he prepared his team of mules to carry his bride and various supplies back to French Camp, balancing a keg of wine on one side of a mule and his wife on the other.

1859 May - Victor Pinchard and Charles Meysan are partners of Claverie building.

1860 July 6 - Census shows a Charles Mason(sic) age 34 as a merchant in Columbia from France. It also shows his wife Magdeline(sic) age 24 from France, with their first child François age 9 months, born in Columbia. (Dwelling #1951 on census)

1861 The partnership dissolves, Meysan takes the building and continues the business.

1866 Claverie sells to Meysan for $300.

1866 the Meyssans move to Columbia and set up a grocery store on the east side of Main Street midway between Jackson and Pacific Streets.

1866 June 2 - a daughter, Elodie Meysan, is born to Charles Meysan & Madeleine Gaudin Meysan.

1866 October 4 - Elodie Meysan, dies at 4 months (buried in cemetery at Page 6, Plot 6 Next to North side of H.C. Stevens)

1869 Meysan sells the building for $375, including a lot 12 feet by 50 feet next north, to Sun Yu Wo who continues the store. (Sun Yo Wo, Sun Yee Wo or San Te Wo purchased brick store from Charles Meysan on east side of Main next north to Maria Doutremont. Became the best known of the Chinese Stores.) (Eastman 1:12:1)

1869 March 12 - Meysan sells his French Camp property to Michael Rehm and H. Hanson for $225. The Meysan's leave Tuolumne County. They settled in Lone Pine, Inyo County.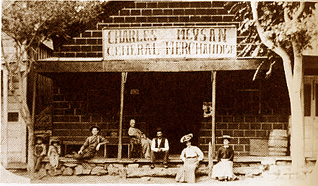 Charles Meysan Store in Lone Pine - 1870s


1870 The census shows the Meysan's in Inyo County.
Census Note: that spellings and dates are not always accurate due to errors by census takers.
Charles Meyson age 45 is a Grocery retailer in Lone Pine, Inyo Co., California. His wife Magdeleine is calling herself Margaret:
"Margaret Meyson age 35 is Keeping House"
Their children were:
Blanch Meyson age 11 female
Mary Meyson age 10 female
Alace Meyson age 9 female
Zilia Meyson age 7 female
Phelix Meyson age 6 male
Eugine Meyson age 2 female

1872 The great earthquake caused a wall of their adobe to kill their daughter Alice.

1872-1876 Charles serves as Supervisor of Inyo county.

1878-1882 Charles serves again as Supervisor of Inyo county.

1880 June 26 - The census shows the Meysan's still in Inyo County.
Charles Meysan age 54 Grocery store
Adaline Meysan age 43 Keeping House
Blanche F. Meysan age 19 female
Zelia Meysan age 15 female
Felix Meysan age 14 male
Eugenia Meysan age 12 female
Mathilde Meysan age 10 female
Stella Meysan age 7 female
Adeline Meysan age 4 female

1900 June 14 - The census shows the Meysan's still in Inyo County.
Charles Meysan age 74 husband (born Jan 1826)
Adelina Meysan age 63 wife (born Dec 1836)
Eugenie Meysan Age 29 daughter (born June 1870)
Felix Meysan age 31 (born April 1869)
Matholdi Meysan age 27 daughter (born June 1872)

1902 March 11 - Charles Meysan died.

1900 April 16 - The census shows Madelyne(sic) age 72 in Los Angeles, California, living with her daughter Eugenie M. age 35 & her husband Owen F. Dunn age 36 (Canadian/Irish).

1914 Jan 17 - Madeleine Meysan died in Los Angeles.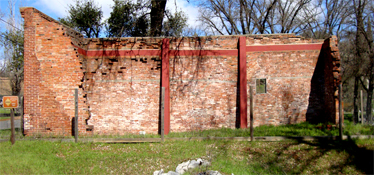 © Floyd D. P. Øydegaard.
Claverie Store Ruin Supports - 2010

Sources of information came from:
Barbara Eastman, census reports,
Then Came the French by Mary Grace Paquette,
Romuald Gaudin, a decendant, living in France.


This page is created for the benefit of the public by

Floyd D. P. Øydegaard



Email contact:
fdpoyde3 (at) Yahoo (dot) com
---
A WORK IN PROGRESS,
created for the visitors to the Columbia State Historic park.
© Columbia State Historic Park & Floyd D. P. Øydegaard.