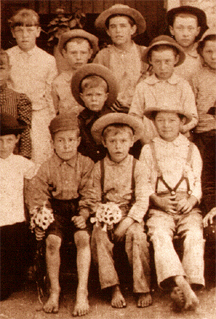 IT'S MY PARK!
Junior Rangers
June & July - call park for days and times.
Stewardship Program for kids 8 and up.
Participants will get a hands-on, behind the scenes glimpse of how a State Park operates,
see how maintenance, interpreters, law enforcement and curators work,
participate in fun activities and projects, and become a steward of your park!
Participation is limited, advanced registration is required. Call 588-9128.

.
Each day will focus on a different aspect of stewardship
in Columbia and will include a snack.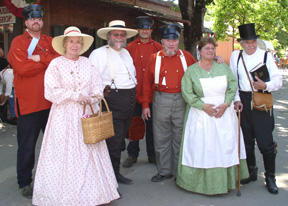 HISTORY'S MYSTERIES.
See website for details
We invite families or groups to solve an actual crime that occurred in Columbia in the 1800s. You will witness the event, interview key members to the crime and get a chance to subpoena them in court. Then you will select one person from your group to question people on the stand. At the end, you will determine the outcome of the crime.
Reservations are required: 209-588-9128. .
STATE INFO




BACK TO SCHOOL 1861
Learn what school was like in the mid 19th century.
The public is invited to participate in Back to School Night, 1861,
at the Old Columbia Grammar School in Columbia State Historic Park.
Visitors will enjoy live music, schoolyard games, hand-cranked ice cream and classroom sessions
led by costumed interpreters inside the old brick schoolhouse on the hill.
The upstairs of the building will be open for visitors who wish to climb the old spiral staircase, and even ring the old schoolhouse bell.
The two-story brick schoolhouse is thought to be the oldest one of its kind in the state,
and was first opened to students in 1861, to serve the educational needs of the growing mining town of Columbia.
It saw continuous use until 1937 when the new Columbia School on Parrotts Ferry Road, was opened.
Times: Check with the state.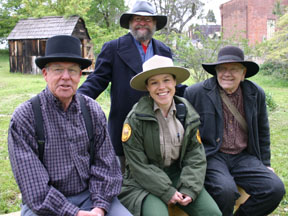 Great Volunteers Wanted
at Columbia State Historic Park.
Columbia State Historic Park is looking for individuals with a passion for gold rush history,
costuming, living history re-enactments, special events, museum staffing, school group and public tour leaders.
This is a great opportunity to get behind the scenes knowledge of the largest gold rush town still in existence.
Work with our staff on special events to accomplish exciting reenactments of the gold rush experience.
Dress up in 1860's costumes and staff venues such as our 1860s school house, Wells Fargo Office, bowling alley,
fire house and educate our visitors about the life of a merchant at the California store.
Volunteering at Columbia is an amazing opportunity for you to make the past come alive for the people of the present.
During your time at Columbia you will meet new friends, learn the history of the park
and get a chance to get involved in the park in a way that suits you best.
This is a great way to start a new year and become a part of your community and your State Parks.

NEW DOCENT TRAINING


CALL FOR APPLICATION
& to arrange an interview.

More information?

Call State Park Office 209-588-9128 or
Send an SASE to 11255 Jackson Street, Columbia, CA 95310 with questions.


All information and schedules posted may be changed at any time!
The current listing may not be absolutely correct.



This page is created for the benefit of the public by
Columbia Booksellers & Stationers
22725 Main Street
Columbia California 95310-9401
---

View Chamber Main Page