DARIUS OGDEN MILLS
Information on a merchant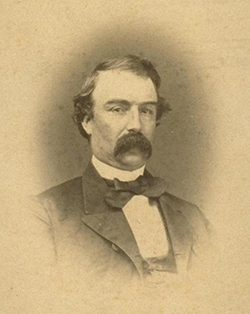 D.O. Mills - c 1850s.


DARIUS OGDEN MILLS
The mingled strains of Scotch and English blood flow in the veins of the representatives of the Mills family, which was founded in America at an early day, settlement being made on Long Island and in Connecticut. The branch of the family to which Darius Ogden Mills belonged settled in Westchester county, New York, which was then an agricultural and grazing district but is now one of the populous suburban sections of the eastern metropolis.

1825 September 25 - Mills was born in North Salem Westchester county. His parents being James and Hannah (Ogden) Mills. The father was a successful business man of that locality for many years and not only figured as a representative merchant but as a leading and influential citizen whose labors were an effective force in promoting the progress and advancement of the district in which he made his home. Realizing the value of thorough educational training, he gave his sons the opportunity not only to attend the public schools but also to enjoy the advantages of academic training and thus qualified them for mercantile or other business pursuits.

Darius O. Mills therefore had the opportunity for study not only in the North Salem Academy but also in Mount Pleasant Academy at Sing Sing, New York, and early in life he gave promise of his successful later career in the display of qualities which are ever dominant factors in business progress.

1843 He was a youth of eighteen when he went to New York.

1846 his rapid advancement in business there led to his assignment to the responsible position of cashier of the Merchants Bank of Erie County in Buffalo, New York, when he was but twenty-one years of age.

At the same time he became part owner of that institution. Whatever he undertook he carried forward to successful completion and his associates soon recognized his sound judgment and clear vision as well as his capacity for unlimited effort. He remained in Buffalo from 1847 until 1849.

1849 March? - attracted to California by reason of the reports which reached him concerning its opportunities for growth and development, he came to the Pacific coast to verify for himself the tales that he had heard and if conditions were favorable to here engage in business. However, he retained his relation with the Merchants Bank of Erie County and left behind him a good credit on which he could draw. He started to the west by the Panama route. The isthmus, then the great thoroughfare of the western coast, was thronged with adventurers who could not proceed further for want of shipping. Accordingly Mr. Mills went down the South American coast, thinking to charter a vessel at Callao and return to take on freight and waiting passengers who were then in great numbers in the little port of Panama. However, no vessel could be secured in South America and Mr. Mills shipped as a passenger direct from the Peruvian port to San Francisco, where he arrived early in 1849.


1849 October - Soon afterward he went to Sacramento, where he arrived in the fall of that year with a small schooner of goods and forty dollars in cash. The capital city at that time contained a population of about ten thousand people and it was his purpose to trade with the miners.

1849 autumn - Mr. Mills had returned to New York with a considerable sum of money already realized through his business operations in San Francisco.

1850 spring - he had again started for the Pacific coast with his stock of merchandise. He found his most congenial field, however, in banking and accordingly established the business of D. O. Mills & Company, his cousin, E. J. Townsend, joining him as a partner.

1850 July - His brothers, James and Edgar Mills, had previously reached Sacramento, where they were doing business under the name of James Mills & Company, Merchants. Darius O. Mills was associated with them for a brief period but he began operations as a banker, and in the San Francisco, Sacramento City and Marysville Directory, published by Bogardus mention is made of D. O. Mills & Company, Bankers,located at 55 J street, between Second and Third streets.

1850 his company had established a branch bank at Columbia, Tuolumne county (the scene of Bret Harte's "Roaring Camp"), in the midst of what was then one of the most promising and active gold fields of the state a fact indicated in the knowledge that in 1852 there were already four banking and exchange houses in Columbia, while the town had a population of fifteen thousand. The branch bank was maintained there for about nine years under the management of Edgar Mills and was then sold to W. O. Sleeper & Company, but during the time the Mills interests were in charge more than fifty-five million dollars in gold dust had passed over the counter and was weighed in the bank's scales.

1852 - Mills became sole owner of the business and for many years thereafter he ranked not only as one of the pioneer bankers of California but as one of its foremost financiers.

1852 - the Bank of D.O. Mills and Company was expanding and opened a branch in Columbia, Tuolumne County, which was managed by Mills' brother, Edgar.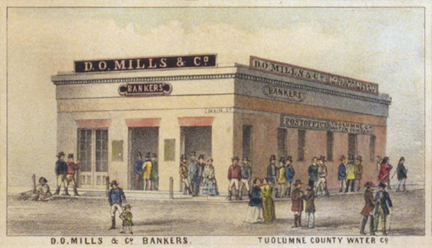 Bancroft Library
Corner of Main and Fulton Streets, Columbia - 1852 to 1857




1854 September 5th - Mr. Mills was married to Miss Jane Templeton Cunningham, a daughter of James Cunningham, of New York, and they became the parents of a son and a daughter, the latter becoming the wife of Whitelaw Reid, of New York. His devotion to his family was ever one of the paramount interests in the life of Mr. Mills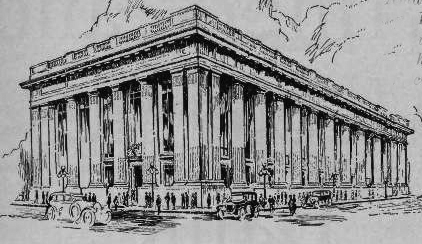 Erected in 1852, this building housed one of the oldest and largest banks of early-day California.






Theodore Roosevelt said: "In all this world the thing supremely worth having is the opportunity, coupled with the capacity, to do well and nobly a piece of work the doing of which shall be of vital significance to mankind." This opportunity came to Darius Ogden Mills and was utilized by him in a way that made his efforts a most valuable contribution to the upbuilding of California and especially in the stabilization of its financial affairs. He was one of the pioneer bankers of the state, his career being characterized by untiring energy, by quick perception and readily formed plans, promptly executed. Moreover, his business integrity was an outstanding element in his career. As the years passed on his business connections grew in volume and importance until he became a national figure in the field of finance and railroad management, and with the growth of his worldly possessions he likewise increased his activity for the benefit and welfare of his fellowmen.

1862 - Darius O. Mills sold a third interest in his Sacramento bank to his brother, Edgar, while Henry Miller acquired the other third interest, and he retired, at least temporarily, from active participation in the management, his partners relieving him of that responsibility.

1872 - the bank of D. O. Mills & Company became the National Gold Bank of D. O. Mills & Company, and in 1883 the name was again changed to the National Bank of D. O. Mills & Company, which title was retained until October 29, 1925, when this pioneer banking house was merged with the California National Bank, the latter name being retained.

(1872-1882) - The name of the bank went through several literations over the years, including: D. O. Mills Bank, National Gold Bank, D. O. Mills and Company.

(1883-1912) - National Bank of D. O. Mills and Company. Partners associated with the bank include the Mills brothers, James and Edgar, a cousin, E. J. Townsend (1852-1855), and Henry Miller (1855).

1912 - the bank merged with the California National Bank of Sacramento which closed in 1931.

The Mills family invested widely in the early economic development of California. Their interests included land development, farming, mining, railroads, etc.

After 1873 - D. O. Mills relocated to New York but continued to be widely invested in California. His brother, Edgar, remained in Sacramento and took care of the family interests until his death in 1893.

While Mr. Mills had hoped to retire from active banking, this wish was not long a dominant factor in his career, being dispelled by good sense and the challenge of great responsibilities. It was proposed to establish a bank in San Francisco of sufficient commercial dignity and foreign credit to insure confidence, and the result was the organization of the Bank of California with a capital of two million dollars, Darius O. Mills becoming owner of one-tenth of the stock and president of the company. The new institution was so successful that in a short time its capital was increased to five million dollars. The broad experience, the wide vision and the undaunted enterprise of Mr. Mills contributed in notable measure to the growth and prosperity of the institution, of which he remained the president for about nine years. During all of this time the steady and rapid increase of his own fortune naturally tended to bring about his retirement from the bank that he might care for his own estate.

1873 June - Accordingly he retired. Under the control of his successor, however, the business of the bank rapidly fell off and with the failure of the bank in 1875, Mr. Mills was beseeched to return and again resume control, the stockholders relying upon him as the man whose presence and influence would reestablish the bank on its previous high and profitable basis. He was again elected president and with marked public spirit devoted his attention for three successive years to the restoration of the bank, his labors being attended with most gratifying results. He was thoroughly acquainted with every phase of the banking business and his methods and his principles ever made for stability and development. He had gained wisdom through study and experience and he had gained honor and respect through his integrity and justice.

1910 - The Coast Banker in its issue of January, said of Darius O. Mills: "As one of that galaxy of California pioneers whose qualities and works inspire and retain the pride of later generations, he did his work and held his place in a strenuous time. The prizes of fortune, reputation and influence he won in his California career were not given by luck. He was, in an essential way, the ablest and best of those who won these things because they were strong, alert, sagacious and just. Had he not instinctively avoided publicity, he could have been a shining figure in the life of his time. To a man like him, the way to position and power of the more obvious sort is not long. The fortune he acquired was very large, but its size is a minor fact now. What will be noted and remembered, in association with his wealth, by those who knew him and by those who base estimations of human life on the realities of life, and on the things thereof that abide, will be the fact that his wealth was cleanly won, that it came from the legitimate development of the resources of California and America, and from the profits of legitimate business, conducted with masterful sagacity, and that throughout his life his name was never connected with pernicious or questionable corporate finance. Benevolence, justice, honor, wisdom and philanthropy went hand in hand with practical business." As the years passed Mr. Mills extended his efforts into other fields through financial investment as well as active service. He became a director of the Erie Railroad Company, the Lake Shore & Michigan Southern Railway Company, the New York Central & Hudson River Railroad Company, the Southern Pacific Railway Company and the North Atlantic Steamship Company. He was also a director of the Metropolitan Trust Company and a trustee of the City and Suburban Homes Company, the International Paper Company, the Lackawanna Steel Company and the Madison Square Garden Company. Through all of these associations he contributed to development and progress and his operations were nationwide in scope.

1880 - he was also ever actuated by a broad humanitarian spirit that prompted him to reach out a helping hand toward the individual and toward the community at large whenever he believed that public welfare could be promoted. He became a regent and the treasurer of the University of California, thus serving from 1868 until 1880, and he founded the Mills professorship of moral and intellectual philosophy. He also became one of the first trustees of the Lick estate and of the Lick Observatory. In 1880 he returned to again establish his residence in New York, where he erected the Mills building, and he also established a system of hotels wherein meals and lodging were furnished to respectable men at nominal prices. He likewise established a training school for male nurses and he was chairman of the executive committee of the Fordham Home for Incurables and chairman of the Carnegie Institution in Washington. He was likewise actively interested in the Tribune Fresh Air Fund, in the Museum of Art and the American Museum of Natural History. He was connected with the American Geographical Society and was the president of the New York Botanical Garden.

1910 January 3 - He never ceased to feel the keenest, interest in California and passed away at his winter home at Millbrae., As he prospered he enjoyed to the full the pleasures which art and culture can bring and he delighted in surrounding himself with beauty in his home furnishings. He considered, too, his duties and obligations to his fellowmen and was almost as widely known as a philanthropist as he was a capitalist. His life work continues as a factor of usefulness in the substantial Mills building of San Francisco and in the great banks of that city and of Sacramento which had their inception in his clearly defined purposes and indefatigable enterprise. He not only builded wisely and well in the promotion of his own fortunes but also for the future greatness of California. His name was known from coast to coast and his course was the expression of the highest type of business achievement and of public service.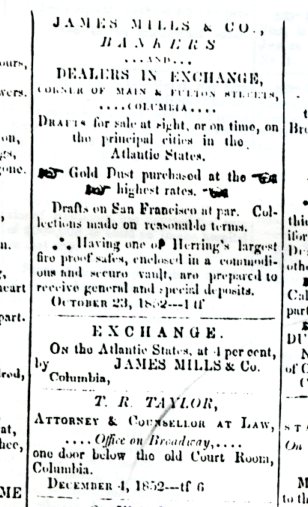 Newspaper ad from Columbia Gazette - 1853
Bib. Source and Additional Comments: Extracted from: History of San Mateo Co Cal Volume II Illustrated Chicago, IL. The S. J. Clarke Publishing Co - 1928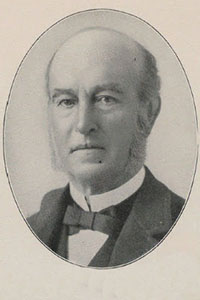 D.O. Mills - c1890s

This page is created for the benefit of the public by

Floyd D. P. Øydegaard.






Email contact:
fdpoyde3 (at) Yahoo (dot) com
---
A WORK IN PROGRESS,
created for the visitors to the Columbia State Historic park.
© Columbia State Historic Park & Floyd D. P. Øydegaard.