DONNELL & PARSONS (#33)
1853-1867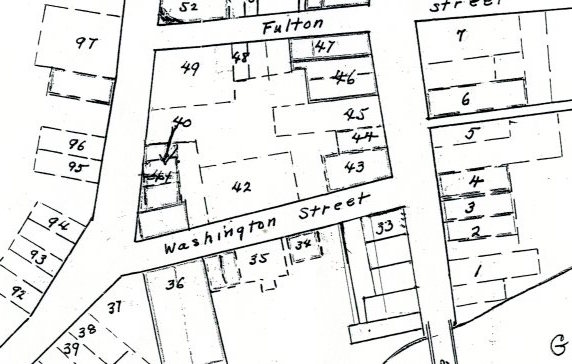 >
(George & Barbara Eastman Map - Dec. 1958)

Missing Buildings



Forgotten Buildings is what Mrs. George W. Eastman called her compilation as she described (in 1954) what was here: Main Street Southwest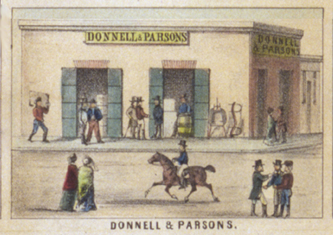 © Bancroft Library.
Donnell & Parsons Saloon - 1855


1851 Census - Has Charles A. Parsons age 19 as the partner in the firm of Donnell & Parsons. (Barbara Eastman - 1971)

1853 April - Donnell & Parsons build the first brick building on this corner of Washington and Main Streets. A one-story building fronting on Main Street (Washington Street was not curved as it is today) Their general store carried a wide range of merchandise and provisions.

1853 September - Donnell & Parsons was the only brick building in Columbia at this time. E1:17:83

1854 July 10 - at 2 o'clock in the morning H. "Babe" Crowell started a fire at the corner of Broadway and Washington Streets. The brick building survived.

1856 March - Donnell & Parsons acquire a lot from Munkelt & Burkhard on northeast corner of Pacific (north of Jackson) and Main Street. Here they completed their "concrete gravel-stone warehouse" for wholesale and retail business. E1:13:1

1857 August 25 - The Donnell & Parsons building suffered damage from this devastating fire. The fire also causes much damage to all wood structures in town and what wasn't rebuilt was mined to the granite bedrock.

1860 Researching the census for a Donnell who could have been a merchant came up with nothing. The census had a bunch of Pasrons of various possibilities.
C A Parsons age 29 born abt 1831 of Massachusetts living in Columbia at Dwelling Number: 2824 Occupation: Merchant Real Estate Value: 1000. Personal Estate Value: 3000. (This is the best ot the lot)

1861 July - Fire burns all the buildings on Washington St. (At this time it would seem that the partners have quit their store on Main & Washington Streets)

1862 The building becomes occupied by a Justice of the Peace and is used as a court room. E1:3:1

1862 - Donnell & Parson "concrete gravel-tone wharehouse" for wholesale and retail business fails. The warehouse is sold in 1866 to William Haynes and probably torn down and mined soon afterward. E1:13:1

1865 Property (what was beneath the surface) is becoming more valuable on South side of Washington St. The digging of ore in Main Gulch to the granite bedrock has started to change the direction of the street as the miners widen their area and a few buildings are replaced with deep cuts into the street.

1866 The first brick store becomes another casualty to mining and is torn down. Maybe those bricks were used in another future building?

1867 The site of the Donnell & Parsons building is mined. The street now cuts a curve that takes away the property of Buildings #43 & #44.






From a copy of the map of Columbia 1860 that was compiled by George W. & Barbara Eastman Map - Dec. 1958
Also from the sign that was ereccted by the state near (a full street width north of) the site of their building.






This page is created for the benefit of the public by
Floyd D. P. Øydegaard.

Email contact:
fdpoyde3 (at) yahoo (dot) com

---
A WORK IN PROGRESS,
created for the visitors to the Columbia State Historic park.
© Columbia State Historic Park & Floyd D. P. Øydegaard.