EAGLE COTTAGE.
1854 - TODAY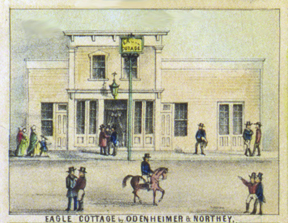 © Bancroft Library.
From the poster for Columbia - 1855


Originally the lot is owned by Duncan and McClenahan. The building on the lot burns in the 1854 fire.

1854 Wm. Odenheimer and Thaddeus W. Northey buy the property. Odenheimer moves his Eagle Cottage boarding house to the property and into a larger building. It takes care of 100 boarders and has a barber shop in the northeast corner. After burning, it is rebuilt by July 23.




© Bancroft Library.

From the backside of the Eagle Cottage looking north



1855 a lithograph is created of important buildings in Columbia and the lithographer, due to a lack of space(?), just etches the word "Ea - - Cotage" in the sign. (There is no real documentation that the building's sign was misspelled.) However, in the original hand painted version of the litho, the words Eagle Cottage, are below the image, (see above).

1856 Northey sells his interest to Isaac A. Stevens. Odenheimer was drinking heavily.

1857 April 4 - Soderer and Marshall buy the property at a sheriff's sale and lease it to Charles Bombauer.

1857 August 25 - the building is destroyed by fire and the lot is purchased by Bombauer who rebuilds.

1859 The lot reverts to Soderer and Marshall after Bombauer fails to pay the mortgage.

1860 February - M. D. Kimball leases the Cottage. In April, Mrs. C. Bronson runs the business.

1861 July - the building is again destroyed by fire.

1862 October - the vacant lot sells to James Griffiths, Tim and Tom Hayes.

1871 The site is mined and abandoned.

1950 The state purchases the empty lot from Luckows, Nicolas and Peterson.

1960 The building is reconstructed with money from the College of the Pacific and the state. It is used by COP drama students in summer repertory at the theater. First year of use is summer, 1960.

1961 May - the building is officially dedicated. The word "Eagle Cotage" is placed in the sign. Which creates the legend. (There is no real documentation that the building's sign was misspelled.)

1970s Used by Columbia College as classrooms until their facility is constructed.

1974 31 May - University of the Pacific is given a contract for one year. (Park & Concessionaire report 1974-75)


1980s Used as classroom for pregnant minors by Tuolumne County Schools. Front parlor used by spinning and weaving guild as store.

1994 Columbia Historic Preservation Society becomes concessionaire. The City Hotel corporation offices are on the top floor.

2004 Columbia State Historic Park takes over control of the building for docent and state park use.




The Eagle Cottage today is used for town meetings as well as training location for state park personnel.








Page created for the public by
Floyd D. P. Oydegaard





Email contact:

fdpoyde3 (at) Yahoo (dot) com
---
A WORK IN PROGRESS,
created for the visitors to the Columbia State Historic park.
© Columbia State Historic Park & Floyd D. P. Øydegaard.