HAM & HILDRETH LOT.
(AKA DENSLOW & FISH RESIDENCE, HAM & HILDRETH STABLES, CANDLE COTTAGE, CSARDA'S HUNGARIAN, EL JARDIN'S)
1850 to present.

Ham & Hildreth Livery Stable - c1850

1850 Ham & Hildreth Livery Stables have one of the earliest business's on the northwest side of State Street. On the corner of State & Broadway were two houses. Denslow was at the corner and Fish north on Broadway (According to map)

1854 July 10 - "A fire broke out this morning, about 2 o'clock, on Broadway, two doors from Clark's Hotel, in the town of Columbia, and resulted in the almost total destruction of the town. All the property within the territory bounded by Broadway, Fulton, State and Washington streets, is entirely consumed, except the fire-proof building of Donald & Parson." - Sonora newspaper.
This first major fire that ravages many of Columbia's wood structures, took the livery building and all of the houses up Broadway.

1871 August - J. Decker has Block 19, Lot 252 and next to him North, is Estate of Fish Lot 251.- Deputy County Surveyor map by John P. Dart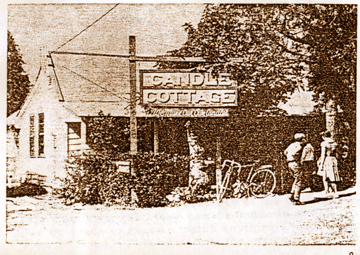 The sign reads, "We make our own candles." - 1965



1970 July - The Schulz' run another ad run in "Old Timer Days" Mother Lode Fair Program.

1970 The wooden structure burns.

1970 Tihamer T. Fenyoe builds current building.

1970 Tihamer T. Fenyoe opens Csarda Hungarian Restaurant and Deli, at 22758 Broadway Street, Columbia. Closed up his restaurant in 2002. (Born July 17, 1929, in Budapest, Hungary. He married Rozsa L. Fenyoe, on Oct. 4, 1969. He died April 25, 2010 in Laguna Woods in Orange County, at Saddleback Memorial Hospital in Laguna Woods. His family included daughter, Timea M. Parris, of Alamo, Contra Costa County; his son, Tom C. Fenyoe, of San Antonio, Texas; son-in-law, Brandon C. Parris, of Sonora; daughter-in-law, Melissa M. Fenyoe, of Modesto; and grandchildren, Chloe and Hayden Parris, of Alamo, and Nikolas and Taylor Fenyoe, of Antelope.)

2002 El Jardin's Mexican restaurant opens.

2005 April - Craig & Liz Dickson take over the franchize of El Jardin's Mexican restaurant.

2011 January - Craig & Liz Dickson sell the franchize of El Jardin's Mexican restaurant back to previous owner (Keeping the one in Murphys).



El Jardin restaurant - 2011
22758 Parrotts Ferry Road (Broadway)
(209) 532-1291



This page is created for the benefit of the public by

Floyd D. P. Øydegaard.



Email contact:
fdpoyde3 (at) Yahoo (dot) com
---
A WORK IN PROGRESS,
created for the visitors to the Columbia State Historic park.
© Columbia State Historic Park & Floyd D. P. Øydegaard.