California's Old Glory.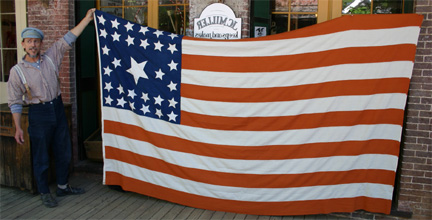 Owned and Hand Sewn by Jim Miller.


Based on an original 1850 flag (page 77 in "The Stars and the Stripes", Boleslaw and Marie-Loiuse D'Otrange Mastai, Konecky & Konecky 1973). Jim was true to the original size by formulating the dimensions based on information as to the size of the rubber stamp that the Mastai's used to mark their flags. Using the stamp's impression, he calculated that the original flag was approx. 6'x10'. This allowed him to proportionately calculate the size of the stars in the Canton. He graphed the Canton and placed the stars in their original "tumbling/dancing" configuration. So far this is all on paper. He then began researching construction methods. Pictures he had taken at Sturbridge Village and careful study of Flags in his collection and friend Derek Manov's gave him options for construction details. He then found a source for Wool Bunting. The only mill producing it at the time was Thistle Hill Weavers but Jim got it at a better price from Richard R. Gideon Flags. Gideon says the historic source he supplied has since stopped the making of historic reproduction wool. Almost all of Jim's information on period Natural Dyes came from Liz Cowdery of Linden Lane Farms. The dye stuffs (Madder Root and Indigo) were from Earth Guild in North Carolina. Lindy (his wife) helped him figure out the formula for cutting the wool to size for dyeing. About 2 days each was spent on both the Red and the Blue. He dyed the red three times. Not enough space to describe that!!! The stars are Muslin, appliquéd on both sides to match. All the main seams are double sewn, flat felled with a running stitch of waxed linen. The hoist (binding) is narrow and made of canvas with hand worked holes for attaching, all period details. There is a seam running through the Canton that reminds us that the original bunting was in narrow widths and had to be pieced. All totaled, about 230 hours in construction alone, not counting research.



The 31-Star Flag became the Official United States Flag on July 4th 1851. A star was added for the admission of California (September 9th, 1850) and was to last for seven years. Although it wasn't official, the 31 star flag was already being flown throughout California and in Columbia during 1850. The three Presidents who served under this flag were; Millard Fillmore (1850-1853), Franklin Pierce (1853-1857), and James Buchanan (1857-1861).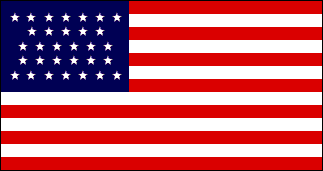 The standard issue 31 star flag.
---
This page is created for the benefit of the public by

Floyd D. P. Oydegaard



Email contact:
fdpoyde3 (at) Yahoo (dot) com
---