BORDER="1" align="left">
1866 Joseph Rodgers sold to David Levy, who runs a clothing and dry goods store.

1870 Levy sells to his father, Joel, who has a fancy and staple dry goods store.

1876-1878 O. F. Strubridge's Empire Saloon.

1878 Joel Levy sells to Sewell Knapp.

1878 Knapp sells to Louis Levy who is postmaster and has a general furnishings goods store.

1880 David Levy opens the Dividend Saloon in his brother's building with a billiard room, "most elegant saloon in county".

1880 May through Oct. - David Levy advertises the Dividend Saloon with these words: "This is the most elegantly fitted up saloon in Tuolumne county. Here you can always obtain the best brands of Liquors and Cigars. Fine Wines and Liquors a Specialty. Do not fail to call on us when in town, and we will treat you like a Prince of Good Fellows. Robert Monroe, Manager."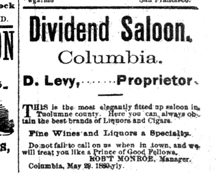 © T.C.H.S.
October ad 1880

1882
Levy sells the Dividend Saloon to M. E. Hughes.
1887
The Dividend Saloon, sells to Charles Koch.
1900
Koch leaves the building to his nephews, Chas. W. C. Mayer & Richard Luckow.
1920
The
building
.
1934
The
building
.
1947
State Park purchased the building from Richard Luckow, et al.
1940s or 50s
Mr. Miner has feed store in the
building
.
1972
Roger and Betty Holmberg open
Cheap Cash Store
; an Antique shop.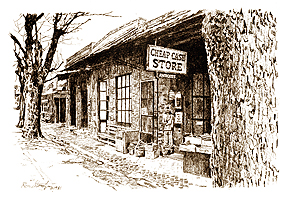 Drawing of Cheap Cash store by Ron Stout - 1981
1999
Betty Holmberg retires.
2002-2004
State Park uses it for the
info center
while the Knapp Block is repaired.
2005
State Park makes the building a static store display.
2006
March 1st - the Columbia Booksellers & Stationers has moved from the Columbia Gazette to this new location.
NOTE: Anyone with information changes or copies of materials
that relate to the Cheap Cash Store; Franklin & Wolfe Building
or the town of Columbia that might shed more light on my on going research is welcome to write to me
via email or the Postal Service and send copies of said info to the store address.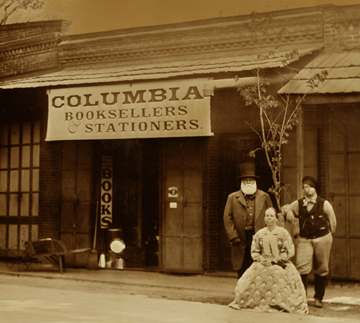 Image of the store by Will Dunniway & Company - 2007

Columbia Booksellers & Stationers
22725 Main Street
Columbia California 95310-9401
Email contact:


---
A WORK IN PROGRESS,
created for the visitors to the Columbia State Historic park.
© Columbia State Historic Park & Floyd D. P. Øydegaard.