JAIL BUILDING.
(AKA BLACK POWDER STORAGE)
1890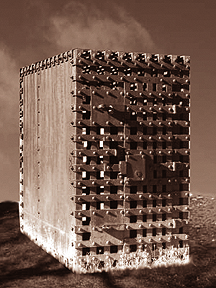 Typical metal Jail that was most likely used in the 1850s.

1850s Originally this lot was part of a larger lot. It was acquired by Mullan and Williams for the Boston Livery.

1866 The lot is split, the south half is purchased by Mike Rehm.

1870s North half of the lot has the jail (not the current building), the south half has a stone building which is used to store black powder.

1871 August - Rehm owns Block 9, Lot 165. - Deputy County Surveyor map by John P. Dart

1890s Stone building is the jail through the 1930s.

1949 Donated to the state from Tuolumne County, no money changed hands, valued at $100.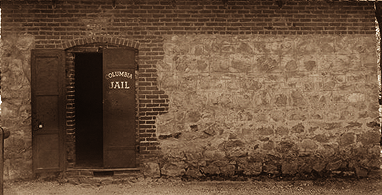 Jail House - 2002



This page is created for the benefit of the public by
Columbia Booksellers & Stationers
22725 Main Street
Columbia California 95310-9401
---

Email contact:


---
A WORK IN PROGRESS,
created for the visitors to the Columbia State Historic park.
© Columbia State Historic Park & Floyd D. P. Øydegaard.