Chronology of Jesse James


by Floyd D.P. Øydegaard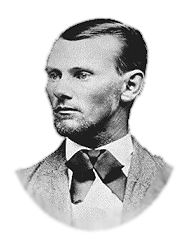 December 28, 1841 - Robert James & Zerelda Elizabeth Cole married in Stamping Ground, Kentucky

January 10, 1843 - Alexander Franklin James born in Kentucky

July 19, 1845 - Robert James Jr. was born near Centerville (Kearney), MO, on the farm in Kearney. Died 33 days later.

September 5, 1847 - Jesse Woodson James born on the 257-acre farm as well

November 25, 1849 - Susan Lavenia James born.

August 18, 1850 - Rev. Robert James dies of food poisoning in a Placerville, California gold camp after deserting his family to seek riches during the Gold Rush.

September 25, 1855 - Zerelda marries her third husband Dr. Reuben Samuel after second husband, Benjamin Simms, is killed in a horse accident.

December 26, 1858 - Sarah (Sallie) Louisa born to Zerelda and Rueben.

May 4, 1861 - Frank James joins the Confederate Army at 18. Later is paroled and joins William Clark Quantrill.

December 25, 1861 - John Thomas born to Zerelda and Rueben. 1862 - Jesse has image done by tintypist in Kansas City.


1863 - Lawrence, Kansas massacre, a bloodbath where hundreds of raiders led by Quantrill tore through the Unionist town, looting every building, robbed two banks, burning most buildings to the ground, and murdering nearly 200 unarmed men and boys. Frank was a member, but there is some doubt that Jesse had joined. Stories tell how Jesse bragged at the killing of 36.

October 18, 1863 - Fannie Quantrill born to Zerelda and Rueben.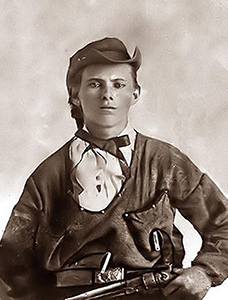 Jesse wearing the "costume" of the ruffians
while serving under Anderson



1864 - Jesse has second photo made shortly after joining "Bloody" Bill Anderson's guerilla forces at age sixteen.

September 20, 1864 - the massacre of Centralia, Missouri, where William "Bloody Bill" Anderson and gang of ruffians robbed the passengers of an incoming train, and 24 unarmed (some wounded) Union soldiers, going home on leave, were taken from the train and murdered by these 100 guerrillas. Some Union Cavalry chased them from town when suddenly the marauders turned on the Federals, killing most of them. Jesse is credited for killing Union Major A.V. Johnson; one of the soldiers on the train.

After April, 1865 - Jesse has image made in Nashville, Tennessee. He is also shot by occupying Union soldiers in the chest.

February 13, 1866 - Frank James, Cole and Jim Younger rob the Clay County Savings Bank in Liberty, MO. of $72,000. A boy is killed by the gang. Jesse's legend is embellished when he is placed at the scene as well, contrary to family members reporting him sick in bed, with his chest wound still bothering him.

February 1866 - Jesse has another image made in Nashville, Tennessee.

July 26, 1866 - Archie Peyton born to Zerelda and Rueben.
1866 - Perry Samuel, mulatto boy, born out of wedlock by one of the slaves is raised as part of the Samuel family.

October 30, 1866 - Mitchell and Company banking firm of Lexington, MO. is robbed and Jesse a Frank are blamed, even though they were not in the state.

1867 - Jesse has image made in San Francisco, CA. After taking a ship from New York, across the isthmus in Panama and another ship to San Francisco. He had a relative who lived in Paso Robles that he was suppose to have visited and also he looked for his father's grave in Placerville with no success.

1866-7 - John Newman Edward contributes to their fame with glorifying articles and a few "Dime Novel's"

March 20, 1868 - The gang robs the Southern Deposit Bank in Russellville, Kentucky for $14,000.

1868-9 - The "boys" spend most of the rest of these years in Nashville area.

1869 - The James & Youngers hold up Davies County Savings Bank of Gallatin, MO. They get $700 and kill cashier John W. Sheets, placing murder on their hold-up charges.

June 3, 1871 - Jesse and the rest rob the Ocobock Brothers Bank in Coryton, Iowa of $6,000.

1871 - Jesse has his seventh known image made at Long Branch, New Jersey.

April 29, 1872 - Bank in Columbia, Kentucky is robbed and cashier R.A.C. Martin is murdered for the $6,000 supposedly taken by the James & Youngers.

September 26, 1872 - James Brothers rob the cashier at the Kansas City Fair of $8,000

May 27, 1873 - James/Youngers rob $4,000 from the Savings Association in Genevieve, MO

July 21, 1873 - Marks their first train robbery. They wrecked the train to rob it; killing Engineer John Rafferty. they took $3,000 from passengers and the express car of the Chicago, Rock Island & Pacific RR near Adair, Iowa.

January 15, 1874 - Jesse James and "party" rob their first known stagecoach holdup of between $1000-$8,000 of cash and jewels near Hot Springs, Arkansas. (After his death a gold watch from one of the passengers was found among his effects.)

January 31, 1874 - Jesse James held up the St. Louis Iron Mountain & Southern RR train at Gads Hill, MO of $10,000.

April 24, 1874 - Jesse James marries Zee Mimms Centerville(Kearney) MO.

June of 1874 - Frank James marries Annie Ralston in Omaha, Nebraska.

January 26, 1875 - Pinkertons toss a smoke "bomb" into the Samuelson farm house in Kearney and the conclusion is that Archie Peyton Samuel thought it was a loose stick from the fire and tossed it "back" into the fire and it exploded, killing him and severely wounding Jesse & Frank's mama.

1875 - Most famous image of Jesse James is made in Nebraska City, Neb.

August 31, 1875 - Jesse Edwards James is born to Zee and Jesse.

September 6, 1875 - the James/Younger gang rob a bank of $20,000 in Huntington, VA.

July 7, 1876 - Missouri-Pacific train is robbed of $17,000 by the James/Younger gang.

September 7, 1876 - in their attempt to rob the First National Bank of Northfield, Minnesota cashier Heyman refused to open the safe and ducked down, Jesse put a pistol to his temple, pulled the trigger and killed him. The shots were heard as well as the alarm from a lad and angry town folk open up on the James & Younger gang. Charley Pitts and Bill Chadwell are killed. Cole, Jim and Bob Younger are shot to pieces and are captured two weeks later. Frank and Jesse escape to Missouri, through Iowa.

February 6, 1878 - Robert James is born to Frank and Annie.

October 8, 1879 - The Chicago, Alton & St. Louis train at Glendale, MO is robbed of $40,000.

February 1881 - B. J. Woodson rents a house for $8 a month on Fatherland Street in Nashville, Tenn. D. J. Howard comes to visit.

March 11, 1881 - $5200 taken from a paymaster as he left a bank in Muscle Shoals, Alabama. The James are recognized.

July 15, 1881 - The James gang rob the Chicago, Rock Island & Pacific Railroad train near Winston, MO of $700. Frank murdered Frank McMillan and conductor William Westfall.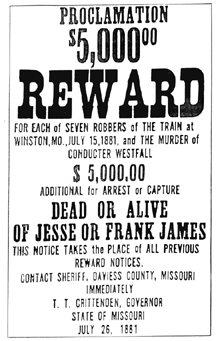 A wanted poster of the brothers - 1881




September 7, 1881 - Their last train robbery at Blue Cut, near Glendale, MO. nets $3000 in cash and jewelry taken from the passengers.

December 24, 1881 - A Tom Howard and family rents a house on Lafayette Street in St. Joseph, MO. Robert and Charles Ford live under the same roof with the Howard's for most of the winter months.

April 3, 1882 - Bob Ford with his brother Charley enter the home of the Howard's and at about 8:27am Bob sees his chance and shoots Mr. Howard below the right ear and the bullet lodges in the frontal bone near the left ear. He is killed instantly! The force at such a close range slammed his body into the wall and he fell to the floor with another bounce that laid him out on his back. Within minutes the town discovers that the infamous Jesse James had just been assassinated.

October 5, 1882 - Frank James (alias B. J. Woodson) surrenders.




This page is created for the benefit of the public by
Floyd D.P. Øydegaard.

Email contact:
fdpoyde3 (at) Yahoo (dot) com
---
A WORK IN PROGRESS,
created for the visitors to the Columbia State Historic park.
© Columbia State Historic Park & Floyd D. P. Øydegaard.