Read More About California Legends
Information on the Bandits Known as Joaquin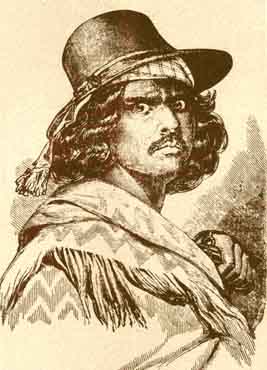 The image drawn of a Mexican Bandit by Charles Nahl - 1850.

The first books:
The Life and Adventures of Joaquin Murietta, Celebrated California Bandit by John Rollin Ridge AKA Yellow Bird, 1854.


John Rollin Ridge: His Life and Works. by James W. Parins 1991.

Spain:
El Caballero Chileno by "Profesor" Acigar c1860s.
Vida y Adventures del mas Celebre Bandido Sonorense Joaquin Murrieta by Ireneco Paz 1908
Chile:
El Bandido Chileno by Roberto Hyenne 1906. (translated from the French)
Books that look into the legend:
Bad Company by Joseph Henry Jackson, 1939.
Joaquin; Bloody Bandit of the Mother Lode. The Story of Joaquin Murietta by William Secrest 1967
The Real Joaquin Murieta: Robin Hood Hero or Gold Rush Gangster? by Remi Nadeau 1974.
Joaquin Murrieta and His Horse Gangs by Frank F. Latta 1980
The Legend of Joaquin Murrieta, California's Gold Rush Bandit by James F. Varley 1995.
Searching for Joaquin: Myth, Murieta and History in California by Bruce Thornton 2003.
The Man From The Rio Grande by William B. Secrest 2005 READ THIS
The Joaquin Band: The History behind the Legend by Lori Lee Wilson 2011 (This book exposes the media lies Gov. Bigler was creating about Joaquin to get the vote as governor of California. A must read!)

Other books to read:
Life and Adventures of he Celebrated Bandit Joaquin Murrieta: His Exploits in the state of California Translated from the Spanish of Ireneo Paz by Frances P. Belle 1925.
The Robin Hood of El Dorado by Walter Noble Burns 1932.
The Truth About Joaquin Murietta by J. C. Cunningham 1938.
Articles:
A Time of Terror by Carlo M. De Ferrari in the Chispa issue Jan-Mar 2003.
Many More:
There are many more publications, etc. that bridge the topic of California's own legend of Joaquin Murieta. Many are highly fictional and even claim some sort of documented facts. I have only read the items above and therefore list them here as sources worth your reading pleasure.



Page created for the public by
Floyd D. P. Øydegaard.





Email contact:

fdpoyde3 (at) Yahoo (dot) com
---
A WORK IN PROGRESS,
created for the visitors to the Columbia State Historic park.
© Columbia State Historic Park & Floyd D. P. Øydegaard.