KNAPP BUILDING - SOUTH
(AKA: Knapp Building, Cavalier Museum.)
1854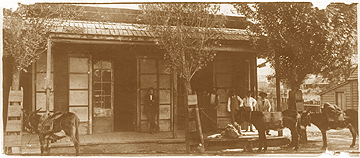 © Columbia State Historic Park.
R. C. Davis & friends in front of the Knapp Building - 1890.


(Main & State Streets - North/east corner)




1853 April - J. J. Dillard, E. O'Bryan and Solomon Carter sell the lot to Sewell Knapp. At that time the premises are known as "O'Bryan's House".

1854 July - the building burns, Knapp rebuilds of brick and opens a general store carrying groceries, tools, work clothes, etc.

1856 The brick warehouse at the back is added.





Ad taken out by brothers - 1856.


1871 August - Knapp. Block 9, Lot 163 - Deputy County Surveyor map by John P. Dart

1887 Sewell Knapp moves to Oakland and turns over the business to his son William and R.C. Davis.

1890 Davis becomes the sole owner.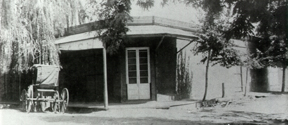 © Columbia State Historic Park.
Entrance to Davis's Mercantile - 1910.


1918 Davis retires and his brother-in-law Ed Murphy runs the store.

19?? Murphy sells to Alex McKenzie and the store closes.

c1930s or 40s Beeheimer has a sandwich shop and ice cream parlor in the building.

1947 The building is purchased from Belle McKenzie (daughter of Alex) for $9400, along with several other parcels.

1948/49 The building is stabilized and opens as a museum. The side door between the museum and leather shop is the entrance to the park office, in the leather shop.

c1958 Becomes the Cavalier Museum. (William Cavalier, president of the California Historical Society and was president of the Columbia Park Association)

1960 Park office moves out.

1969 Sierra Mineral & Gem Display Society. (Park & Concessionaire report 1969-70)

2002 March - Knapp block due for restoration.

2003 Knapp block reopened.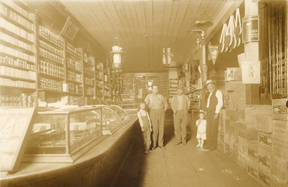 © Patricia Ann Kelly LaVoy
North side of Davis store - 1913.
Left to right are: Cecil Dondero, Edward T Kelly (my grandfather)
Billy Cook, Florence Davis (little girl) and R.C. Davis owner of the store.
I believe my grandmother Florence J. Davis took the picture - Patricia Ann Kelly LaVoy.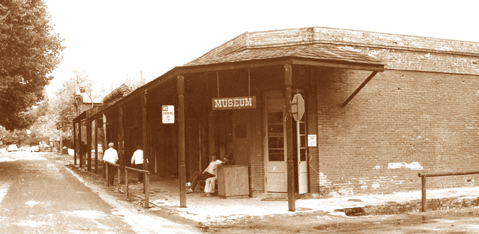 Columbia Museum & Friends' Gift Counter
209 532-3184





This page is created for the benefit of the public by
Floyd D.P. Øydegaard

Email contact:
fdpoyde3 (at) yahoo (dot) com

---
A WORK IN PROGRESS,
created for the visitors to the Columbia State Historic park.
© Columbia State Historic Park & Floyd D. P. Øydegaard.