Our Annual!
LAS POSADAS NATIVITY PROCESSION.
A Community Event from the Townfolk of Columbia, California.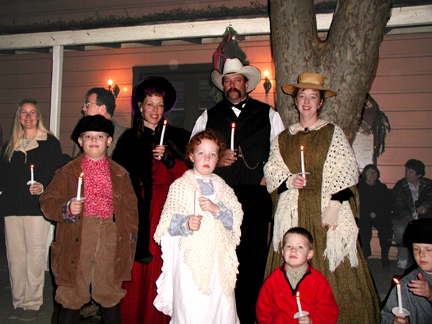 Candle Holders by Kim Kyhl - 2000


December

Schedule.
starts at 5ish or so


Las Posadas is a Spanish tradition that re-enacts the biblical story of Mary and Joseph's search for shelter in Bethlehem on Christmas Eve. Since about 1982 the people of Columbia have put on their own version of Las Posadas each December--with a distinctive 1850's flavor. Other characters in this re-enactment are there too: the three wise men, tax collector and innkeeper, and miners and musicians and other costumed townspeople. Columbia's Main Street is decorated for the Christmas season, and luminaria will light the way for the procession, while on-lookers hold candles and join in singing Christmas carols.



Contacts for more information:
Event coordinator:
Columbia Chamber of Commerce at 536-1672
---
All information and schedules posted may be changed at any time!
The current listing may not be absolutely correct.



This page is created for the benefit of the public by
Columbia Booksellers & Stationers
22725 Main Street
Columbia California 95310-9401
---

Return to Chamber Event Page