PRESENTS
MISSING MARTHA.

The History of Columbia's Celebrated Prostitute.
As researched by Dwain Baughman

An Unknown Woman of Columbia: Could this be Martha?
Martha Carlos-Barclay-Hart

Martha was probably born in 1833 in New Orleans, Louisiana or maybe Kentucky.
Martha was a prostitute in Columbia and to protect her family she most likely changed her name.
She was listed a white woman in all documents where that category was necessary, (census records, etc.)
She is a difficult person to research as her information varies and yet the trail of her life is well documented.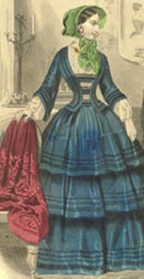 A BUSINESS & PROPERTY OWNER.


July 29, 1854 Martha Carlos bought land and the building from M. B. Brooks that was one lot south on the southwest corner of Jackson & Main Streets. (From deeds recorded)
(Leased later to Sam Mitchel in Oct. 1855)

The building is known as Martha's Saloon which was also called The Lone Star Saloon. "Martha's Saloon...has long been of ill fame, and Martha, the proprietress, of easy virtue." (Columbia Gazette Oct 12, 1855)

Martha also has a boarding house on the corner of Columbia and Jackson Streets.

John W. Coffroth lived 100 feet from saloon.

August 1855 Martha..."went to Chinese Camp, taking with her the inmates of her house, and a business was opened there. While in Chinese Camp, she became enamered with Barclay, and the sentiment being duly returned, marriage followed!" (Columbia Gazette Oct 12, 1855)

June 6, 1856 - Martha Barkley bought land from Henry & Wife (Rosa?) Levy (From deeds recorded).

Oct. 27th, 1856 - Martha Barkley sells saloon lot to Samuel Mitchel (From deeds recorded).



MARTHA MARRIES.
The book: "The Saga of Old Tuolumne" states: "A woman known as Martha, one of Big Anne's sisterhood, while leaving Columbia to go to Chinese Camp, met John Barclay, a claim owner, who was regarded favorably in the south western portion of the county. Upon gaining her promise to lead a respectable life, he married her. Barclay, a weak character, was by nature adverse to hard work and gave his wife but little assistance in carrying out her good intention. Married in Chinese Camp, the couple soon returned to Columbia and reopened the house known as Martha's Saloon, which prior to her romance had been making a great deal of money for her."
County register book shows: Barkley, J.S. married to Martha Carlos September 18th 1855 by J. A. Copwell in Columbia. Number 63.


Marriage record states,
"John S. Barkley to Martha Carlos
- Marriage -
This is to certify that on Friday the 18th
day of September AD 1855 at the house of
Martha Carlos in the town of Columbia
in the state of California I celebrated the
rites of Marriage between John S. Barkley
Esq. and Martha Carlos.
Given under my hand this 18th day
of September AD 1855.
(signed) J. A. Copwell
Justice of the Peace
Recorded September 15th AD 1856 at 9 AM."

THE HANGING.
October 1855 - John S. Barclay shoots John H. Smith for pushing his wife Martha in her Saloon and Coffee House. John W. Coffroth helps the mob make a verdict of death by "Going Up the Flume." Barclay is hung.
---
SHE WRITES A CARD.
The Card: A Notice to the Public
(Taken verbatim from the Columbia Gazette, November 17th, 1855)

Since the death of my husband, I have endeavored to keep, as it were, secluded from the world. I have molested no one, but have tried to bear patiently and calmly the insults which have been heaped upon me, by some of the public journals of the State; the most malicious and vilifying of which have emanated from the Columbia Clipper, its editor and the (so called) Hon.[Honorable] J. W. Coffroth.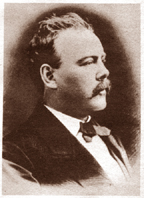 John W. Coffroth c1860.


I am truly sorry that I am compelled to bring myself before the public, now, particularly, as my position in society is such, that anything coming from me is not likely to be received with an impartial eye. But my duty to the public and myself, renders it imperatively necessary for me to defend myself from the malicious assaults of said Coffroth, whose lying, oily pen has been used with such good effect in endeavoring to defend himself from the just and righteous censures of the public and the public press.

It is not so long ago, but Coffroth's memory will trace him back to the time when I kept a house, and he was a frequent visitor; nay, I should say, a steady boarder. But facts are stubborn things, and Coffroth would much rather not have me revert to the fact that he was the fancy man of one Sally who lived at my house; that often times I have kept my house open until one and two o'clock at night, for his especial benefit; and that not unfrequent were the occasions when back doors and windows were found to me of material service, when front ones were closed; that often even at that late hour of night, oyster suppers were served for the Hon. Gentleman and his lady - and let me ask him who paid the bills, and whether one cent ever came out of his pocket? No! He was the recipient of many favors from a poor and wretched girl whose mother has often written her, imploring her to return home. Those letters Coffroth has read; and while others subscribed different sums in order to enable her to return to the arms of a broken hearted mother, Coffroth was not even the man to advise her to go home. He well knew that he would be too much the loser. He also forgets that whenever Sally left my house, on his account, he would come to me with tears in his eyes, and beg me to get her back again; and how often, when he would go out to ride with ladies of respectability, who knew not how contaminating he was, he would call me aside, and beg me to keep Sally from calling and speaking to him, while in the company of those ladies. He also forgets, that while laboring under the influence of a most loathsome disease, he went to San Francisco, leaving his lady here to starve, or die upon my hands. But Coffroth has a hold upon the worm, and now let him feel its bite.

What was his remark to me, when on the night of the murder of my husband, I fell upon my knees before him, and implored him to use his influence to save him, until daylight? Unmoved by my cries, uninfluenced by my supplications, he coldly remarked: "Oh! There is no disguising it; he has got to die." To this remark a woman, who accompanied me, replied; "Oh Jim Coffroth, how can you speak to her in that way at this time?" But he turned away, and was soon in the midst of the multitude, making a mob law speech. But I believe it is customary, in this country, for persons living in glass houses to throw stones; and Coffroth, Heckendorn, and many who were leaders in that mob, and who were frequent visitors at my house, often stood at the bar drinking with inmates, and staying there all night when they had money, or could run on shape - Heckendorn could not do it, for I never knew him to have a cent.

In conclusion, I trust the public will pardon me for bringing myself before them. Judge Lynch, the people' coluntary attorney, and their organ have endeavored to place themselves in a false position, in order to secure themselves from the just censure of the world; and have endeavored to sink me lower than the vilest reptile that crawls from the earth. This card from me would be superfluous in the town of Columbia; their characters are too well known to need comments or exposure but throughout the State, where they are not so well known, and where they have tried to degrade me, even worse than I am, this true statement may not prove the fact that from the day I married Barclay until his death, I have never kept an open house; did not even have liquors in my decanters on the bar; and these facts were all known to the parties in question. For the truth of the above statements, I refer the reader to Coffroth's most intimate friends.

MARTHA J. BARCLAY
Columbia, November 17th, 1855

---
CENSUS REPORTS HER PROFESSION.
Deeds recorded:
1860 June 12th - Martha Barkley(sic), age 28 years, white race, Prostitute, $1510.00 in property value, $500.00 in personal value, her state of birth is listed as "do" (same as ditto) from the above listing of KY (Kentucky).

---



MARTHA REMARRIES.


1863 May 4th - James H. Hart marries Martha M. Barclay by James Staford, Justice of the Peace.
---
SHE OWNED MORE PROPERTY.
Deeds recorded:
1861 - Martha owns adobe building at Main and Pacific.
1862 - Martha owns brick house and lot at Main and Pacific.
June 30th, 1863 - Martha & J. H. Hart buy property from H. P. Barber on Main and Pacific Streets.
March 19th, 1870 - Martha Hart buys property from Rosa Cartier for $75.00 in Sonora.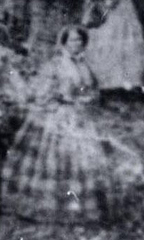 Woman in the "mines" of Columbia below wheel, 1866
---



MARTHA DIES.


July 8, 1876 Martha Hart of New Orleans, died at 43 (48?) years of age of "general debility".

Oct. 27th, 1876 - Martha J. Hart's estate is sold off.

Grave Number 416 is where she is buried with another's name on the marker....
The tombstone or actual spot in the City Cemetery in Sonora is missing or unknown.

---

Last changes made February, 2013

Webpage created by Floyd D. P. Øydegaard at