JACKSON & STONE.
(AKA: COLUMBIA'S PIONEER STORE, MATELOT GULCH.)
1850-1857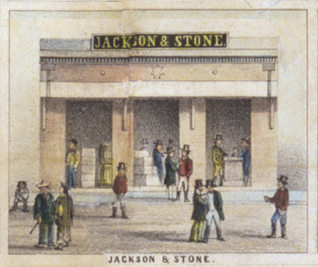 (c1855)


1850 September - Jackson and Stone build the first log cabin store on this site, advertise as "Columbia's Pioneer Store."

1853 August 7 - An Advertizement is listed in the Columbia Gazette for the "Jackson and Stone, Wholesale and Retail Dealers in Groceries, Liquors, Hard Ware, Mining Tools, Boots & Shoes, etc." - (Columbia Gazette August 7, 1853)

1854 June - a brick building is erected just before the fire.

1856 June - the building is for sale.

1857 W. H. Neale & Co. lease the building. Stone is no longer one of the owners.

1858 March - Jackson sells to Raymond and Holton who continue "Provisions and General Store" along with their soda business.

1860 Partnership dissolves, Raymond got the soda business, Holton runs the store.




The side of the Jackson & Stone building (bottom right).
Looking north on Main Street - c1863.


1864 Holton sells to Isaac Shotwell. After Shotwell's death, his son sells to Phelps, Shepherd and Cowie of the Sonora Foundry.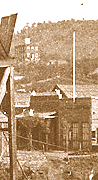 Jackson & Stone building with the flag pole - 1866.


1866 Sells to Stephen Wing.

1871 Sells to Charles Koch. About this time or soon after, the area is mined and the building torn down.

1957 The state purchases the property from Robert and Diane Hooe.

1967 August - The Wood Shack is assembled and the concession, Matelot Gulch & Hidden Treasure Gold Mine.

1977 May - William & Doris Brandt have a five year contract for Mine Tours and assign it to Nels Lewellen. (Park & Concessionaire report 1979-80)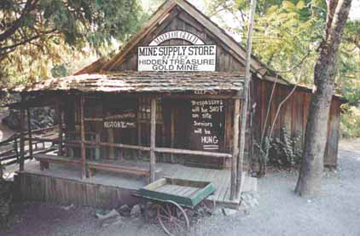 Matelot Gulch & Hidden Treasure Gold Mine
209-532-9693





This page is created for the benefit of the public by
Floyd D.P. Oydegaard

Email contact:
fdpoyde3 (at) yahoo (dot) com

---
A WORK IN PROGRESS,
created for the visitors to the Columbia State Historic park.