McKENTY & CHURCH.
(AKA McKENTY & CHURCH BUILDING, TRASK HOUSE, TAMALE HOUSE)
1854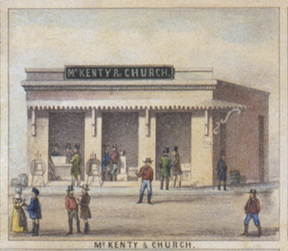 McKenty & Church - 1855
Southwest corner of State and Broadway.



Missing Buildings
Forgotten Buildings is what Mrs. G.W. Eastman called Block 10 as she described (in 1954) what was here; Southwest corner of State and Broadway.


1854 McKenty & Church have a business on the southwest corner of State and Broadway.

1857 August 25th - The fire that ravages most of Columbia spares the McKenty's brick building.

1859 - Columbia Locations Map 1860 (Based on 1858 map) - George & Barbara Eastman; Dec. 1958.

1871 August - Nugent owns a large section of Block 20, Lot 258. - Deputy County Surveyor map by John P. Dart


NOTE: No records have been found (research needed) to discover what happened to the brick building after this date.
See Tamale House for continued story of lot.

Special Thanks in part to Diane Harrington for her added research - 2015

This page is created for the benefit of the public by

Floyd D. P. Oydegaard



Email contact:
fdpoyde3 (at) Yahoo (dot) com
---
A WORK IN PROGRESS,
created for the visitors to the Columbia State Historic park.
© Columbia State Historic Park & Floyd D. P. Øydegaard.