MEMORIAL DAY SERVICES.
Columbia, California.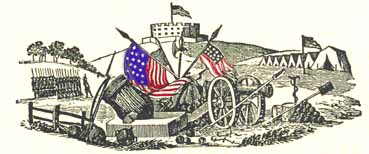 MAY
Monday, 11:00AM
at
Columbia Historic Cemetery
G.A.R. Plot
Columbia, CA

Presented by Local Citizens and Citizen Soldiers
Featuring Columbia Citizens.
PROGRAM

No program submitted.
Homer Ripley's Description of The Columbia Foot Dragoons
"Company F, of the Columbia Foot Dragoons is typical of the militias of the early 1800's. Every able bodied male from the age of 16 to 60 was subject to a call to duty by the local militia commander in the time of emergency. While these were local units and not State or Federal troops, they would have been called into Federal service in the event of war or other national emergency. These militia units served the country well in the American War for Independence, the War of 1812, the Mexican and Civil Wars and the Spanish American War."



WANT TO BE A PART OF THIS?
Please contact the organizers.
Contacts for more information:
For the Columbia Foot Dragoons:
Maj. Horace Bull, Adjuntant
Aka: Donn Marinovich
P.O. Box 1782
Columbia, Alta-Calif. 95310-1782
(209) 533-3663
Email: Major
---
All information and schedules posted may be changed at any time!
The current listing may not be absolutely correct.



This page is created for the benefit of the public by
Columbia Booksellers & Stationers
22725 Main Street
Columbia California 95310-9401
---

Return to Chamber Main Page