Built by William Torboss of New York. Ny 1856
MONUMENTAL.
from the research of Richard Yokley
Monumental (Columbia Engine #2) as it looked in 1920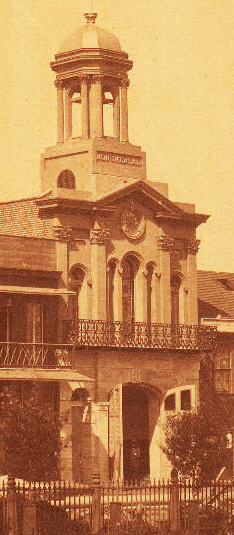 Brenham Place - 1855 west side, facing Portsmouth Square at
Clay, Kearny and Dupont Streets. A two story fireproof brick building,
city property, in good condition - Bancroft Library.


The old volunteers tried to outdo themselves in constructing the most elegant and grand building to house their engines, and also have a place to entertain their friends. One of the finest of these was the "Hall" of the Monumental Engine Company as it was known in the days gone by. It was a magnificent building, originally two stones in height, the first having a granite front, the second being freestone, massive pilasters of Corinthian style supported cornices. In the facade was a large clock, which was illuminated by night. Over the pediment of the clock was a cupola the dome of which rested on eight Corinthian columns. The interior was more elaborate, with a winding marble stairway and polished mahogany banisters. The front windows were imported stained glass with the insignia and motto of the Monumental's "We stand to serve." The floors were laid with deep Oriental rugs and the rooms draped with rich burgundy velvet drapes. The furniture was made of beautiful hand carved wood with red plush seats.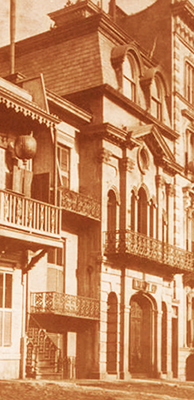 Brenham Place, Bell tower removed (1880).


MONUMENTAL is an 1853 four-cylinder hand engine, is probably the rarest hand engine on the West Coast. It is the lone survivor of 25 built in New York by William H. Torboss, and may be the largest capacity four-cylinder hand engine in existence with its four 10-inch cylinders.

The "Monumental" was ordered for San Francisco's Manhattan Engine Co. No. 2 at a cost of $6,856.

Late in 1859 - Manhattan Engine Co. No. 2 offered the engine for sale, as the 5,300-pound weight of the engine proved unsuitable for San Francisco's hills.

November 1859 Another subscription was made by the ladies of Columbia and $2000 more raised for a second engine. Called Monumental and as the story goes it was too heavy to use in San Francisco, and they were glad to let it go.

November 23, 1859 Columbia Engine Co. No. 2 is organized for the second engine (Monumental) at Colombo Saloon.

December 1859 Columbia Engine Co. No. 2 prefer to remain independent and the Phoenix Hook & Ladder Co. and Tuolumne No. 1 join forces and become the City Fire Dept.

December 31, 1859 Tuolumne Engine Co. No. 1 has their first Annual New Year's Ball at Cardinell's Theatre. They continue these Balls for forty years.

January 7, 1860 second engine named "Columbia No. 2", arrives in Bensonville and is housed in Hughes Barn. Later brought to town and set up at Alvin Evan's Stable at the southeast corner of Columbia and Jackson Streets. (1860, January 7th: The Torboss engine was sold to the Columbia Volunteer Fire Department for $2,500 - Source: Frank Soule, John H. Gihon, M.D., and James Nisbet. The Annals of San Francisco. 1855: San Francisco)

1860 January - the hand engine was sold to Columbia, California for $2,500 (local history states $2000), and a new engine company, Columbia Engine Co. No. 2, was organized.

February 22, 1860 Tuolumne No. 1 and Columbia No. 2 demonstrated in Sonora to the delight of the Sonorans who did not yet have an engine.

May 23, 1860 Columbia No. 2 is removed to C. Humbert's building on the west side of Main Street, two doors above Jackson.

1911 - The "Monumental" remained in service when Columbia Engine Co. No. 1 and Tuolumne Engine Co. No. 1 merged and it was placed in reserved status.

1970 The handpump was restored under the direction of Robert Fries, the fire chief of the Sierra Conservation Center in nearby Jamestown, California

1991 - Shown displayed on Columbia's Washington Street during a muster. (see image below)

2003 The Columbia Volunteer Fire Department gave it a cosmetic overhaul.

Although it has not competed in California Firemen's Muster Association musters, it can be pumped, but with only two of its cylinders in service at this time.

The "Monumental" is displayed in the Columbia Volunteer Fire Department's old station on Main Street in the California State Park.

Most of the information for the above historical sketch came form the reasearch of Richard Yokley and Ed Hass.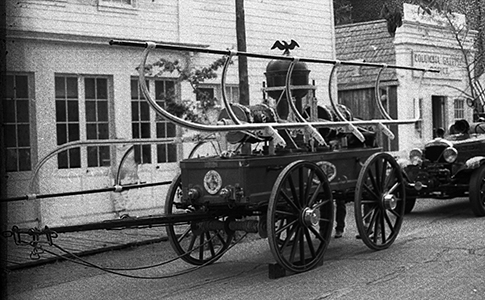 Monumental - Columbia 1991 by Ed Hass

This page is created for the benefit of the public by

Floyd D. P. Oydegaard



Email contact:
fdpoyde3 (at) Yahoo (dot) com
---
A WORK IN PROGRESS,
created for the visitors to the Columbia State Historic park.
© Columbia State Historic Park & Floyd D. P. Øydegaard.