GEORGE NICHOLAS NAPOLEON
Information on a merchant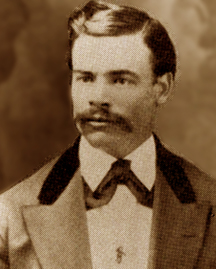 George N. Napoleon


GEORGE NICHOLAS NAPOLEON
Born at Dijon, France, October 12, 1851, died on Gold Hill, Columbia, October 6, 1934. He was the son of Anastasie Georges by her first husband, a Monsieur Bertrand, and his full name thus was originally Georges Nicol Napoleon Bertrand, but the last name was dropped by wife and child after a seperation from the husband. They arrived in San Francisco in '52 after a voyage of seven and one half months round the Horn, and came to Columbia shortly after.

From the lynching of the fancy woman's man in '55, Nr. Napoleon's memory spanned the whole history of the town, and his narration to us filled some seventy-five fascinating hours, with hardly a repetition. Substantial portions of the text are cast in his language; many of its periods were originally punctuated by the shifting of his quid of tobacco, a curving shot over his porch rail, or a bull's-eye in the coffee can by his stove. He is the source of nearly all material not otherwise credited, including the tales of the French Cook (Chapteri), the Golden Frog (Chapter iii), Madam Louis (Chapter vi), the Fires (Chapter viii), the Trial of Paddy Farley (Chapter xv), the Petition to Make Columbia the Capital (Chapter xiii), the Penance of Pat Shine (Chapter xiv), Women, Plain and Fancy (Chapter xviii), the Lynching of Barlclay (Chapter xix). (from "The Story-Tellers" in Ezra Dane's GHOST TOWN 1941)

George worked his way through the ranks to become Foreman of Engine Company Number One. He also served on nearly every planning committee for events that took place in Columbia, including the great Centennial Celebration. He became the grand old man whose memory spanned more than 80 years of Columbia's richest history. (from Then Came The French by Mary Grace Paquette - 1996)

1880 The census shows George N. Napoleon is a 28 Butcher married to Louisa T. Napoleon age 22 with a son George A. Napoleon age 1 and daughter Cora A. Napoleon age 2 months. His wife was a German named Schoettgen and her husband worked at her family butcher shop on Main Street during this census. Parents were George Napoleon of Paris & Anifticia Georgia of France.

1934 October 6 - He died of a cerebral hemorrhage.






BIBLIOGRAPHY

See the individual comments.



This page is created for the benefit of the public by

Floyd D. P. Øydegaard.



Email contact:
fdpoyde3 (at) Yahoo (dot) com
---
A WORK IN PROGRESS,
created for the visitors to the Columbia State Historic park.
© Columbia State Historic Park & Floyd D. P. Øydegaard.