Officially the regiment began its service as the 7th Regiment of New York Volunteers. Because of its destination it was variously known in New York before its departure as the California Guard and the California Regiment. As it was equipped to act as a force of combined arms of infantry, cavalry, and artillery, it was also termed the New York Legion. Once in California it was also called the California Volunteers. It became the 1st New York Volunteers in early 1848 by a War Department redesignation. (Buttons, like the one pictured above that bear the "NYL" letters have been found at the earthen fort in Monterey and in and around the area once called Soldier's Cap near the Stanislaus River banks in Calaveras County.)
---
We were also more widely known as the Stevenson Regiment. This title is the most commonly used to describe us even today. Named after the Col. of the Regiment.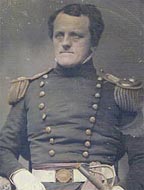 Col. Jonathan Stevenson 1847-50
from a Daguerreian courtesy of Dr. William Schultz
---
James A Hardie who was a major in the 1st New York, commanded troops sailing for California on the ship Loo Choo and mustered out Companies C, K, and H at San Francisco August 15-25 1848.

Maj. Gen'l James Allen Hardie 1847-50
from a 9th plate Daguerreian pendant.
Collection of Jules Martino, Silverton, Oregon

The members of the Stevenson Reg't also traveled to the gold fields and their history is here: Tuolumne Co.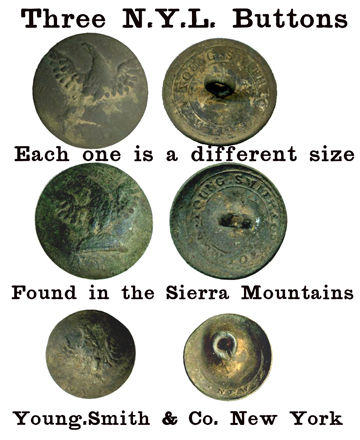 Image by Floyd DP Øydegaard
---
The Silver Medallion
It recently came to my attention that a medallion had once been issued to Charles D. Lyon, Company A.
The owner of the medal states: The silver medallion was issued to the New York Volunteers by the City of New York shortly after the war. This particular medallion was given to Charles D. Lyon, Company A, and is so inscribed in beautifully flowing script (but hard to see on my scan) on the obverse. The legend reads, "Presented By The City Of New York/To The N.Y. Regiment Of Volunteers In Mexico", with Lyon's name and company. The reverse reads, "Cerro Gordo/Chapultepec/Cherubusco/ Vera Cruz.", with a goddess of war symbol. The medallion is nicked, with a dark patina, but is a rare icon, once belonging to one of the adventurous men of the New York Volunteers during this fascinating era of America's History. - from Charles Anegan.
More Details: The medal was issued to Burnett's 1st New York by the city, upon their return from Mexico. They were with Gen. Scott, hence the list of Mexican, not Californian, battlefields.
Note: New York was supposed to raise six regiments for the war. If memory serves, recruiting was such that they consolidated all that had signed up into one unit, Burnett's 1st NY, while recruiting continued for the other five. That is why Stevenson's unit was designated the 7th NY. Stevenson's, however, was taken into Federal service first so after the war the War Department re-designated the 7th into the 1st NY and the 1st into the 2nd. The 'Company of Military Historians Journal' did an article on the medal given to members of Burnetts regiment. - from Charles Nohai

---

New Info: From a letter written by Stevenson to General Kearney listing all of his ordinance. "1800 muskets, 500 rifles, 360,000 percussion charges, percussion caps, four 6 pound field guns, two 12 pound howitzers, four ten inch mortars, twenty 32 pound iron guns.." Gathered from Stevenson's Regiment in California: An experiment in Social Action by Donald Biggs, 1968, a doctoral thesis.






The Landing in Monterey - 1846


Page created by
Floyd D. P. Øydegaard






Email contact:
fdpoyde3 (at) Yahoo (dot) com