WILLIAM (BILLY) O'HARA
Information on a merchant
Even though this image looks like a blackman with a figure of a cook,
I wonder if it is William, as the image was made in c1867.


WILLIAM (BILLY) O'HARA
Born in Ohio 1813. He was a free blackman. (need details)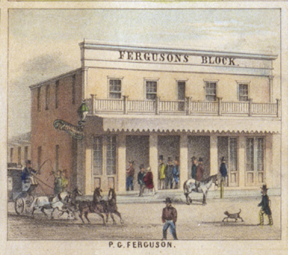 © Bancroft Library.
(1856)
Northeast side of Fulton & Main Street



1854 April 3 - William O'Hara opens the Jenny Lind restaurant at the south side of Fulton in the Ferguson Saloon.(E1:10:16)
(Billy O'Hara is a popular black cook living here with his wife, Charlotte who was a seamstress. - FDPØ comment 2012)

1854 July 10 - Ferguson's building burns.

1854 July 10 - On the day of the fire Billy O'Hara put up a tent on the south side of the Ferguson lot fronting Main Street and made a hole in the ground, and furnished fodder for the inner man to about 250 persons. (Columbia Gazette, July 11, 1854) He frequently supplied catering services of special occasions and was generally respected and liked. (Barbara Eastman letter - 1970)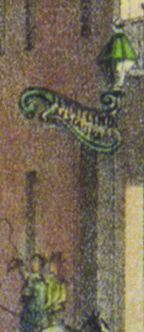 © Bancroft Library.
The fancy sign attached to large lamp that states; "Jenny Lind Restaurant."


1855 August 1 - John Heckendorn sells to Charlotte O'Hara (wife to restuarant owner William O'Hara of the Jenny Lind) for $150 a certain house and lot bounded on the south by Fulton Street, on the east by a town lot owned by the New England Water Company, on the west by a lot owned by Heckendorn, being 18 feet wide and 80 feet deep

1856 William O'Hara runs an ad in the Weekly Columbian newpaper for his Jenny Lind Restaurant. Also an ad (one of two) in the Businessman's Directory.

1857 August 12 - Heckendorn sells the adjacent lot on the west to William O'Hara of the Jenny Lind Restaurant. His advertising discribed the building as 25 ft by 50 ft and 2 stories high. Since closing The Clipper, which had been published from this building in early 1856, he had been renting the rooms for sleeping or offices.

1857 August 25 - Another conflagration occurs.

1858 April - The first minstrel show of blacks - not black faced whites - was being performed in the mining town of Columbia. The white reporter of the event felt that the dancing was very good but that the singing was not. Sill, he thought the event was still worth the dollar ticket. (Tuolumne Courier, 11, 24 April 1858)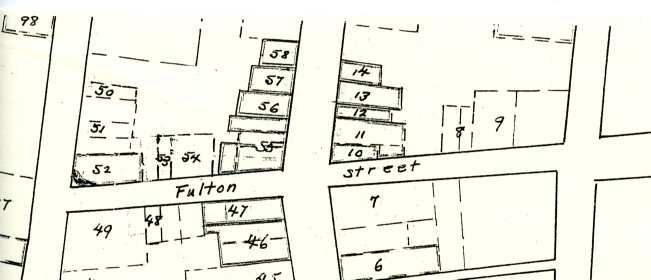 © Floyd D. P. Øydegaard.
(Building #7 is Ferguson's location where the restaurant was in the rear.
#8 is O'Hara's residence - George & Barbara Eastman Map - Dec. 1958).



1859 July - O'Hara sold his restaurant to Michael Rosenfield and retired(E1:16:72) The restaurant was removed to State St. and continued for a few years.

1859 August - Tuolumne Negroes gathered at an elaborately planned celebration of the West Indian emancipation. This brought together Negroes from Columbia, Angles Camp, znd Jamestown. It featured a wide variety of speakers, including a West Indian black (William A. Ward) as well as James R. Starkey, orator of the day. (It was held at) Tuolumne picnic grounds, called Billy O'Hara's Place, there were about one hundred people, many of whom had arrived in handsome carriages.(Tuolumne Courier, 6 August 1859) (This could be the event that O'Hara thanked the people of Tuolumne County for not causing any problems with their gathering.)

1860 Soon after this, Billy moved to Aurora. (it was simultaneously the county seat of both Mono County, California and Esmeralda County, Nevada)

c1868 "There is a stoutish colored man, of years about 50 in the shade, who resides in Aurora. His name is Wm. O'Hara - suggestive one. For some time he was owner of the original Standard (Mine), by means of a mortgage of $3000. It went begging for $1500. Three thousand tons (the first milled) of this ore, crushed at Lufftkin's Aurora Mill at one time, yielded $42 per ton." (from Bodie & Esmeralda by Jos. Masson 1878)

1880 William O'Hara died in Aurora.(E1:10:16)








William "Uncle Billy" O'Hara Obituary


"Uncle Billy", as he had become affectionately known, was so well liked, however, that he was able to host a large farewell party for himself before his move to the mining camp of Bodie in 1865.

The Empire Mine Gold and Silver Mining Company hired O'Hara to run their boarding house, which was probably the first of it's kind in the Bodie Mining District. Even after the properties were abandoned in 1867, O'Hara stayed on as watchman. At some point Billy received title to the Bunker Hill Mine. When he couldn't find a buyer for the mine, he turned it over to Peter Eshington and Louis Lockberg, with the agreement that they would pay him $8,000 when the mine began to pull out ore. Eshington and Lockberg worked the Bunker Hill at a loss until an accidental cave-in revealed a rich vein.

Perhaps because of his success with money in Bodie, Uncle Billy O'Hara wound up back in Aurora where he earned a reputation as a fair and favorite lender to those in need. At his death in 1880, Billy had accumulated $40,000. Because of his assistance and encouragement to anyone who tried, the Bodie newspapers declared him the "Foster Father of Bodie & Aurora."

"Uncle" Billy O'Hara's death notice from the Daily Alta California, San Francisco, Volume 32, Number 10969, 26 April 1880. (Courtesy Veridian Newspaper Archive)

According to the present day Bodie cemetery brochure, Uncle Billy is buried in Bodie, but the sands of time have taken its toll on his grave, and the exact location is unknown.







Information from
Eastman douments
Columbia Gazette newspapers
Weekly Columbian newpaper
Columbia Clipper newspaper
Columbia Business Directory
Census records



This page is created for the benefit of the public by

Floyd D. P. Øydegaard






Email contact:
fdpoyde3 (at) Yahoo (dot) com
---
A WORK IN PROGRESS,
created for the visitors to the Columbia State Historic park.
© Columbia State Historic Park & Floyd D. P. Øydegaard.