THE POST OFFICES.
of Columbia.
1850 - TODAY

These are the first two US stamps, issued in 1847.


D. O. MILLS LOT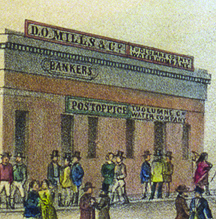 Side of bank on Fulton Street c1854.

There were many locations for the post office in Columbia. This is a list of most of those locations.



Stamps issued 1851



1852 D. O. and James Mills buy a lot which has a frame building which houses the post office in the back.

1853 The bank, post office and Hunnewell's book and stationery store are in the building.


First perforated stamps issued 1857


1860 The Columbia Times newspaper (published February 2, 1860 until 1861) has a box (bottom right corner) on the post office wall which is on exhibit in the Wells, Fargo & Co. Express building. This dates this wall and adds to the mystery as to where it was originally mounted.

1861 The assay office moves into the post office space and the telegraph office moves out.





P. G. FERGUSON BUILDING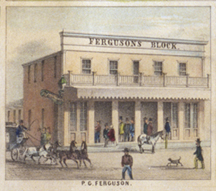 Brady Building location.
1861 March - W. O. Sleeper buys the hotel and sells it to Westley, Wilder and Wheeler who remodel the building and change the name to "The Post Office Building" and open a bookstore and stationery in addition to the post office.


H. N. BROWN LOT
Stamp issued 1862 through 1867
1867 A Mr. Bacon becomes postmaster, in addition to the post office they have groceries, dishes, miners' and farmers' implements and hardware. Their building was in the middle of the intersection of Washington and Main Streets before Washington street was moved north.


HECKENDORN LOT?
Martinez House location.
1871 April 25 - P. B. Bacon insures a frame store with Duchow. As his residence was on Green Street and the 1871 map shows Bacon as the owner of this lot he must have purchased it before this date. He also ran the post office while located in this building.


McCHESNEY-MILLS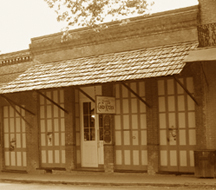 Candy Kitchen location.
1873 Edward Elias has the post office until 1877.


David Kelley Collection
postage rates - 1876.More



1880 March - Louis Levy leases the building and runs a variety store and post office until 1881.





D. O. MILLS BUILDING
1881 Tibbits becomes the postmaster, so the post office returns to the bank building until 1895.


McCHESNEY-MILLS
Candy Kitchen location.
1893 March - Matthew Brady, Sr. leases the building for a grocery store and post office. After his death, his sons continue the store and post office until 1899.


D. O. MILLS BUILDING
1899 Post office returns until 1911.


HILDENBRAND BUILDING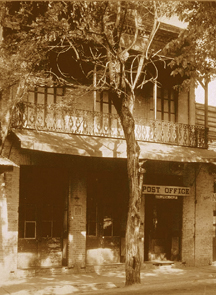 Post Office c1940.
1927 The post office is on the lower floor.

1960 Postmaster is Mable (Ponce) Draper.


BROEHMER BUILDING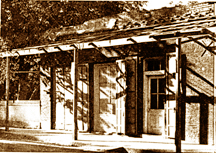 © Columbia State Historic Park.
Before restoration c1949.


1962 31 May - U.S. Post Office receives a ten year contract. (Park & Concessionaire report 1969-70)


1963 Post office moves to Jackson street to Solari Building.


1968-1970s Warren Schultz was the Postmaster.

1972 31 May - U.S. Post Office given a ten year contract. (Park & Concessionaire report 1974-75)

1998 March 30 - Post Office left.








This page is created for the benefit of the public by
Floyd D.P. Oydegaard

Email contact:
fdpoyde3 (at) yahoo (dot) com

---
A WORK IN PROGRESS,
created for the visitors to the Columbia State Historic park.
© Columbia State Historic Park & Floyd D. P. Øydegaard.