JUAN QUESTAI BUILDING
CLOTHING STORE, SHOEMAKERS, SALOON, BARBER SHOP, PHOTO STUDIO.
1856 to present.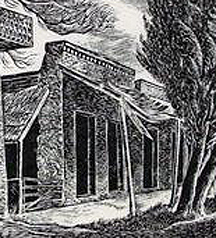 © private collection of web master.
Questai building (c1940s)
(North State Street next to Dentist display)




1851 Lot owned by James Whitburn.

1852 August - Juan Questai (aka Cuesta or Questa) and wife Dahlia Escobar own the lot.

1855 January - a one story brick building is constructed.

1855 January 10 - Juan Questai mortgaged to John Jolly for $300 his property on State Street, which included a one-story brick - second house from nortwest corner on Main & State Streets, on State. (E1: index card)

1856 June 6 - Juan Questai mortgaged to Adolphe Schwab of Sonora for $1000 property including that on northside of State Street. (E1:15:32H)

1857 October 13 - Juan Questai sold to David Oppenheimer land in rear of fireproof property they owned on State Street. (E1:15:32H)

1858 March - Meiss and Lippman move in, they have a clothing store, do not stay long.

1859 July - Glazier and Loud, shoemakers, rent.

1859 September 12 - Questai and wife lost their two properties in a sheriff's sale. (E1:13:32A)

1859 September - After foreclosure, both of the buildings/properties are purchased by Jean Laurente.

1861 November - the building sells to Jean Baptiste Maitrejean, Joseph Maitrejean and Rene Maussaud. John Preston has a shoe business, sharing the building with Glazier and Loud.

1862 July - the building sells to Dr. M. W. Parsons.

1866 April - Glazier leaves the business.

1867 The structure is joined to the Leavitt-Walker building, it is a saloon and barber shop at various times.



© Bancroft Library.
Questai building - c1942.


1946 George and Jesse Holloman live in building.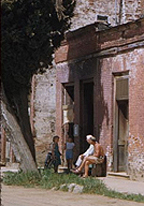 © Bancroft Library.
Questai building - c1952.


1954 State purchase from Frank Vassallo Jr. and Christine Marie Sartoris Martinez.

1968-69 (15 months) Lauriane Hartman (Corder) runs the St. Charles Saloon from this building until repairs were completed.

1969 31 May - R. Richardson has a special use permit for one year to operate the Daguerrotype Studio. (Park © Concessionaire report 1969-70)

1973 30 September - Harry and Leslie Wright are given a 5 year contract to operate the Photography Shop. (Park & Concessionaire report 1974-75)

1973 Harry and Leslie Wright name it Amor de Cosmos Daguerrean Photographic Studio.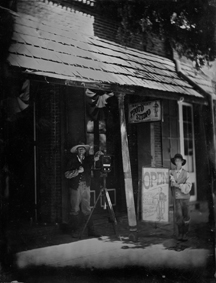 Image by Wm. Dunniway & Co.
Daniel & Benjamin Wright in front of their studio.


2009 December 24 - The Wright's close due to economics.

2016 Hazmat and the condition of building keeps building closed for use. The new photo shop is located on Main Street in the old Barber shop.




Empty Concession.
see Columbia Photographers




This page is created for the benefit of the public by
Floyd D.P. Øydegaard.

Email contact:
fdpoyde3 (at) yahoo (dot) com

---
A WORK IN PROGRESS,
created for the visitors to the Columbia State Historic park.
© Columbia State Historic Park & Floyd D. P. Øydegaard.