JOHN F. "Peg Leg" REBSTOCK
Information on a merchant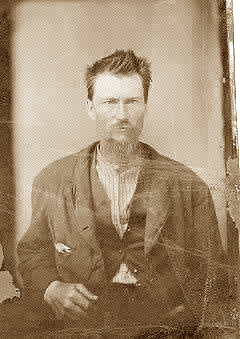 © Floyd D. P. Øydegaard.
Random image of an "outlaw" c1871

JOHN F. "Peg Leg" REBSTOCK
Born in Oldenburg, Lower Saxony (Niedersachsen), Germany c1822 - Killed in Columbia, Tuolumne County, California, 15 October 1871 (48 years old)
John Frederick Rebstock naturalized citizen as of 5 November 1856 -Tuolumne Co Register of Voters.
John Frederick Rebstock is living in a Poor House, Onondaga, New York for the 28 June 1860 census with $200 in hand.
John Frederick Rebstock is a saloon keeper in Columbia, Cala. 15 February 1867, claims to be 41 years old. Tuolumne Co Register of Voters.
Killing in Columbia

A man named John F. Rebstock commonly known as "Peg Leg" a native of Oldenburg, Germany, was shot and killed at Columbia on Sunday night by William Jones. (The 1860 census shows a William Jones age 44 from Wales as a Miner. The same 1860 census shows a William Jones in Columbia age 30 a miner from Texas. The 1880 census also shows a William Jones age 62 as a miner from Wales staying at the Morgan House. Common name.) Rebstock kept a huckster shop and bar on Main Street selling fruit, candies and whisky. His store was a kind of head-quarters around which the Indians would congregate, buy his melons and perhaps taste his "pisen."

He also had a number of white customers among who was Bill Jones. Jones who had a ranch and mining claim a few miles east of Columbia, came to town on a Saturday freely indulged his appetite for "Peg Leg's" fluid.

Sunday morning Jones and "Peg Leg" sat down to a friendly game of cards, a quarrel ensued, angry passions germinated, Peg Leg struck Jones on the face with a crib board, Jones struck Peg Leg in the mouth with his fist. Then Peg Leg shot at him with a pistol, the ball hitting Jones on the breastbone, and bounding back, fell on the floor. It did not break the skin or wound the shirt.

Jones then retired as is supposed to get a pistol, being unarmed. He applied to several acquaintances, none of which would furnish him a weapon. Failing to get what he wanted in Columbia, he went to his ranch several miles away and returned about nine o'clock in the evening with his own pistol.

After coming back he went into McGowan's Saloon where he threatened he would kill Peg Leg within twenty-four hours. Friends begged of him not to do so, to let him have his pistol and not go near the cripple. These, entreaties were in vain, Jones stepped out of McGowan's and immediately shots were heard.

A man (Joseph Enos a.k.a. Ennis) was sitting with "Peg Leg" at a table when the first shot was fired, which scared him so badly he broke and ran.

When persons attracted by the firing reached the place, they found the wounded man dead. He was shot four times either of which wounds was fatal.

Jones was arrested and admitted to the killing but stated that he had done it in self defense.

The Coroner's jury found that deceased was about forty-eight years of age and that he came to his death by the hand of Wm. Jones.

Jones, who was taken to jail, admitted to answer a charge of murder and stated that he had lived for many years in the vicinity. He followed mining on Brown's Flat for a while and loaned money on his ranch which fell into his hands when the original owner could not pay his mortgage.

Jones had not been remarkable for either good or bad. He had always appeared to like drink. Whenever he would go to town, he was almost certain to get drunk. The unfortunate man could ascribe his terrible position of that time to nothing but his appetite for strong drink.

Trial of William Jones for Murder

The trial of Wm. Jones charged with killing John F. Rebstock, at Columbia in October last, was commenced in the District Court on Monday. The prisoner was defended by James W. Coffroth and E. R. Galvin, the prosecution being conducted by E. A. Rogers District Attorney, A. Rocca, J. L. Sullivan, Wm. A. Clark, M. Foot, Ben Soulsby, T. Mylar, W. G. Long, Wm. R. Downing, J. N. Williamson, John A. Chaffee, W. S. Cooper, and George Diller were sworn as jurors to try the case.

The following is the testimony of witness Joseph Enos, who was later known as Joseph Ennis of Ennis Brothers Bakery in Columbia:

Joseph Enos, for prosecution testified: I live in Columbia -- know the Defendant. I was in Columbia in October last, at the time he had a difficulty with Rebstock. I was sitting with Rebstock inside the Saloon (diagram shown witness) sitting on the South side of Saloon in back part where the bar was kept. Defendant came from the street, into the door between the two rooms. Defendant said, "You've got the pistol all ready?" Peg Leg said, "Yes damn." Peg Leg got up and went inside the bar. I believed he was going to get a pistol. When Peg Leg was inside the bar, this gentleman (pointing to prisoner) shoots him. I then ran off. I went out of the house by the back door. The door was right behind where I and Peg Leg had been sitting. The house was on the West side of the street. The bar is on North side of the room. There was no door between front room and bar room. That was all I saw of the difficulty.

Joseph Enos, cross-examined: I had been inside about 25 minutes before defendant came there. Peg Leg said in reply to defendant, "Yes, damn, I have got a pistol all ready." When he said this, he started to go to the bar. At this time defendant did not have his pistol out until Peg Leg went behind the bar. I did not see Peg Leg's pistol, am sure I saw defendant shoot. The pistol was pointed at Peg Leg; his breast was towards defendant. I was about 25 feet from Peg Leg when defendant shot. The saloon was 25 feet long. Peg Leg was stooping when defendant fired. I only heard one shot. At the time the shot was fired, Peg Leg was doing nothing. I did not notice John had the pistol in his hand before defendant fired. I was the only person there -- nobody came with defendant. We three were all there was present. The effect of the ball on Peg Leg was nothing. He stood just the same. I did not hear but one shot fired. If there was any more, I would have heard it. I was not particular friend of Rebstock -- all the same as with this man (deft). When I ran out I went into a hole. The ground was mined out around there. Rebstock and I was sitting at a table. He had to go from the table to the bar to get the pistol. It was not so far as to the back door.

Joseph Enos, Re-direct: When Defendant came to the door, I was about the middle of the saloon. Peg Leg went in East end of bar. He stooped with left hand on the bar. I then saw Defendant shoot him.

The testimony of J. B. Probst:

J. B. Probst, Testified: Was in Columbia on the night of the occurrence and stood opposite the door of the saloon at the time of the shooting. I saw a man stand in the inner door of saloon with a pistol in his hand. I saw him raise the pistol and saw him fire. That was the first shot I heard. I saw him fire a second time. Then I heard a shot from inside. I then ran up Main Street, turned around still hearing firing, saw a man on sidewalk fire two shots into the saloon. I then saw somebody standing in the door fire towards him. McGowan and I went back to Peg Leg's Saloon. The lights were burning, went in and found him lying over a chair dead with a pistol in his hand. Afterwards Jones was brought into the saloon by Constable who said to him, "See what you have done, this is a pretty piece of business." Jones pulled up his shirt and said, See where he shot me."

Cross-examined: Do not know who fired from the inside, the pistol he had in his hand was a large sized revolver. He was dead when I got there. Jones said, "See where he shot me," and showed a red spot. I did not examine it.

The testimony of James McGowan:

James McGowan, Testified: Know nothing of a difficulty, only what both parties told me. Jones said it was about 3 o'clock. He had a difficulty. He said Peg Leg shot him. I examined. Found a red spot. The skin was whole. He asked for a pistol. He said he would kill that (profanity). I told him I had not any. He left. An hour and a half later saw him coming up the street on his way to Yankee Hill. Next I saw him about nine o'clock with a six-shooter strapped around him. He said he was going to kill that (profanity) before 24 hours. I tried to reason with him. Others joined with me to reason with him, but he said he was going to kill him. He called for a drink. I gave it to him and asked for his pistol. He said, "No." He was going down to Wilson's Hotel. He left my place. In about three minutes I heard shooting. It was towards Peg Leg's. After shooting stopped, went to Peg Leg's. Found him lying with hands and face across a chair dead.

Cross-examined: When I saw him in the saloon dead, he was clutching a pistol very tight in his right hand. I took the pistol. There was three fresh shots out of it. I gave him the pistol in the afternoon. I told him Jones threatened to shoot him. He then asked me to loan him a pistol.

The testimony of James Bowland:

James Bowland, Testified: Saw Jones in Columbia, at Yankee Hill and at his home the evening of the killing. He told me he was going down to kill Peg Leg. This was at his house. It was about sundown when I left his house. He had a six-shooter. He fired two shots. "I fired two shots", he said, "to see how well it would shoot", and started to go towards Columbia.

Cross-examined: When I saw defendant at Columbia and Yankee Hill, he was pretty drunk. He told me he was going down to kill Peg Leg.

Re-direct: Think it a good two and a half miles from Columbia to Black Hawk ranch.

The testimony of Adam Gerber:

Adam Gerber, Testified: Live at Yankee Hill. Saw Jones day Peg Leg was killed going towards him home. He wanted to borrow my revolver. Said he wanted it to kill "that damn Peg Leg".

Cross-examined: Jones was sober. He may have drinked a couple of drinks.

The testimony of Dr. Eichelroth:

Dr. Eichelroth, Testified: Saw Jones in jail. Showed me what he said was a gunshot wound -- a contusion by some dull instrument, no abrasion of the skin. It was perhaps an inch in length on the breast. The wound was oblong. It looked as if it was by some instrument. Could not tell whether by ball or not. The hole in the shirt did not look like a hole made by a bullet, but as if made by a sharp instrument.

The testimony of Francisco Vassalo:

Francisco Vassalo, Testified: Heard of Rebstock being killed. Saw Jones that day about 4 or 5 o'clock in the afternoon. He asked me for a pistol. I told him no. He said he would go to his ranch above Yankee Hill. Saw him again at 7 1/2 or 8 o'clock in the evening. He had a pistol. He took supper. Said he was going to town to kill Peg Leg, and if I wanted to see him, come and see him in jail tomorrow.

Plaintiff Rests.

The testimony of Daniel Leavitt:

Daniel Leavitt for the defense, Testified: Knew where Peg Leg's place of business was. Was in the afternoon he was killed. Jones and deceased were there. When I went in, they were talking. Deceased appeared very angry with Jones and spoke of his employing men on his ranch and feeding them on rotten fish. Jones wanted to stop the conversation and avoid it. He took a newspaper and asked deceased for his specs. Told him not to be angry. Jones went behind the counter looking for specs. Deceased went to Jones and struck him with his hand. I got up towards the door. Deceased was coming around the end of the counter with a small ax in his hand raised. I got between them. Deceased wanted to get at defendant with the ax. Jones stepped back and attempted to pick up a marble match box when deceased said, "I'll shoot you" or something of that kind. I then left and got a few paces down the street when I heard the report of a pistol in the house. I saw Jones coming out holding his hand on his stomach. Deceased came to the door, called out, "Take that!"

Cross-examined: Don't know what Peg Leg was angry about. He seemed most drunk. He told me Jones had struck him with a crib board. There were marks of a blow on his face.

The testimony of George Stinson:

George Stinson, Testified: Was at Rebstock's house in October last. On Sunday about three or four o'clock, had a conversation with deceased. He told me he had some trouble with Jones about a bill that day and had shot him. He said the pistol was no account or he would have killed the (profanity). He said he had another pistol borrowed from McGowan, and he intended to kill Jones on sight if he ever came into his saloon again. Saw Jones a little after dark and told him to look out as deceased had borrowed McGowan's pistol and intended to kill him. Jones went to McGowan's. Then he came down and looked into deceased. He started to go in. I followed him in. Deceased was sitting in a chair. Jones said, "I understand you have borrowed a pistol to kill me." Deceased said he had and stepped around towards the counter. Jones told him not to draw any six-shooter as he did not want to fight. Deceased did draw and called Jones a (profanity) and then shot at Jones, and Jones at him. I then ran out of the back door. When deceased was getting pistol from behind bar, the other man that was sitting there ran out the back door as I went out the back door. Jones started for the front door. Peg Leg followed him to the middle door. I stood in the street looking for Crum.

Cross-examined: Crum is in State Prison, I believe. Heard him plead guilty for horse stealing. I have been in prison since November last. Part of the time in Sacramento on the charge of driving off horses. I could not tell who it was in the saloon. I talked with Mr. Galvin about this matter a week ago. Jones and I are in the same compartment part of the time in jail. Have been in jail here about 32 days. There was no one standing in the street when I went into Peg Leg's except Crum. When deceased shot, Jones was getting his pistol out.

The testimony of William Jones:

William Jones, the defendant, testified: I am defendant here, fifty-five years old, been in Tuolumne County 22 years, knew Rebstock, were playing cards in his saloon about 12 o'clock, and quit, and wanted to get up and go home, both tight, got to quarrelling, don't know what about. I was standing up. He came to me and called me a (profanity) and struck me three times in the face. Then I struck him. He then went to the end of the counter and brought a hatchet and said he would kill me. I picked up a crib board. He went behind the counter and pulled out a pistol and shot me and said, "You (profanity). I'll kill you." I then went home, saw Bowland there at my house. I had a pistol there. Had to come down to town again for provisions. Fired the pistol off once or twice. So did he. He loaded the pistol for me. There were five loads left in the pistol. Then started down town. Stopped at Vassallo's and then came to town. Saw Stinson and Crum at Sevening's store. Passed them. Stinson and Crum told me to look out for myself as Peg Leg said he would kill me on sight. Went into McGowan's afterwards. Went down the street. As I was going past Peg Leg's, he was standing inside the door. He said something. I went in and stood in the bar room door. I said, "I understand you have a pistol and intend to kill me." He said, "Yes. Damn you I have." He went behind the bar and got a pistol and had it cocked. I told him to put the pistol down and not shoot. Before I could get my pistol out he shot. I pulled my pistol and shot, walked out and he followed me. I went to the side walk and fired one more shot. I had other quarrels with Rebstock. Had no fist fights. Had disputes about accounts. I have been mining and ranching during 22 years.

There were many more witnesses examined, but the preceding contains what points there was in the case. The juries after arguments retired Tuesday evening and were out an hour before they returned a verdict of murder in the second degree.

On Wednesday, Judge Booker sentenced the prisoner to fourteen years imprisonment in the State prison.



This page is created for the benefit of the public by

Floyd D. P. Øydegaard.






Email contact:
fdpoyde3 (at) Yahoo (dot) com
---
A WORK IN PROGRESS,
created for the visitors to the Columbia State Historic park.
© Columbia State Historic Park & Floyd D. P. Øydegaard.