`
REHM HOUSE.
(AKA Rehm House, Brady House)
1859-present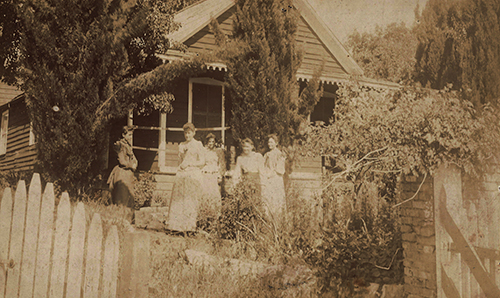 © Brady/Jackson Collection.
Rehm House - 1890.


1859 February - Michael Rehm purchases a lot and cabin on Schoolhouse Street and added to it. (Michael Joseph Rehm Born c1829 in Bavaria [Bayern], Germany. Died 4 October 1895 in Columbia.)

1882 Early in the year - Rehm purchases an additional lot increasing his holdings to 12 acres.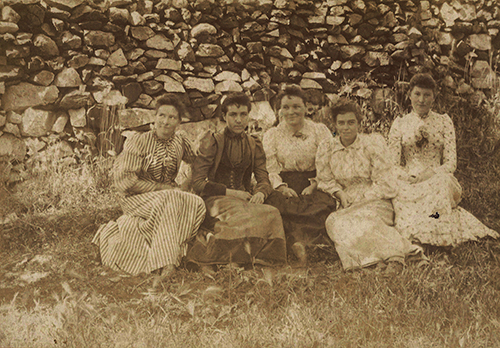 © Brady/Jackson Collection.
Maggie Bell Miles - Rose Siebert Fallon - Lill Rehm Brady - Mary Brady Jackson - Flora Graham Herold - c1890.


1894 Rehm deeds the property to his wife, Mary McManus Rehm. (Mary McManus Born in May 1842 in Ireland. Died 5 April 1930 in Columbia, Tuolumne County)

1895 October 4 - Mike Rehm dies.

1930 April 4 - Mary Rehm dies. The family keeps the home for vacations.

1956 State purchases from Mrs. Ada Rehm Koppitz for $10,000, this price includes several parcels of land and life tenancy. (Ada Rehm Born 10 April 1872 In Columbia, California. Died 2 February 1958 in San Francisco, San Francisco, California)

1958 February 2 - Mrs. Koppitz dies in San Francisco.

1959 Alan Welts, park ranger, and family live in house.

1979 Rehm house restored.

1980 Doug and Jo Cummings live in house.

1992 Bob Beck lives in house.

1995 Theresa ? lives in house.


© Floyd D. P. Øydegaard.
Side view of Rhem House - 2001.



This page is created for the benefit of the public by

Floyd D. P. Oydegaard






Email contact:
fdpoyde3 (at) Yahoo (dot) com
---
A WORK IN PROGRESS,
created for the visitors to the Columbia State Historic park.
© Columbia State Historic Park & Floyd D. P. Øydegaard.