RESTAURANT'S
EATERIES IN COLUMBIA
1850 to present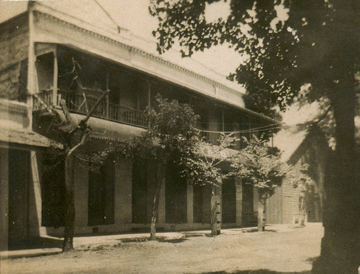 © Columbia SHP.
Morgan House c1910

In the United States, it was not until the late 18th century that establishments that provided meals without also providing lodging began to appear in major metropolitan areas in the form of coffee and oyster houses (saloons). The actual term "restaurant" did not enter into the common parlance until the following century. Prior to being referred to as "restaurants" these eating establishments assumed regional names such as "eating house" in New York City, "restorator" in Boston, or "victualing house" in other areas. Restaurants were typically located in populous urban areas during the 19th century and grew both in number and sophistication in the mid-century due to a more affluent middle class and to suburbanization. The highest concentration of these restaurants were in the West, followed by industrial cities on the Eastern Seaboard, with the lowest number of restaurants per person located in the southern states.(from Early Restaurants in America.)

"The men are so busy in the printing office, before election, that they have been taking their meals at an eating-house." (2 September 1851 - letter from Elizabeth Le Breton Gunn of Sonora).

The standard pattern that developed in the latter part of the 19th century was that the greatest number of restaurants per person were concentrated in the West, with slightly fewer in the eastern industrial cities and the fewest per person in the South. The French restaurant, the model for elegant cuisine, also became popular after mid-century in the United States. (Pillsbury - 1990)

"At about half past one we had out dinner. I sent some of the pigeon pie and some of the pudding and sauce down to the men. Murray & his brother do their own cooking, but Sullivan and Myrick go to the restaurant."(25 December 1852 - letter from Elizabeth Le Breton Gunn of Sonora).



Houses/Boarding/Hotels with Dinning Halls:
1852 September - the American Hotel lot is owned by Mr. W. J. Van Arsdall and his wife Mary W. G. Van Arsdahl from Michigan. Name sometimes spelled Vanarsdall. It has a one story frame building, with a large dining room which is also used for dancing.
1854 William O'Hara opens the Jenny Lind restaurant at the back of the Ferguson saloon. (Billy O'Hara is a popular black cook living here with his wife, Charlotte.)

1854 July - On the day of the fire Billy (William O'Hara) put up a tent on the south side of the Ferguson lot fronting Main Street and made a hole in the ground, and furnished fodder for the inner man to about 250 persons. (Columbia Gazette, July 11, 1854) He frequently supplied catering services of special occasions and was generally respected and liked. (Barbara Eastman letter - 1970)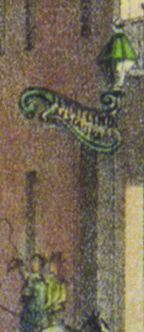 © Bancroft Library.
The fancy sign attached to large lamp that states; "Jenny Lind Restaurant."
1854 Broadway Restaurant and Bakery….having opened a Restaurant and Boarding House, at the old Court Room, on Washington street, Columbia….a good meal at any hour.(9 December-Columbia Gazette)

1854 After the July fire, a building of wood is built where the Candy Kitchen stands today. George H. Rogers runs the Union Exchange Restaurant, on Main Street.

1855 November - William A. Cory succeeds Rogers and changes the name to the Magnolia Restaurant.
1856 William O'Hara runs an ad in the Weekly Columbian newpaper for his Jenny Lind Restaurant. Also an ad (one of two) in the Businessman's Directory.

1856 The Restaurant de Paris - (16 April 1856 Columbia Gazette )
1856 Places advertising "the table" were Green's Hotel (formerly American), and Jenny Lind Restaurant. (6 December 1856 The Weekly Columbian )
1859 O'Hara sold his restaurant and retired (or moved to Aurora). The restaurant was removed to State St. and continued for a few years.

1865 December - Horace Butler leases the larger building Ferguson's and operates the Union Restaurant.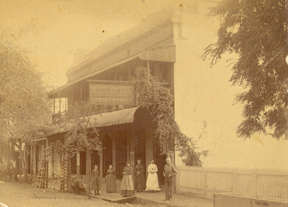 Morgan Hotel - c1890s


1890 By this time, the Morgan Hotel had 20 sleeping rooms upstairs, a large office, bar (What Cheer), ladies' sitting room and a big dining room downstairs.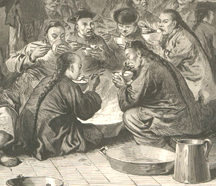 Chinese eating a meal.
Places that may have only been eateries:
1851 There were four Chinese Chop-Shop (Restaurants) and one Chinese laundry on Washington, Broadway, and State Streets. (Ref. Chinese in Columbia, A Historical Summary by Allen Welts, 1964 - from DMP #725-98-00161)
Chinese food was a novelty as well as a delight to the rather bland American food at the time. "The Chinese menu included dried oysters, abalone, cuttlefish, bamboo sprouts, mushrooms, five kinds of vegetables, pork, poultry, vermicelli, rice, salted cabbage, dried seaweed, sweet rice crackers, sugar, four kinds of dried fruit, Chinese bacon, peanut oil, and tea. Seemingly, this was the forerunner of the modem American well-balanced diet. The fare of the Caucasian laborer consisted of beef, beans, bread, butter, and potatoes." (Robert F. G. Spier, "Food Habits of Nineteenth Century California Chinese," California Historical Society Quarterly, XXXVII) One more interesting feature less known is the terrace gardens located in the southeastern section behind maintenance that the Chinese grew many herbs, spices, and etc.

1851 A State Street lot has a Chinese Chop-Shop (Restaurants) next to Joel Levy's.(E1:16:4)

1852 20 November - "By invitation we, in company with a friend, took supper last night at the Fancy Restaurant of O.P. Davis & Co., on State street, in the rear of his fruit store."
The article tells of the food available and how pleased they were with the whole affair.
(Columbia Gazette)

1852 UNION RESTAURANT. On State st., Opposite the Columbia Exchange. Runs an ad about their business which includes Porter House steaks…Game of all kinds….meals at all hours. Bernard & Bros.
( 20 November - Columbia Gazette)

1852 December 31 - Chinese Chop-Shop (Restaurants), Solomon Samson & Co. - Mortgage to W. Bancock. (Block 3A, Lot 44).

1853 January 12 - Sam Sing & Chin Hop Mortgage their Chinese Chop-Shop (Restaurants) to D. A. Hollister.(Block 3A, Lot 44)

1853 February 1 - George Kowgun bought at a Constable's Sale the John Esaw & Co. Chop-Shop (Restaurants), next west of Levy property at south west corner of State and Main.(E1:16:72)

1853 July 27 - Each nation generally keep their own public houses where there is many of their people at one place...the Chinese (keep) boarding houses. I generally take meals at their houses when I go(from Yankee Hill) to town(Columbia). They keep the best "table" of any. (from a letter by David Baer Hackman in A Pennsylvania Mennonite and the California Gold Rush by Lawrence Knoor 2008)

1853 September 23 - A sheriff's sale for Stacey Bennet & Turner vs H.S. Drew mentions a piece of property that is being sold for debts as "situated on Broadway, nearly opposite George (Kowgun?) Chinaman's Restaurant." (J.L. Connor, Constable)

1856 Nov 13 - The Restaurant de Paris. State Street, between Main & Broadway. - (Columba Gazette, page 3, Column 4)

1857 David Oppenheimer and Michael Rehm lease the Alberding building to run a saloon and "oyster parlor".



Places that are Restaurants in the 20th century:


1950s State Park Cafe was the first restaurant in what will become the Columbia House Restaurant.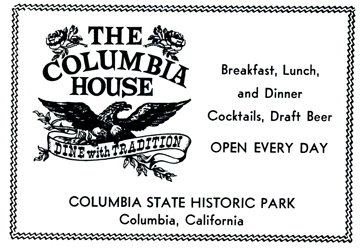 An ad in a 1970 "Old Timer Days" Mother Lode Fair Program.


1970 The name is changed to Columbia House Restaurant.


1975 Building operated by the City Hotel corporation. Creates the performance feast nights. The Restuarant has a three star rating.

2006 City Hotel corporation sells out to Forever Resorts.

2006 Forever Resorts takes over the concession.

2009 June 21 - Forever Resorts contract ends.

2010 May - Briggs Hospitality become the proprietors.

2014 February - Briggs Hospitality LLC who had the contract for this business gave their notice to vacate.

2015 June 1 - Christopher and George Segarini open the Christopher's City Hotel Restaurant and What Cheer Saloon.

2020 May 1 - Christopher and George Segarini close. "Christopher's at the City Hotel and What Cheer Saloon in Columbia State Historic Park is permanently closed after suddenly being evicted by the California Department of Parks and Recreation on Friday" (Union Democrat)








This page is created for the benefit of the public by
Floyd D. P. Øydegaard.

Email contact:
fdpoyde3 (at) yahoo (dot) com

---
A WORK IN PROGRESS,
created for the visitors to the Columbia State Historic park.
© Columbia State Historic Park & Floyd D. P. Øydegaard.