THE ENGELKE HOUSE.
(AKA: DeNoille's Lot, Aunt Sally's House.)
1851 - Today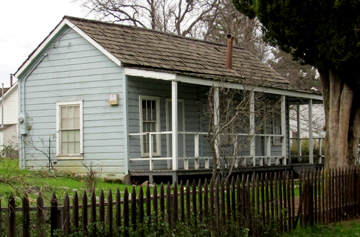 © Floyd D. P. Øydegaard.
Aunt Sally's House - 2011.
Northeast corner of Pacific and Columbia Streets.



1851 Sarah De Noille was the first woman to locate in Columbia before the streets were laid out. Also known as the first "white" woman to arrive in the Hildreth Diggins. (E1:11:16) It was a celebration of home and hearth to see a woman from home. She had the first child born in Columbia, 31 January 1852 (E1:11:16)

Her husband was Arnold William Copenhagen De Noille. Born c1820 in New York. (1866 census shows him at 47 years of age)
After arriving from Stockton, Arnold and Sarah set up the first boarding house in Columbia in the latter part of 1851. It was built near the Jackson & Stone Pioneer Store below Washington Street on the east side of Main Street. They also built a store on their south lot. (E1:11:2 & 6) One of four permanent locations before September 1851 on the east side of Main nearly opposite end of Washimgton Street. (E1:11:2) They owned a lot on the Southeast corner of Columbia & Pacific Streets. This became their wood framed residence.(E1:Map of Block 7:1)
1858 June 25 - The De Noilles moved to Saw Mill Flat. (E1:2:3) By the summer of 1863 they moved to Copperopolis. (E1:11:16-17)



1890s Built by Louis Engelke who married Sarah McGowan who was the daughter of the town constable, James McGowan (b.1829-d.1901), an Irishman [sic- Scots name] who came to Calif. in the early 1850s. They were the owner/residents at the Resident #8, AKA Aunt Sally's.

James McGowan ran the saloon in the Alberding building c.1870-1872 and later managed the butcher shop for Frank Schoettgen (sp). His granddaughter Myrtle Engelke Veira (b.1894) moved back to Columbia from Oakland in 1975 (according to the family file). She died at age 94. The two brothers owned part of the Experimental Mine in 1891.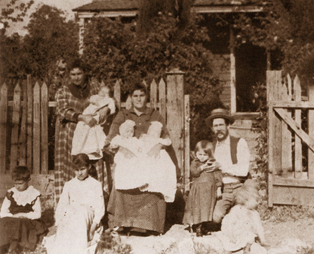 © Columbia State Historic Park.
The woman in the center of this c1900s photo is probably Sarah.



1920 Town fire (see p. 81 of the Arcadia book Images of America Columbia, picture of house afire two doors south).

1927 May 27 - Fire at the home of Mrs. Sarah Engelke (Sonora Banner).

1945 This building was rebuilt and was a copy of an older building.

1948 No Garage yet.

1955 April - purchased from Albert W. and Sophia S. Waldron for $5500.

1980s? Sherrin Grout revived (or created?) the iris beds, with help from volunteers.

2020 February - "Aunt Sallies House" got a new porch.








This page is created for the benefit of the public by

Floyd D. P. Oydegaard






Email contact:
fdpoyde3 (at) Yahoo (dot) com
---
A WORK IN PROGRESS,
created for the visitors to the Columbia State Historic park.
© Columbia State Historic Park & Floyd D. P. Øydegaard.