HISTORY of
THE BATTLE OF SAW MILL FLAT.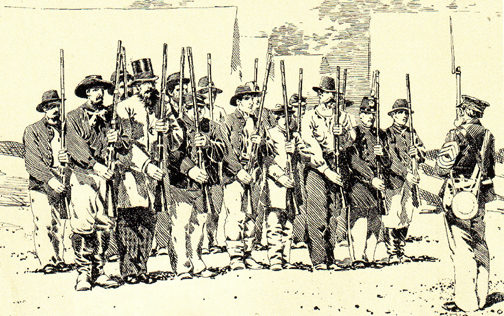 Columbia Militia 1852.


July 1852
Apparently tensions were created between the American and Mexican miners, due to a few Mexican bandits killing and robbing miners. By July 1852 rumors had flown that the Mexicans were going to poison a well in the Flat and create other mayhem. Col. Thomas Cazneau headed a group of militiamen with a small cannon and proceeded to the Flat; firing the cannon every 100 yards or so. The action may have created the desired effect, except that the storekeeper in the Flat said he never had any trouble with Mexicans and that the whole affair was a waste of powder.
(Republican, July 14, 1852; Alta, June 6, 1852; SF Herald, June 8, 1853; H. H. Bancroft, California Inter Pocula, 1888)
By September 1852 Claudio Feliz was shot dead by an Alizal posse under justice of the peace, Henry Cocks of Monterey County.
The Sonora Herald stated that the "scoundrels" were "the same gang of Mexican miners that were lately driven from Sawmill Flat."
(Sonora Herald, September 4, 1852; Republican, September 4, 1852; Alta August 31, 1852.)
From Saw Mill Flat, July 18, 1852.
"A word as to the 200 Americans from Columbia, ready to destroy the camp, and who would have done so but could not agree, etc. The truth is, reports had reached Columbia that we were to be attacked that night, and twenty men all told came over and volunteered to assist in our defence. This offer was thankfully and gratefully declined, being able, in our opinion, to defend ourselves against our foes. So ends, for the present, this great rebellion."
WILLIAM STACEY,
Saw Mill owner, Saw Mill Flat,
of the firm of Stacey, Bennett & Turner.
(from the Daily Alta California, July 22, 1852, Pg. 1 Col. 6)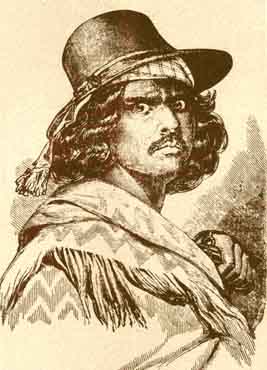 Charles Nahl's "Joaquin the Mountain Bandit"
This image was drawn in 1850 before Murietta had even started to kill for gold.

November, 1853
By November 1853 the infamous head of the bandit "Joaquin" is brought to Columbia, placed on display for $1 per look and the history of Claudio Felix is replaced with the legend of Joaquin "Murietta"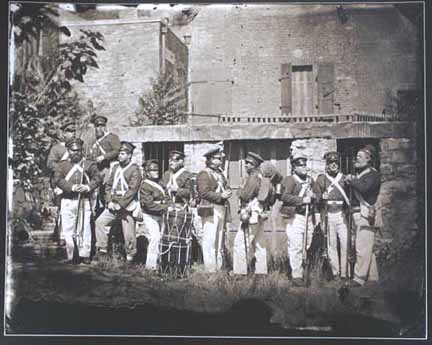 An Ambrotype of a California Militia at Columbia.
By William Dunniway & Co.



Columbia Fusileers
1853-1855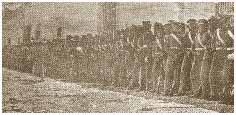 Dragoons in Mexico 1848



AS AN EVENT.
For an August Saturday
SUSPENDED.
Last one was August 3, 2013






Page created by
Floyd D. P. Øydegaard.

Email contact:
fdpoyde3 (at) yahoo (dot) com

---
A WORK IN PROGRESS,
created for the visitors to the Columbia State Historic park.
© Columbia State Historic Park & Floyd D. P. Øydegaard.