SPRINGFIELD CEMETERY RECORDS.
1852-1968
Locator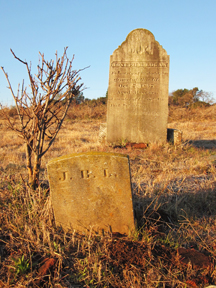 Foot stone and Tombstone





History Note: "This Camp, situated at the head of Morman creek,
receives its name from the fine spring that breaks out from that point,
affording sufficient water to give employment to several hundred men..."
- Miners & Business Men's Directory. 1856

A.

Adams, Magdalena Sewell Neuebaumer
Born 1879 - Died Feb. 18, 1968

Algeo, James E. See his tombstone
Born Aug. 5, 1939 - Died Dec. 17, 1997
Professor of Linguistics.

Algeo, James Fredrick See their Disc located between two Algeo stones.
Born in San Pablo, Contra Costa Co. Sep. 26, 1910 - Died in Columbia Apr. 24, 1995

Algeo, Verna Lucille Owens See their stone
Born 3 March 1915 - Died 24 Oct 1989
Daughter of John Edwards Owens (1886-1960) & Goldie Lucille Lewis (1893-1973).

Allison, John Augustus
Born in Virginia 1832 - Died April 8, 1860

Amarilla, Nicholas
Born in Mexico 1800 - Died Oct. 4, 1859

B.

None Known

C.

Carlyon (Corlain), John
Born in Breage, Cornwall, England 1833 - Died May 22, 1858
Note: Drowned in a tunnel with four other men. Buried with two others from England.

Carpenter, Elizabeth Ann See her tombstone
Born in Springfield Mar. 19, 1853 - Died Nov. 18, 1855 Scarlet Fever.
Note: parents were John Hoskins Carpenter (1827-1898) & Elizabeth Kendall Wallis (1831-1923)
Also buried near her are a brother and three Vincent cousins.

Carpenter, William Henry
Born in Springfield Nov. 2, 1856 - Died Jul. 18, 1858
He was born three months premature.
Son of John H. and Elizabeth Wallis Carpenter.
He is buried near his sister and his Wallis cousins.

Crow, O. H. P.
Born Pennsylvania 1856 - Died Jun. 7 1857 Drowned in Columbia Flume.
Only son of J. Crow of Springfield.

D.

None Known

E.

Eddy, William
Born in Wisconsin 1847 - Died Oct. 20, 1852
Son of James and Martha Eddy

F.

None Known

G.

Gliddon, James G
Born "suposedly from Maine" unknown - Died Jan. 10, 1854
in cave in at Springfield. Columbia Gazette, Jan. 14, 1854

H.

Howe, Charles T
Born in Vermont 1829 - Died Sep. 26, 1859

K.

Kelly, Mary Ann
Born 1858 - Died July 11, 1859
L.

Logan, Joseph B See his stone
Born in Phildelphia 1826 - Died in Springfield 7 Oct. 1857
"Passing away - A man named Logan, one of Stevenson's Regiment, N. Y. Volunteers, was buried at Springfield, Tuolumne County, on last Thursday evening. A large procession of citizens followed his remains to their last resting place. A SALUTE was fired over the grave." - San Joaquin Republican, Oct. 17, 1857
Sgt. in Company I of the 1st New York Legion who came to California in 1847.
Note: Company I The Steuben Volunteers, under Captain Shannon were considered "intelligent and vigorous young men, of many trades, excellant habits, urbane manners and enterprising spirits." See a self portrait of one such officer! They left New York on the "Susan Drew" and reached Monterey by way of San Francisco by the 4th of April 1847, "where the four companies (I, D, G, E) went into camp on the green in front of the Catholic Church, which in honor of General Stephan W. Kearney (commanding the Military forces in California) was called Camp Kearney....Company I took post at the Barracks in the town (Monterey)," on the 5th of may and remained until the 28th of September, when they departed for San Diego.

Lyons, William
Born unknown - Died Mar. 13, 1855
On February 15, 1855, two young men named William Lyons and Samuel Johns, residents of Springfield, met with a most unfortunate accident by the premature discharge of a cannon.
The young men disposed of their claim, had a little jollification prior to their planned departure and got out the big gun for the purpose of giving the inhabitants a parting salute.
By mismanagement on the part of them, while the charge was being rammed down, the load was discharged, taking off William's arm and destroying one of his eyes.
Samuel Johns was badly burned, but he escaped without the loss of limb.
Nearly a month later, William Lyons passed away on a Tuesday evening.

M.

None Known

N.

Neuebaumer, Teresa Salazar
Born in Chile 1836 - Died Mar. 6, 1906
"The Dark Angel of Death again visited our land Tuesday morning. Mrs. Teresa Neuebaumer, a highly respected resident of near Springfield, answered the call and went forth to join the silent majority. Mrs. Neuebaumer was one of three smallpox cases reported last week. According to custom in such cases, the remains were immediately interred in the old cemetery at Springfield with but three or four in attendace to assist in the burial. Deceased leaves two sons and five daughters to mourn her loss. The two other members of the family are convalescing from the dread malady." - Tuolumne Independent, March 10, 1906

Nickols, Adult son of
b. unknown d. unknown

Nickols, James Former Slave
Born in Florida 1830 - Died May 22, 1905
"Big Jim" was born in slavery. He grew to be a thoroughly good, highly respected man. After he received his freedom through the abolishment of slavery he chose to follow his former owner to Springfield. He had an adult son who came along as well. The ladies in the community planned and held his funeral at the the home of Mrs. Eckel. His was the first burial since Mrs. Catherine Williamson on February 3, 1893. He made Springfield his home, and wanted it to be his final resting place. He was buried next to his son. - Mohr Historical Researcher

Nickols, Wife of James (above)
b. unknown d. unknown

Nickolls, James
Born. unknown - Died before 1858

O.

Osborn, Joseph
Born in Cornwall, England 1833 - Died May 22, 1858 Drowned in same tunnel accident as Corlain and Sincock.

P.

Poor, Everett Arnold
Born in Springfield Oct. 27, 1948 - Died Oct. 28, 1948 18 hours later.
Note: Mother's maiden name was Wermuth.

Q.

Quail, John
Born in the Ilse of Man 1827 - Died July 6, 1859

R.

None Known

S.

Sincock, John
Born in England 1814 - Died May 22, 1858
Note: 44 yrs old, Wife with 6 children in Camborne, Cornwall, Eng. Drowned in same tunnel accident as Corlain and Osborn.

Swigart, John
Born in Pennsylvania 1836 - Died June 9, 1859

T.

Tippets, Frank
Born unknown - Died Aug. 15, 1857

Tregay, John See his stone (The stone cutter made a mistake in the last name and it looks like the "O" is placed over the "A" or maybe the other way around?)
Born 1829 - Died June 18, 1860
Note: Miner arrived in county 1856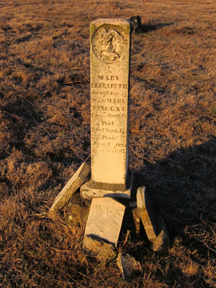 The infants' tombstone.


V.

Vincent, Joseph John See his stone
Born in Springfield Mar. 28, 1857 - Died July 15, 1858 Scarlet Fever
Son of William & Mary Vincent.

Vincent, Mary Elizabeth See her stone
Born in Mineral Point, Iowa County Wisconsin Aug. 6, 1850 - Died May 21, 1852
Note: Mary was the daughter of William and Mary Wallis Vincent. She died 5 days after arriving in California from Wisconsin. Cause of death was Panama Fever. She is believed to be the first person buried in Springfield Cemetery.

Vincent, Mary Elizabeth See her stone
Born March 28, 1853 - Died August 8, 1855 Scarlet Fever

W.

Wermuth, Emma Neuebaumer
Born 1875 - Died Nov. 4, 1948
Wife of Fred A.

Wermuth, Fred Alexander
Born Nov. 24, 1880 - Died in Los Angeles County Sep. 1, 1966

West, Ellen
Born in Summerville unknown - Died 1864

West, Twins
Born 1864 - Died 1864
Unnamed twins, born in Summerville, believed to be still born.

Whiton,
Born unknown - Died Aug. 9, 1857

Williamson, Catherine
Born 1830 - Died Jan. 30, 1893
"Mrs. Catherine Williamson was found by her husband after a long search when she didn't arrive home. On Wednesday, he found her in a hole under some brush along side of a trail leading to Union Hill in Springfield. Apparently she was returning home after visiting friends, Mrs. Ramey and Mrs. Engler, when she fell into the hole. Evidence showed that she clawed, dug and pulled at the embankment but was unable to get out. It was determined that she passed away from exposure on or about January 31, 1893. Mrs. Williamson was 63 years old and a native of Ireland. She and her husband had been married 40 years." - Mohr Historical Researcher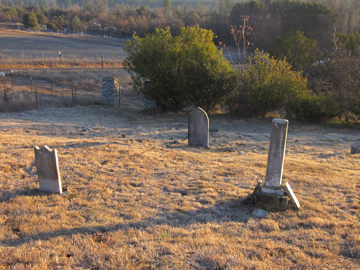 Looking North towards gate - 2012



NOTE: Unless otherwise noted, the above records came from the placque at the cemetery gate.
Some data at Find A Grave website.
Census reports, California Expedition 1951,
The New York Volunteers in California 1846-1848.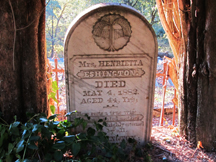 RESPECT OUR CEMETERIES!!



This page is created for the benefit of the public by
Floyd D.P. Oydegaard

Email contact:
fdpoyde3 (at) yahoo (dot) com

---
A WORK IN PROGRESS,
created for the visitors to the Columbia State Historic park.
© Columbia State Historic Park & Floyd D. P. Øydegaard.