SAN FRANCISICO LAGER BEER SALOON.
(AKA SCHWARTZ BUILDING, HEYNEMANN BUILDING,
CONFECTIONERY AND BAKERY, BROWN'S COFFEE HOUSE & SWEETS SALOON)
1854-1857

© Bancroft Library.
Haag and Heynemann's San Francisco Lager Beer Saloon - 1855.

(Next to City Hotel - West Main Street)



1852 Lot originally owned by James and Carmen Whitburn.

1853 May - they sell to Juan Dupont for $300.

1854 July - the building burns.

1854 October - Louis Schwartz buys the lot for $600 and has a 1 story brick building erected by November built by J.M. Bean. (see image above)

1855 Haag and Heynemann open the San Francisco Lager Beer saloon.

1856 Partnership dissolved.

1857 Christine and David Oppenheimer buy the building for $2850 and run the saloon, at the same time E.S. Nassau has the Empire Variety store in the building. His business is also called E. S. Naussau Notions and Fruit Store. The building is purchased by Charles Oppenheimer for $3,000 in October.

1858 February - Isaac Oppenheimer buys the building for $7,000, the price includes the fixtures: "liquors, chairs, tables and saloon fixtures", and runs the saloon.

1861 July - Heynemann rents the building for a saloon.

1863 July - William Nauman (Neuman, Neumann, Neiman) buys the property for $950.

1864 Henry Bornheim takes over the saloon.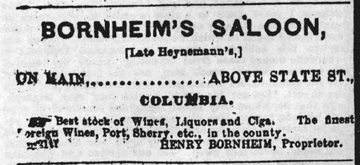 Advertisement in the Tuolumne Courier - April 22, 1865



1871August - Neiman owns Block 15, Lot 209. - Deputy County Surveyor map by John P. Dart

1911 Pimental runs the saloon.

1915 Mrs. Dante Cinelli lives in the building.

1947 State purchases from Mrs. Mary Cinelli for $2,000.00.

1952 Dorothy Kirkman has concession.

1961 The state moves Mellor's Candys (Ted & Elaine Mellor) to the Heynemann building from south building of Mills-McChesney Building.

1965 Dale and Gladys Heric are concessionaires.

1970 30 April - Gladys Heric gets special use permit.(Park & Concessionaire report 1969-70).

1971 Gladys Heric sells concession to the Dick Nelson family. The Columbia Confectionary & Bakery.

1972 30 June - Dorothy R. Nelson et al, has a five year contract for a Confectionery & Bakery.(Park & Concessionaire report 1974-75)

1973 Mellors Candies (per "Columbia Memories" by W. Lee Roddy)

1977 30 June - Dorothy R. Nelson et al, has a five year contract for a Confectionery & Bakery.(Park & Concessionaire report 1979-80)

1996 Maryann and David Brown becomes concessionaire, opening "Brown's Coffee & Sweets Saloon".

2005 January 10 - Mike & Cheryl Nelson take over Dave and Maryanne Brown's contract.

2014 May 1 - Angela & Jacob Matulich take over sister's (Cheryl Nelson and Mike Nelson) contract.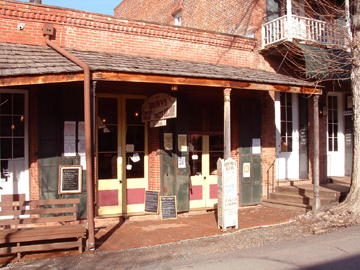 Contact information for
Columbia Coffee House & Sweets Saloon
209 532-1850






This page is created for the benefit of the public by
Floyd D. P. Øydegaard.

Email contact:
fdpoyde3 (at) yahoo (dot) com

---
A WORK IN PROGRESS,
created for the visitors to the Columbia State Historic park.
© Columbia State Historic Park & Floyd D. P. Øydegaard.