TAMALE HOUSE.
(AKA McKENTY & CHURCH BUILDING, TRASK HOUSE, TAMALE HOUSE)
1854 to Present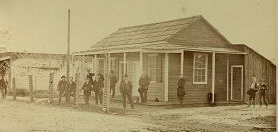 Tamale House is rebuilt from old lumber in 1905,
in the style of the historic saloon(?) on this corner.

1855 McKenty & Church have a business on the southwest corner of State and Broadway.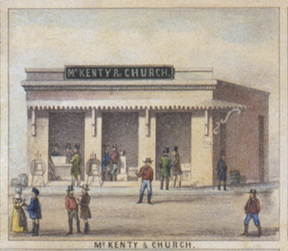 McKenty & Church - 1855
Southwest corner of State and Broadway.



1857 August 25th - The fire that ravages most of Columbia spares the McKenty's brick building.

1859 - McKenty & Church Store #99 on Columbia Locations Map 1860 (Based on 1858 map) - George & Barbara Eastman; Dec. 1958.

1871 August - Nugent owns a large section of Block 20, Lot 258. - Deputy County Surveyor map by John P. Dart



NOTE: No records have been found (research needed) to discover what happened to the brick building after this date.



1905 Eastman says the next generation of Trasks, George Ezra, rebuilt what we call the Tamale House and lived in it as their starter home. They lived there for 12-13 years, Eastman noted, and the deed dates confirm.

1920s Boarding house.

1930s George Gardenhire and his wife live in the building while they operate first the City Hotel and then the Columbia House.

1970s Doctor Sikora, dentist used the Tamale House as their office.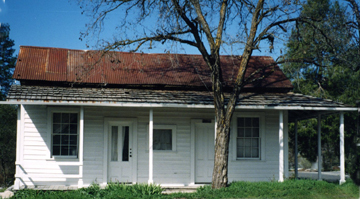 Tamale House - 2002




This page is created for the benefit of the public by
Floyd D. P. Øydegaard.

Email contact:
fdpoyde3 (at) yahoo (dot) com

---
A WORK IN PROGRESS,
created for the visitors to the Columbia State Historic park.
© Columbia State Historic Park & Floyd D. P. Øydegaard.