TIBBITS HOUSE.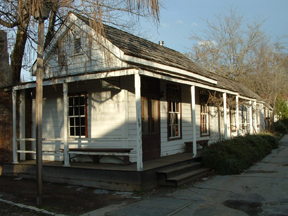 The current house is at least two houses joined together - 2007.

The eastern section of the house is on the site of Brainard's Fulton Street store.
The garden is on part of Brainard's Main Street store.
The western section of the house is on the Levy lot.
Eastern section

1853 Ferdinand and R. Yrizar sell to Juan Dupont who then sell to Benjamin M. Brainard and William H. Newell.

1854 Newell sells out to Brainard.

1863 The S. and H. Levy have a business in the building.

1867 Mrs. C.A. Weston (the former Mrs. Brainard) sells the lot to William Shine.

1869 Shine sells to S. and H. Levy.

1878 S. & H. Levy end their business in this building. There is no more information on what happened to that prior building.


Western section

1854 January - William Kroning and Christian Byron sells to P.G. Ferguson.

1854 July - Ferguson sells to Mrs. Rosa Levy.

1865 April 22 - S & H. Levy are still running an advertisement in the Tuolumne Courer to sell off business goods as of the first of January.

1868 June 6 - Joel and Rosa Levy sell to J. B. Hiskey.

1868 June 15 - Hiskey sells to Wm. Shine.

1871 August - Douglass has Block 10, Lot 173 - Deputy County Surveyor map by John P. Dart

1879 Shine sells to Frank Vassallo. For a while George J. Morgan has a meat market in the building.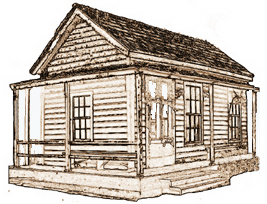 The western section of the house on the Levy lot.


1887 spring - Lyman Childs Tibbits moves his family's house on Gold Springs road to the now empty lot.

1932 November 5 - Ellen Clark Tibbits dies of Colon cancer. She was born to William Clark & Lillian Smith in Edinburgh, Scotland 5 September 1861. She was buried in Park View Cemetery, Stockton.


1933 February - Mrs. Elizabeth Titchenal was living in the house.

c1936 Rex and Dorothy Nelson of the Candy Kitchen occupy the house.

1956 Rex Nelson passes away.

1979 Dorothy Nelson passes away.

c1985 The front room was remodeled and restored with the help of the Docent Association (cooperating association) of Columbia state historic park.

2000 The west part of the house is used for interpretive purposes with the theme being Dr. Tibbits home.


2007 More restoration was done on house. Thanks to the state funded Volunteer Enhancement project.






This building and the interpretive display can be maintained by your support

with a generous donation to FRIENDS of Columbia SHP.




This page is created for the benefit of the public by

Floyd D. P. Oydegaard






Email contact:
fdpoyde3 (at) Yahoo (dot) com
---
A WORK IN PROGRESS,
created for the visitors to the Columbia State Historic park.
© Columbia State Historic Park & Floyd D. P. Øydegaard.