The Merchant School Program

Personalized
WANTED POSTERS.
Columbia State Historic Park, California.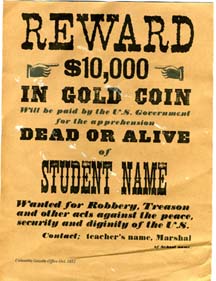 Pick up at the Booksellers on Main Street.

CUSTOM MADE WANTED posters are created for each student. Regular price is $5.99 each.
Teacher Special Prices only for classroom quantity orders (20 or more). $2.50 each.
Send the names of each student. Content can be adopted with a personal touch.
However all poster will be exactly the same except for the individual names.
PAYMENT IN ADVANCE IS REQUIRED
Three weeks required to complete printing.
Pickup on the day the class arrives for their tour in Columbia.
If they need to be mailed add $6 for Shipping & Handling.



Contacts for more information and scheduling:
Call Columbia Booksellers & Stationers - Floyd Oydegaard, 209-533-1852
And eMail:



for information & to send list of names.
Or Write to Wanted Posters, 22725 Main St., Columbia, CA 95310-9401
---
All information and schedules posted may be changed at any time!
The current listing may not be absolutely correct.



This page is created for the benefit of the public by
Columbia Booksellers & Stationers
22725 Main Street
Columbia California 95310-9401
---

Return to Chamber Main Page