JAMES J. BARKER
Information on a merchant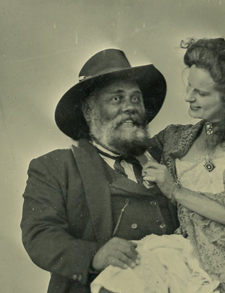 © Floyd D.P. Øydegaard collection.
Denna offering a close shave to Mister Bart.


JAMES J. BARKER
James J. Barker was most likely born a slave in Tennessee and managed to get to California before or after he married his wife, by 1858 or so.

By 1859 James Barker, age 32, was a barber (his wife Sophia, 24 years old, from Illinois, was a dress maker) with a partner J. A. Cousins, 32 years old, from Virginia (his wife Justine, 21 years old, from New York). They opened a Shaving Emporium in the third building above Fulton Street on the west side of Main (the Temple Building).

That same year J. A. Cousins leaves the shop with James Barker and locates in the frame building south of the Wells Fargo building. Richard Henderson from Virginia (not married), also a black barber, was in a shop on Fulton Street where he joined Barker. (Richard's brother William received some notoriety when he rescued a Columbia woman from a shipwreck they both happened to be aboard. She wrote a very grateful and sentimental letter to the paper).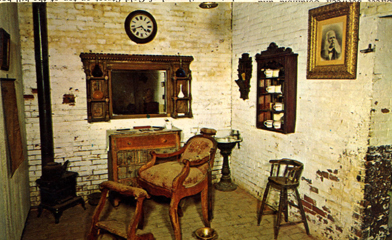 Barbershop display - 1955



1860 - The July Census shows James Barker a "Mulatto" age 33 with personal worth at $300 from Tennessee. (P62-L14)

1860 R. Henderson (a colored) operating a Barbershop on the South side of Fulton west of the Water Co. office. Was joined by James Barker. (Eastman 1:16:21)

1860 November 19th - Jas. J. Barker (blackman) from Tennessee dies of apoplexy (bleeding within internal organs and the accompanying symptoms) age 35. He is listed as the 86 person buried in the public cemetery. (Columbia Burial Ground Register of Deaths by B. Eastman 1959) Actual location unknown.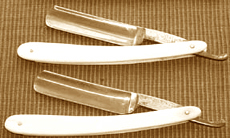 © Floyd D. P. Øydegaard.
These 1840's razors were the tool of trade.
See the Black Barber page



This page is created for the benefit of the public by

Floyd D. P. Øydegaard.






Email contact:
fdpoyde3 (at) Yahoo (dot) com
---
A WORK IN PROGRESS,
created for the visitors to the Columbia State Historic park.
© Columbia State Historic Park & Floyd D. P. Øydegaard.