CARDINELL BUILDING.
(AKA: Columbia Gazette Office, Fallon's Ice Cream Parlour.)
1860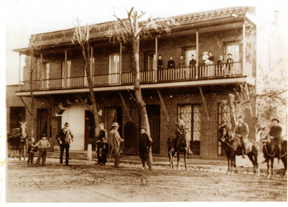 © Columbia State Historic Park.
The Fallon complex c1892.

The history of this lot is also the history of the Columbia Gazette Office.

1852 Walter Murray owns the lot which has a wood building.

1854 Duchow and Yancy are the owners.

1855 Duchow and Steele take over.

1856 Isaac Shotwell owns the building, Cazneau and Steele, printing the Gazette, rent from him. It is still a wood structure. Possibly the next building on left (above image).

1856 August - Gilbert Beach moves a bakery into the building.

1856 September - Shotwell sells out to Cardinell.

1857 The building burns and is rebuilt of wood.

1859 Burns again.

1860 Cardinell builds a 2 story brick building.

1863 Owen Fallon buys the building and pierces the wall to form a single unit with his building. The second floor is a ballroom.

1886 The first floor becomes a barroom

1890 Conlin remodels the front door and makes a vestibule and archway.

c1986 The Gunn Saloon becomes an Ice Cream Parlour and Soda Fountain.

2014 February 15 - Mike and Cheryl Nelson take over Fallon House Ice Cream Parlour.

2014 August - Jacob & Angela Matulich take on the contract.


See Fallon House for the rest of the story.

Fallon Ice Cream Parlor
209 532-2876



Page created for the public by
Floyd D. P. Øydegaard.





Email contact:
fdpoyde3 (at) Yahoo (dot) com
---
A WORK IN PROGRESS,
created for the visitors to the Columbia State Historic park.
© Columbia State Historic Park & Floyd D. P. Øydegaard.