<!-Columbia House.-->
LEVY LOTS.
(AKA CHINESE RESTAURANT, STURZNEGGER'S SALOON, KLUBER'S SALOON,
STATE PARK CAFÉ, COLUMBIA HOUSE, JENNY LIND RESTAURANT,
BART'S BLACK SKILLET, COLUMBIA HOUSE.)
1850 to present.


(c1850)


Originally 3 lots with 3 separate stores. Louis Alexander and William Kote own the middle lot and have general provisions, William Grosse has a tobacco shop in the north section and Joel Levy owns the south lot.

1851 One of the State Street lots has a Chinese Restaurant next to Joel Levy's.(E1:16:4)

1852 December 31 - Chinese Restaurant, Solomon Samson & Co. - Mortgage to W. Bancock. (Block 3A, Lot 44).

1854 July 10 - "A fire broke out this morning, about 2 o'clock, on Broadway, two doors from Clark's Hotel, in the town of Columbia, and resulted in the almost total destruction of the town. All the property within the territory bounded by Broadway, Fulton, State and Washington streets, is entirely consumed, except the fire-proof building of Donald & Parson." - Sonora newspaper.

1854 July - Alexander and Kote sell to Mrs. Rosa Levy (wife of Joel). After the fire, she rebuilds of wood. Meiss and Lippman open a clothing store.

1857 August - Burned down again. The lots are leased to Isaac Shotwell who puts one wood frame building across the lots.

1857 November - Meiss and Lippman re-open their store in the north corner with clothes, cigars and tobacco.

1858 Gus Sturzenegger opens a saloon after Meiss and Lippman leave.

1859 Clarke and Tucker open a newspaper and book depot in the north section.

1859 June - Clarke continues the news and adds a billiard and reading room while Tucker takes over Sturzenegger's saloon.

1860 Robert H. Towle opens a book store after Clarke leaves.

1861 Henry Decker succeeds Tucker in the saloon.

1862 C. P. Doubleday opens a butcher shop. Towle advertises as a watchmaker and jeweler.

1866 The building is torn down and the site mined.

1870 By this time, H. Kluber has a saloon on the site.

1871 August - J. (Joel) Levy still owns Block 16, Lot 221. (The corner where the Columbia House still stands.) - Deputy County Surveyor map by John P. Dart

1872 John Decker puts up a small frame building which is occupied by Ludwig Schwarz shoe repair.

1879 Somehow Shine owns the lot and sells to Henry Kluber, the Justice of the Peace, who moves Schwarz out, moves the building to the corner, remodels it and then Ed. Elias moves in with a variety store and telegraph office. Kluber builds a handsome saloon on the site.

1881 H. Kruse acquires the property after Kluber's death.

1883 Elias moves out.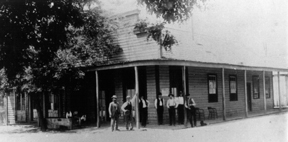 © Columbia State Historic Park.
Kruse Saloon - 1891


1890 Kruse and wife sell to John Voss.

1896 Sells to James N. Gillis.

1897 Sells to George McGowan.

1905 Sells to Louis A. Kahnt who ran a grocery store.

1919 Sells to Jerome Ghiorso after Kahnt's death.

1920 Fire starts in living quarters, spreads to other buildings when strong winds carry sparks all over.

1923 Sells to Charles F. Christian.

1929 Sells to Frank W. and M. H. Fabing.

c1930s Angelo Nadotti purchases the lot, builds the current building and adds Angelo's Hall. George Gardenhire (not sure of spelling) operates the business for a while.

1940s Lila McCorkle in partnership with King ran a furnishing store in the northeast corner of the building.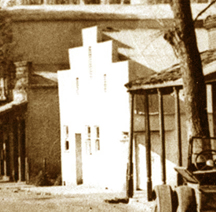 Furnishing Store - c1940



1948 The state purchases from Pete Nadotti.

1950s State Park Cafe.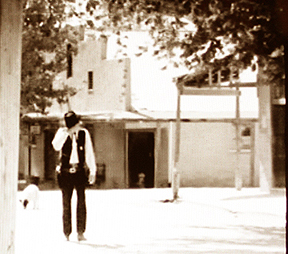 Looking south on Main Street - 1951



1952 Cafe is seen in the movie High Noon with Gary Cooper.

1960 15 July - After interior renovation by the state, Walter Clever opens a restaurant State Park Cafe.

1962 Son Bill Clever joins him.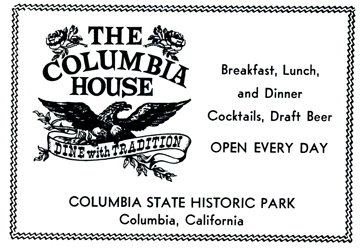 An ad in a 1970 "Old Timer Days" Mother Lode Fair Program.


1970 The name is changed to Columbia House Restaurant.

1970 14 July - William & Rita Clever get a 15 year special use permit for the Columbia House Restaurant. (Park & Concessionaire report 1969-70)

1975 April - William N. & Rita Clever have a contract with state until 14 July 1975. (Park & Concessionaire report April 1975)

1975 31 July - William Clever becomes partners with Robert Roppolo with a 5 year contract to operate the Columbia House Restaurant. (Park & Concessionaire report 1974-75)

1984 Mike Ritter is the concessionaire.

1989-90 Avery Ranch has the restaurant concession.

1990 Nancy and Russell Moreton (with Pat & Martin Flipse) buy the business from Avery and become the concessionaires.

2005 The Moreton's sell to Carl Clark, and Steve & Purvi Knopf, who called themselves Joe Co-Partners, Inc.

2008 April - Forever Resorts takes over the Columbia House and renames it the Jenny Lind Restaurant, on a month to month basis until it goes out to bid.

2009 April - Jenny Lind closes for replacement of hood and kitchen flooring.

2009 June 21 - Forever Resorts contract ends. No one bids on the restaurant.

2010 May - Briggs Hospitallity takes on the concession.

2010 May 29 - Bart's Black Skillet restaurant opens.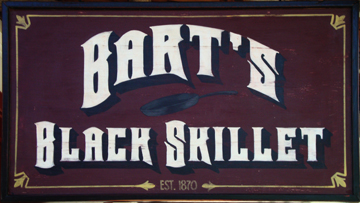 © image by Floyd D.P. Øydegaard.
Sign painted by former Disney employee.


2012 June 1 - Steve & Doreen Kwasnicki take over concession of Bart's Black Skillet. Changing name back to the Columbia House Restaurant.

2012 December 30 - Arson gutts the Columbia House Restaurant.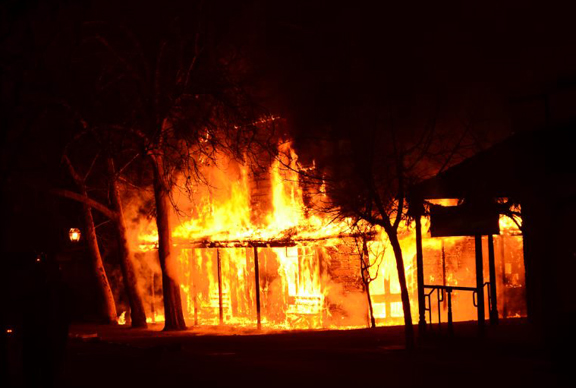 © image by Christoffer D.H. Øydegaard.
Columbia House in Flames - 2012


2013 January 3 - A crew has started to clean up areas in and around the kitchen in hopes of opening the Angelo Hall as a restaurant until the Main street building can be restored.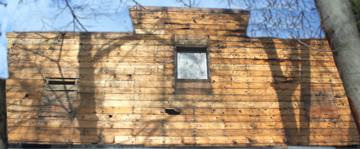 © image by Floyd D.P. Øydegaard.
Discovery of 1940 façade structure - 2013


2013 When the burnt boards were removed a discovery was made that showed the orginal 1940 "interpretation" of an old west building faŤade. The above "doctored" image shows the way the boards slanted as in the 1940 image above. Note the three "window" openings as well. (Only the add on boards were "removed" for the above image)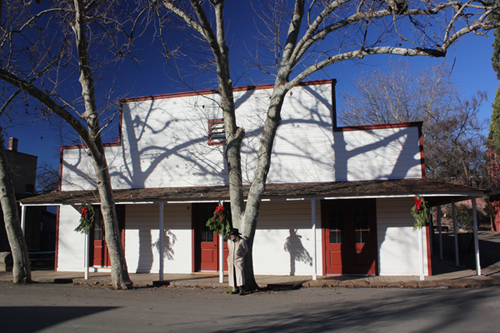 © image by Floyd D.P. Øydegaard.
Columbia House Restored (partially) with outlaw Mike - Dec. 2014


2014 December 28 - Two years slow process due to insurance difficulties has kept the building from being finished.

2016 March 18 - Davene "Davie" Stoller opens the Columbia House.






Columbia House Restaurant
22738 Main Street
Columbia, California
209 532 0663


This page is created for the benefit of the public by

Floyd D. P. Oydegaard






Email contact:
fdpoyde3 (at) Yahoo (dot) com
---
A WORK IN PROGRESS,
created for the visitors to the Columbia State Historic park.
© Columbia State Historic Park & Floyd D. P. Øydegaard.