THE PALMER & REY PRESS.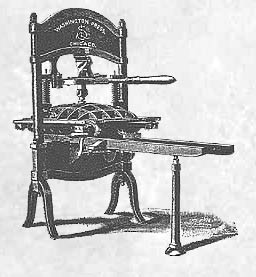 It Stood in Silence
by Floyd D. P. Øydegaard
The Palmer & Rey
When documenting the history of a letter press that has been a part of the park service since 1956, it requires trusting a bit of oral tradition. When I took on the task of making the press operational I was worried about its providence as well as its longevity in my care.
When I showed the pictures of the press to Mark Barbour, Los Angeles Museum Curator*, he ventured a guess that it was an 1870 issue, and he stated that it was a rare model. The markings on the press state: "Press Dealers - Type Founders - Palmer Ø Rey Builders S.F. Cal No 68" However, Stephen O. Saxe, author of American Iron Hand Presses states these makers did their work between 1881 and 1892.
I wasn't too happy to have a later model press on the main floor when hidden away in the cellar I had a "No 3 A. B. Taylor Ø Co. New York" Washington style press. Mr. Saxe, stated that these makers created this press from 1854 to 1866. (They moved to Chicago in 1867 and were making hand presses there until 1876.) Besides I was told it was from Donnieville. A real gold rush connection and a press available for a town newspaper that existed between 1851 to 1867.
So I was in a dilemma: I had to have a tympan and frisket made for one or the other presses.
Then (Nov. 2000) I was told by the former pressman (Harry Wright) of the Gazette, that Charles Segerstrom had mentioned to him that it was a Tuolumne County press. (It is on loan from the Segerstrom Family) Within a week an older member of the Duchow family walked into my office and told me that it was the press he had worked on as a youth when he was helping his father at the Tuolumne Independent. That his father had sold it to Segerstrom with the explicit instructions of keeping it in the county.
So barring any actual documents that might prove any of this incorrect, I have only oral tradition, and the fading memories of two seasoned gentlemen.
*Mark Barbour, Founding Director and Curator of the International Printing Museum.
(I Will keep looking....)

UPDATE 9/4/02
I received an email with the following "history" from Tim McGee:
"When I was making Wanted Posters on that press in the early 70s the spiel was...
The Washington Hand Press... Palmer and Rey was brought around the horn in 1870 and brought to Tuolumne County directly by mule. I was of the belief it was in the offices of one of myriad Sonora Papers and was given to the state by Luther Gibson when he was owner of The Union Democrat. At least that was what my boss told me. My boss was the consignee at the time, Harvey McGee. This was in the 70's so I kept no copies. And we bastardized the process by using a rubber mat over the type to accommodate the different type heights."

NEW INFO 4/26/11
Rec'd an email from Alan Dye, letterpress printer, San Francisco: "I'm aware of 3 other Palmer Ø Rey Iron Handpresses. One in the possession of Ted Salkin of Healdsburg, one in the possession of Glen Bauder of Napa, one in the International Printing Museum in Los Angeles."

History is some facts and mostly legend. Sometimes the legend is more interesting!
---
See some more interesting search results: Acorn Press
---
Details on the Columbia Gazette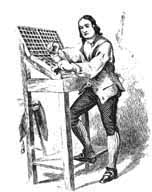 The Palmer & Rey Press.
Columbia's Editors and Newspapers.
History of Columbia's Newspapers 2.
---

This page is created for the benefit of the public by
Floyd D. P. Øydegaard

Email contact:
fdpoyde3 (at) yahoo (dot) com

---
A WORK IN PROGRESS,
created for the visitors to the Columbia State Historic park.
© Columbia State Historic Park & Floyd D. P. Øydegaard.
---